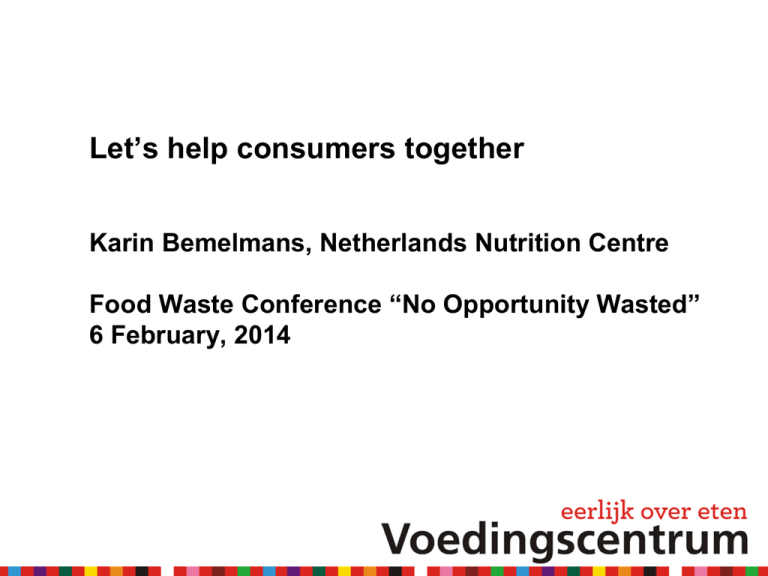 Let's help consumers together
Karin Bemelmans, Netherlands Nutrition Centre
Food Waste Conference "No Opportunity Wasted"
6 February, 2014
1942
2014
The Nutrition Centre
 Independent foundation
 Funded by the Ministries of Economic Affairs and Health,
Welfare and Sport
 Code of conduct for cooperation with 3rd parties
 Mission: inform and stimulate
 Approach
Health Council Guidelines 2011
Guidelines for a healthy diet: the ecological perspective
1. Eat a less animal-based and more plant-based diet
2. The reduction of energy intake for those with an excessive body
weight, in particular by eating fewer non-basic foods, such as
sugary drinks, sweets, cakes and snacks.
3. Eat two fish portions a week, at least one portion of which is oily
fish.
4. Reduce food waste.
Challenge of an integrated approach
 Food waste and food safety: how to handle expire-dates
 Food waste and healthy eating: portion size
 Integrated information about healthy, safe and sustainable
eating
 Health and food safety are leading
 Combined messages create more opportunities to spread the
message of food waste prevention
Examples of
integrated
information
Research
1. Wastage sorting analysis
2. Consumer perception and behavioural determinants
3. Evaluation per intervention
Research results
 47 kilo is wasted per person per year
 Top 5:
 Dairy
 Bread
 Vegetables
 Fruits
 Sauce and Fats
Estimation of the amount of food wasted
in households (pppy)
(Temminghoff & Damen, 2013)
Reasons to waste food
Cook to much
Did not use rests
Store incorrectly
Expire date passed
No time to eat it
Too much in the package
Did not like product
Buy to much
(Temminghoff & Damen, 2013)
Goal related to food waste
The government wants to cut food waste by 20% by 2015.
Contribution Voedingscentrum:
 Reduce avoidable food waste of consumers by increasing their
knowledge and reaching tools for smart buying, cooking and
storing.
I feel bad
about
wasting food
Wasting
food is not
done
I know how
to avoid
wasting food
Intention
No food
waste?
Habits
Behaviour insights
 Attitude:
positive attitude towards reducing waste
 Awareness:
consumer is interested
problem is underestimated
 Knowledge: still low on expiration dates and food
storage
 Habits:
break through unconscious behaviour
 Skills and self-efficacy are important to change behaviour.
2009-2012
focus on awareness and knowledge
2013
focus on skills
Translation into interventions
social norm
awareness
knowledge
self-efficacy
skills
habits
Campaign slogan
and Damn Food Waste
Website & interaction on social media
Practical tools : leaflet, app
Food Battle
Implementation
intention
interest
Campaign slogan
Why 50 kilo's?
You don't want to waste this much food.
But how?

Awareness of the problem

Right norm and intention

Activate
Interaction, on social media
 Young reporter
 Started June 2013
 Facebook.com/Hoezo50kilo
 Re-use short interviews with consumers
 Video blogs with practical tips
 2.300 followers, 29.000 blogsviews
 Interact, inspire, involve
http://www.youtube.com/playlist?list=PLiBhru9DzrzS6lPlC5tlAxCldVg2adsMs
Implementation intention
 Bridges the gap between intention and
behaviour
 Effect is proven on down sizing snack
behaviour. New on reducing food
waste but promising tool.
 How does it work?

Make an "If… then"- plan

Choose a small step (f.e. use a shopping list)

Write down when you want to what:
"If I go shopping, then I will use a shopping list"

Share: let your friends know what your plan is.
http://www.voedingscentrum.nl/nowastechallenge
Cooperation in the food chain
 Public Private Partnership with over 50 partners
 With commercial and non-commercial partners
 Partners: willing & spread same message
 Maintain independence
 Aim : Reach more consumers
 Approach
- pro-active
- open for all parties
- new code of conduct: independency and transparency
Damn Food Waste 29th June 2013
 Lunch in Amsterdam for 6.500
 Food waste on the political, cultural
and industrial agenda.
 Involved organisations: Food Guerrilla
(NCDO), Voedingscentrum, WUR,
YFM, Natuur&Milieu, EU FUSIONS /
Feeding the 5K
 Supported (by) grass root initiatives on
food waste
http://damnfoodwaste.com/
Food Battle
 2012: Pilot developed by Wageningen UR and waste management
companies
 Keep a diary on how much food is wasted – direct feedback
 Actively encouraged to reduce food waste
 Households reduce food waste in 3 weeks up tot 20%
 2014: "Vrouwen van Nu" (Women organisation) starts with 1000
members a light version of the Food Battle.
Activities with Lidl
 Since 2011: Buy 1 now, Get 1 free later
 In 2011: 375,000 shopping lists were spread
 In 2013: 380,000 storage leaflets were spread
Activities with Deen
 In 2012:
 Cooling bags with fridge,
60,000ex
 Article in store magazine:
800,000 ex
Activities with Coop
 In 2013:
 Article in store magazine
: 200,000ex
Activities with Albert Heijn
Measuring cup
"Eetmaatje"
 A kitchen help to cook the right amount
 waste less
 not eat more than needed
 1 million measuring cups are spread in week 6, 2014: get one
free when you buy AH pasta or rice
 Average portions in stead of grams. 1 portion = 75 grams of rice
or 100 grams of pasta
 Products: rice, risotto, couscous, macaroni, penne, fusilli, pipe
rigate, spaghetti and water
Conclusion
 Food waste
 Everybody agrees: food waste is not done
 Many parties are interested in collaboration
 Sharing experience is a must
 Challenge:
 Long term projects with effect
 Keep the work going, we need 10 years!