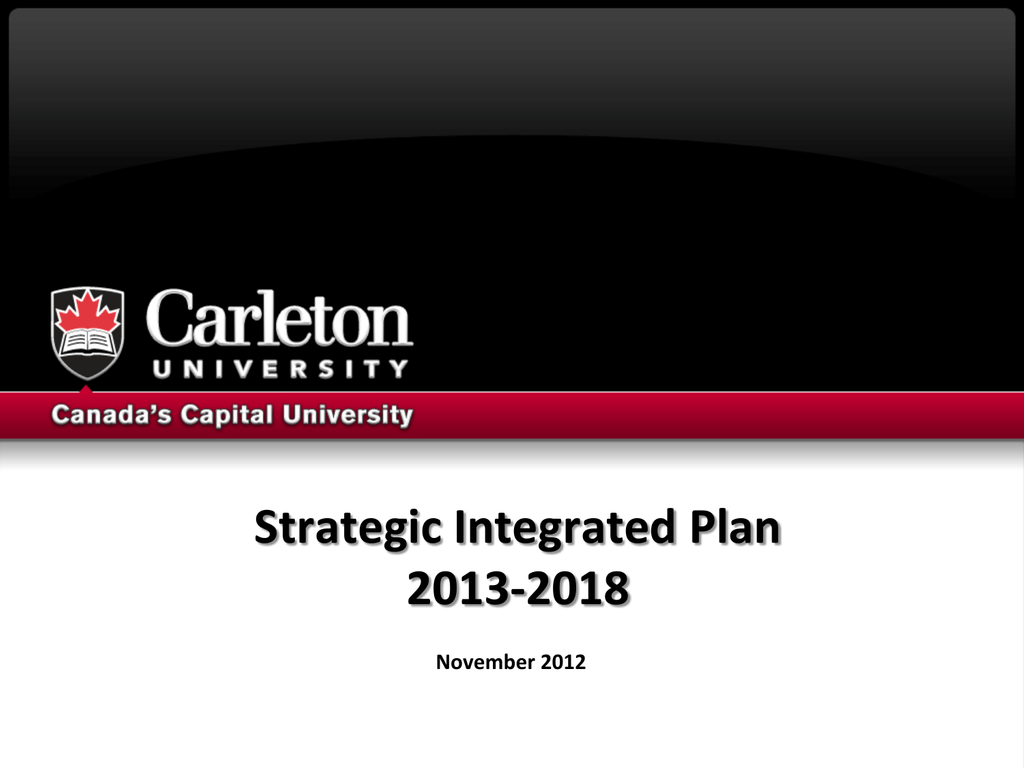 Strategic Integrated Plan
2013-2018
November 2012
Strategic Mandate Agreement Update
The Strategic Mandate Agreement was submitted to the provincial
government on September 30, 2012.
The process for submission review:

Minister of Training, Colleges and Universities, (MTCU) Glen Murray has read all
submissions.

MTCU requested that Higher Education Quality Council of Ontario (HEQCO)
establish a peer review panel who will evaluate the submissions in terms of their
"ability to achieve significant improvements in productivity, quality and
affordability through both innovation and differentiation."

Anticipating feedback February 2013 timeframe.

Finance & Administration Division – Admin Directors Meeting
November 1, 2012
DEFINING DREAMS

STRATEGIC MANDATE AGREEMENT SUBMISSION
STRATEGIC INTEGRATED PLAN
Research
Advancement
Academic
Mission
F&A
Strategic Integrated Plan Schedule
OCTOBER
• Release SMA
NOVEMBER
DECEMBER
JANUARY
FEBRUARY
MARCH
Release
• Prepare SIP
• DD report
background paper • SIP background
paper
• Assemble & brief
SIP reference
• Comminiqué
group
• Complete DD
report card
• Complete
Research Plan
update
• Complete F&A
Plan update
• Set up
Consultation
Consultations
• Every academic
• Every admin.
• External
Draft Plan
Finalization
March 22 – Senate
March 25 – BOG
Nov. 15 – 21 weeks
Building on the SMA: Our Three Priorities
Our three priorities moving forward are integrated learning, community
building and further development of Carleton as a global academy.
Common to these three priorities is a focus on students.
Building on the SMA : Our Vision
Carleton University's goal is to graduate students who are engaged
and productive citizens in a knowledge economy and a complex world.
We do this by breaking down walls – among disciplines, between
teaching and research, between the global and the local, between the
university and society at large, while embracing the unique learning
opportunities of the nation's capital.
Starting the discussion!
1. What do you consider to be your dept/unit's best strengths and what do you
consider to be the strengths of Carleton University?
2. What are the core values we have as an institution. What do you believe we can
aspire to do as an inclusive institution?
3. How do we build on the foundations of our current strategic direction and
Strategic Mandate Agreement?
4. What advice do you have for reaching our aspirations in terms of:
- Our academic programs and the student experience
- Building Carleton as a research institution
- Ensuring that we have the institutional ability to thrive and
- Enabling all faculty/staff to have the opportunity to realize their potential
5. How should we evaluate our success?