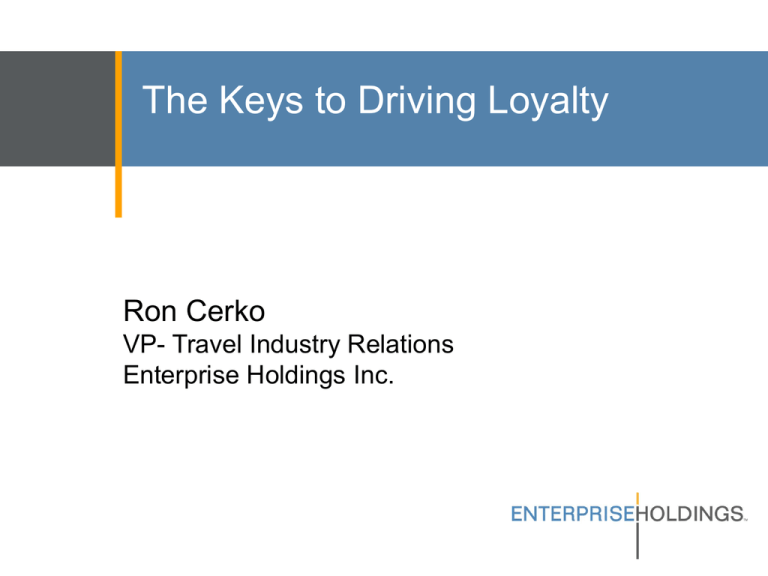 The Keys to Driving Loyalty
Ron Cerko
VP- Travel Industry Relations
Enterprise Holdings Inc.
Driving Loyalty
How to turn
every customer
into a raving
fan for your
brand
Customer Loyalty
Jack Taylor believed in a commodity business, you
must put a fresh twist on things otherwise decisions
are based solely on price with no loyalty.
If you are able to that, people are likely to choose
you without even looking at the competition.
Examples: Costco, FedEx, Starbucks
Stand Out from the Competition
 Meet an overlooked customer need
 Serve a specific and uncrowded niche
 Dedicate yourself to delivering excellent
service
 Offer something your competitors don't
 Develop loyalty through solid execution
 Be humble & authentic
Think Differently
 Customers & employees first; profits will follow
 Initiatives based on customer & employee
satisfaction
 Solve problems that others haven't
 Find new ways do routine activities
 Do business in markets where your
competitors aren't
 Be ready to seize opportunity when it strikes
Customer Service #1
"Customer service is the most important thing
we do. I want customers to say this is the best
company they have ever done business with"
Jack Taylor
Why Customers Leave






1% percent die
3% percent move away
5% develop other relationships
9% leave for competitive reasons
14% are dissatisfied with the product
68% go elsewhere because of the poor
way they were treated by company
employees
Deliver Dazzling Service






Strive for complete satisfaction (top box)
Good service is bad
Hold employees accountable
Ask customers how they liked your service
Empower employees at all levels
Resolve any disputes immediately
Deliver Dazzling Service
 Be where your customers need you most
 Have consistency between locations
 Find ways to enhance the customer's
experience
 Great service is about the simple things
 Sometimes less can be more
 Don't gouge customers by overcharging or
extra fees
Move from Good to Excellent
 Smile- even if customers can't see you
 Acknowledge each customer warmly and
promptly
 Make eye contact and shake the
customer's hand
 Use the customer's name
 Be enthusiastic, polite and sincere
 Do more than the customer asks/expects
Three Critical Questions
 How was our service?
 What could we have done to make your
experience better?
 If there was a misstep, what can we do to
make it up to you?
Partner Loyalty
Continually earn and cultivate the loyalty of
your partners, since they have the potential
to help build your business rapidly.
Remember that such arrangements come
with important responsibilities, as their
customers become your customers.
Rules for Successful Partnerships





Solve your partner's problems
Make the relationship mutually rewarding
Don't go for the last oink out of the pig
Keep the lines of communication open
Never rest on your laurels
Do the Right Thing
"It comes down to doing the right thing for our
company by doing the right thing for our
customers and our business partners"
Andy Taylor
National Ranks Highest
 National Car Rental ranked "Highest in
Rental Car Customer Satisfaction" in the
J.D. Power 2013 Rental Car Satisfaction
Study
 Enterprise Rent A Car placed 2nd and
Alamo Rent A Car placed 3rd
 Surveyed leisure and business travelers
who rented vehicles at North American
airports
"Receiving an award rated by our customers is the highest honor we could receive.
Our road warrior customers are some of the most discerning and demanding in our
industry. And they're very hard graders."
~ Pam Nicholson, CEO and president of Enterprise Holdings
National received the highest numerical score among rental car companies in the proprietary J.D. Power 2013 Rental Car Satisfaction Study SM.
Study based on 12,382 responses measuring 13 companies and measures opinions of business and leisure travelers who rented a vehicle at an
airport location. Proprietary study results are based on experiences and perceptions of surveyed in September 2012 - August 2013. Your
experiences may vary. Visit jdpower.com.
Thank you for your loyalty and
being a great business partner!