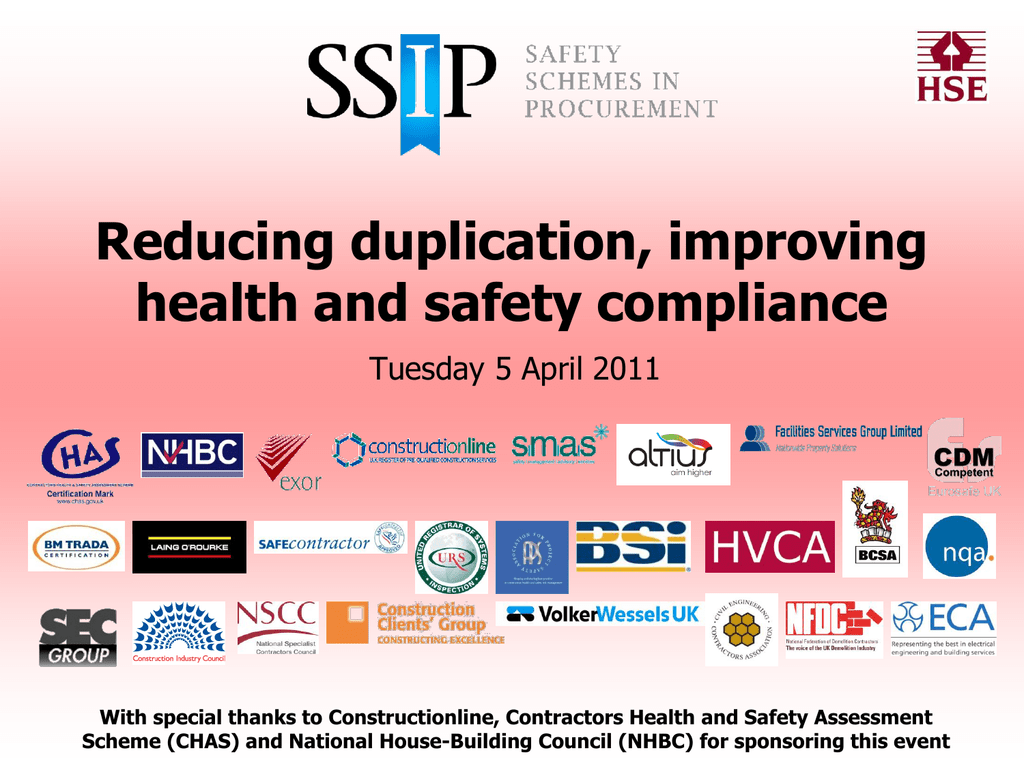 Reducing duplication, improving
health and safety compliance
Tuesday 5 April 2011
With special thanks to Constructionline, Contractors Health and Safety Assessment
Scheme (CHAS) and National House-Building Council (NHBC) for sponsoring this event
Welcome and Introductions
Chair, Paul Reeve
Head of Health and Safety and Environment at
the Electrical Contractors' Association (ECA)
SSIP: Realising the benefits
Paul Morrell
Chief Construction Adviser at the Department
for Business, Innovation and Skills (BIS)
SSIP: Its Successes,
its Future
Philip White
Construction Chief Inspector at the
Health and Safety Executive (HSE)
Successes of SSIP in 2010/11
• Growth in member schemes and in numbers
assessed
• Growth in influence through clients
• Integration with PAS 91
• Launch of the IRCA Certification scheme for
assessors
• Solid development of the processes behind
SSIP, to ensure independent scrutiny, and
integrity of operation
The future depends on
common understanding
Key messages for 2011
• For Clients
• For Contractors
• For the industry
Clients
• SSIP is not:
– All you need to do before engaging a
contractor – a Stage 2 process is always
required
• SSIP is:
– A proportionate method of meeting the
need for a health and safety assessment at
the prequalification stage
– A means of reducing duplication through
mutual recognition
– A means of ensuring a consistent standard
of assessment
Contractors
• SSIP is not:
– Something you need to engage a
consultant to do for you
• SSIP is:
– A method of desktop assessment of your
health and safety arrangements which is
sensitive to the needs of SMEs, and
resource effective
– A framework which ensures that if you
pass an assessment from one member, this
will be accepted by the others
– Audited annually by independent auditors
The Industry
• SSIP is not:
– Just another money making scheme
• SSIP is:
– About improving health and safety on site
– Targeting the many SMEs, not the few majors
– Innovating. In partnership with IRCA, the new
Assessor Certification scheme brings strength
and consistency to the assessment process
– Simplifying - simply specify SSIP or equivalent
as a stage one prequalification criteria for
health and safety
SSIP and the International Register
of Certificated Auditors' (IRCA)
assessor training
David Riley
Director, JAD Associates (Improvement Solutions) Ltd
and
Alan Johnson
Accredited Assessor
Project Scope
• Contracted in June 2010 by HSE to develop
an SSIP Assessor Certification Scheme:
– SSIP Assessor Competence Set
– SSIP Assessor Training Course
– SSIP Assessor Certification Scheme
• SSIP Forum to operate as scheme committee
• IRCA SSIP Assessor scheme approved by
SSIP and launched March 2011
IRCA SSIP Assessor Certification
• SSIP Provisional Assessor
• SSIP Assessor
• SSIP Reviewer
IRCA SSIP Assessor Certification
• Education (pre-requisite)
– At least secondary + NEBOSH certificate
• Work Experience (pre-requisite)
– Five years including 2 years relevant H&S
• Training
– IRCA SSIP Assessor course: pass
• Assessment Experience
– 10 assessments, at least 1 signed off by an
SSIP Reviewer
IRCA SSIP Assessor Certification
• Standardised training to ensure assessors are
"Well Rounded"
• 1 day course covering
– SSIP knowledge
– CCS1 Knowledge
– Typical Case Studies
• 45 minute examination, 70% pass mark
Process for Certification
• Meet pre-requisite requirements
• Pass training course
• Become 'Provisional SSIP Assessor'
• Gain assessment experience / sign off by Reviewer
• Become 'SSIP Assessor'
• Received Certification Card and IRCA website entry
• Recertification after three years dependent on CPD
and ongoing assessment experience
Contact
• Registered office
address:
International Register of
Certificated Auditors
12 Grosvenor Crescent
London SW1X 7EE
United Kingdom
• Web: www.irca.org
• Email: [email protected]
Benefits of the IRCA training
• Thank you David….
There are a number of benefits for
SSIP to be gained from this
training. It will:-
• Improve the consistency of
assessments, and ensure that all
assessors have a more formalised
structure to assess towards.
Benefits of the IRCA training
• Provide a common thread throughout all
participating SSIP organisations & assessors.
• Raise stakeholder confidence.
• Reduce duplication of training.
• Provide additional recognised qualification for
assessors which in turn will help to maintain
professionalism and competence.
Benefits of the IRCA training
Overall I personally feel that the
involvement of IRCA as a recognised and
independent Audit body is a very positive
step forwards for the SSIP.
Benefits of the IRCA training
However as the training shows us the real key
to quality assessing is the experience of the
assessors – this is not something that the
training alone can give us.
I know from personal experience that if this
training had been available when I started to
undertake assessments it would have been a
real benefit to me.
Benefits of the IRCA training
The training is a good way of developing /
honing and refreshing the soft skills necessary
in carrying out the stage 1 audits.
It also reminds us as assessors of the need to
carry out our activities with the upmost
professionalism – and perhaps to just
remember that there is a person on the
receiving end of our probing.
Benefits of the IRCA training
There are a few areas where the assessor
needs to remain extremely vigilant, and
the training does point out and cover
some of these areas including:-
Benefits of the IRCA training
• Falsified documentation
Received JUNE 2010
This is just one
example, due to
time constraints I
cannot show any
more but I get
many different
types of tampered
doc's every year which nearly
always end up
with a clear
assessment
failure.
Benefits of the IRCA training
• Falsified documentation
• Documents not embedded into the
company (or actually belonging to them).
• Packs of blank forms.
• Off the shelf applications (we guarantee
you 100% pass type organisations).
• Very old or out of date documents.
Electricity (Factories Act) Special Regulations 1904 ?!?!
Summary
This additional and independent training is
going to help all SSIP member organisations.
We as assessors can only evaluate the
evidence & documentation provided at the
time (Stage 1 assessment), which is why:The subsequent stage 2 checks are still key
to fully adequate contractor control (the
stage 1 is not the end of the story).