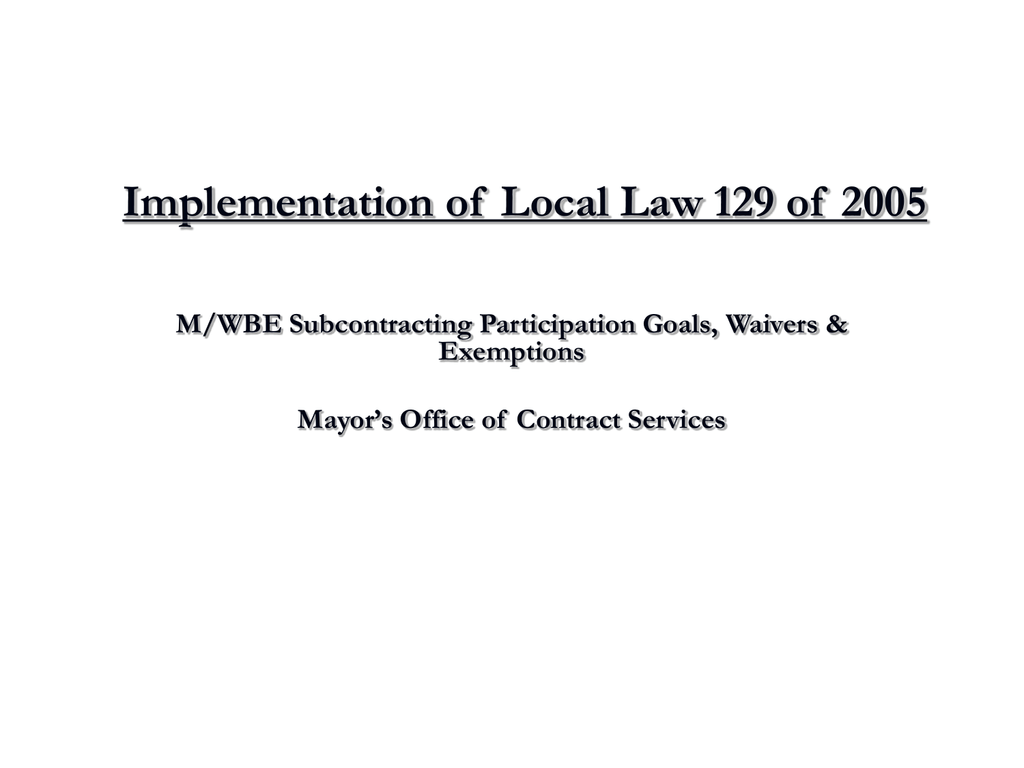 Implementation of Local Law 129 of 2005
M/WBE Subcontracting Participation Goals, Waivers &
Exemptions
Mayor's Office of Contract Services
Overview
• How do agencies establish M/WBE subcontractor
participation goals;
• What are pre-bid (or pre-proposal) full or partial waivers of the
M/WBE subcontractor participation goals?
For Which Kinds of Contracts Must the Agency Chief
Contracting Officer (ACCO) Establish M/WBE
Subcontractor Goals?
1. Construction
"Construction contract" means any agreement with an agency for or in
connection with the construction, reconstruction, demolition, excavation,
renovation, alteration, improvement, rehabilitation, or repair of any building,
facility, physical structure of any kind
2. Professional Services
"Professional services" means services that require specialized skills and the
exercise of judgment, including but not limited to accountants, lawyers, doctors,
computer programmers and consultants, architectural and engineering services,
and construction management services
For Which Kinds of Procurement Methods Must the Agency
Chief Contracting Officer (ACCO) Establish M/WBE
Subcontractor Goals?

M/WBE goals are required on all construction contracts
and professional services contracts, except for contracts
procured via the following methods:
1.
Emergency Procurements;
Intergovernmental (OGS/GSA) Procurements;
Small Purchases;
Sole Source Contracts;
Government-to-Government Procurements;
State or Federal Required Method or Required/Authorized Source
Contracts;
Any procurement that results in an award to a not-for-profit entity.
2.
3.
4.
5.
6.
7.
How does the Agency Chief Contracting Officer (ACCO)
Establish the M/WBE Subcontractor Goal for Each Contract?
For each covered (construction or professional) prime
contract, four distinct determinations or calculations are made:

1.
2.
3.
4.
Overall Percentage of Subcontracting
Amount of Subcontracting < $1M
Setting Contract Goals
Practical Considerations
1- Overall Percentage of Subcontracting

The percentage of subcontracting in a prime contract is determined.

The current contract is compared with similar contracts the agency has had in
the past.
Prime Contract Dollar Value
80%
20%
Subcontracted (for construction
or professional services)
2- Percentage of Subcontracting < $1M
•The percentage of construction/professional service subcontracts below $1M is
determined.
*Note: This is referred to as the "Target Subcontracting Percentage" or "TSP"
Amount of Subcontracts < $1M
Subcontracts
< $1M
3- Setting Contract Goals
Local Law 129 established Citywide goals for M/WBE Participation.
Agencies are not locked into citywide goals, and it may be the case that a
goal is higher than citywide figures on a given contract as long as the
citywide goals are met during the year. These goals are:
Type of
Contract
AfricanAmerican
AsianAmerican
HispanicAmerican
WBE
M/WBE
Total Goal
Construction
12.63%
9.47%
9.06
NA
31%
Professional
Services
9%
NA
5%
16.5%
31%
4- Practical Considerations
An agency may only be able to meet one or two of the goals per contract.
Subcontracts Dollar Value
98%
Subcontracts < $1M
2%
• The bid package or solicitation may ask a bidder to identify which subcontracting goals it will seek to
achieve.
• Just as well, the agency may direct which ethnic category is chosen for subcontracts in order to meet
the goals.
Implementation of Local Law 129: WAIVERS
Understanding, Completing and Evaluating
Schedule B, Part III: Request for Waiver of
Target Subcontracting Percentage
Overview of Waivers
Context: What if a bidder can't meet all or part of the target subcontracting
goal? Apply for a Pre-Award Waiver.
2 Types of Waivers: Full and Partial
(1) Full Waiver: NO SUBCONTRACTING
(2) Partial Waiver: SUBCONTRACTING AT AMOUNT LOWER THAN AGENCY
TSP
3 Outcomes of Waivers: Full, Partial, and Denied
Vendor Receives FULL Waiver: NO SUP Submission, but MUST Submit Waiver
Form.*
Vendor Receives PARTIAL Waiver: MUST submit SUP and Waiver Form with Bid
Package or be found non-responsive.
Vendor's Waiver is DENIED: Submit SUP ONLY.
*Note that an "SUP" refers to the Subcontractor Utilization Plan.
Evaluating a Vendor's Waiver Request: Eligibility
Bidder MUST show:
•
Legitimate Reason ("Bona Fide Intention")
•
•
•
Bidder's business model differs significantly from the way the agency envisioned the
contract performance.
Determine whether the vendor's reasons/representations are bona fide?
• Bidder's past subcontracting practices.
• Good Faith.
Capacity
• The ability to perform the contract:
(1) without any subcontracting (FULL);
(2) without awarding any subcontracts under $1 million (FULL); or
(3) without awarding the amount of subcontracts under $1 million set out by the
agency in the target subcontracting percentage (PARTIAL).