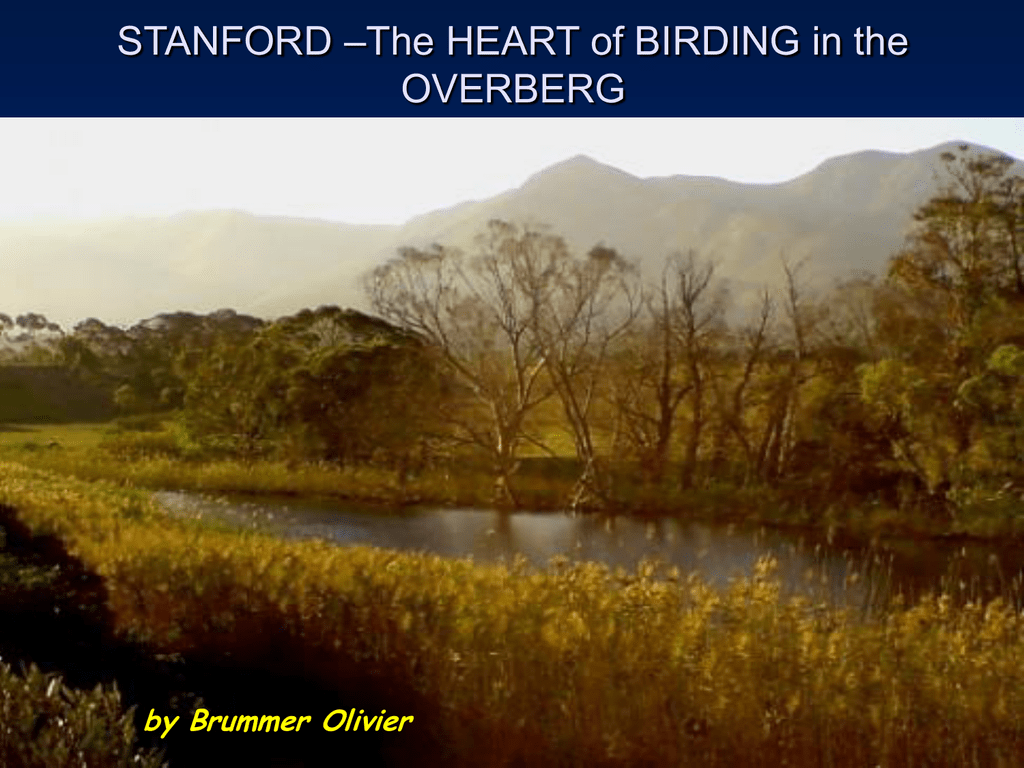 STANFORD –The HEART of BIRDING in the
OVERBERG
by Brummer Olivier
WHAT MAKES A BIRDING
HOTSPOT?
•
•
•
•
•
•
SPECIALS. (Local endemics and rare birds)
INFRASTRUCTURE. (Bird lists, Routes, Guides)
ACCOMMODATION. (BLSA Birder Friendly)
RESIDENT AND BUSINESS INTEREST.
ACCESSABILITY.
AN AREA WITH GOOD HABITAT DIVERSITY
AND SCENERY.
Similarities between Stanford and
Wakkerstroom.
• Both are popular rural towns with a rich
history.
• Both are easily accessible from major
cities.
• Both offer good accommodation facilities
and good infrastructure.
• Both have good birding possibilities and
are rich in endemics.
So what makes Wakkerstroom
different?
• BLSA offices.
• Trained guides who almost guarantee
sightings of sought after birds.
• Birding routes and info compiled in a
booklet.
• Bird hides.
• Birder Friendly Accommodation and
businesses.
What do we have and what do we
need to make Stanford a Birding
Hotspot?
BIRDFAIR
EXISTING AND POTENTIAL
INFRASTRUCTURE
POPULAR BIRDING
HOTSPOT
ENDEMISM
Of the 68 ENDEMIC bird species
in South Africa, 30 occur within
close proximity of Stanford!
STANFORD SPECIALS
Southern Double-collared Sunbird
Forest Buzzard
Jackal Buzzard
Grey-winged Francolin
Cloud Cisticola
Sentinel Rock-thrush
Fiscal Flycatcher
Cape Rock-thrush
Cape Clapper Lark
Cape Grassbird
Hottentot Buttonquail
Southern Tchagra
Large-billed Lark
Agulhas Long-billed
Cape Bulbul
Karoo Prinia
Lark
Black Harrier
Cape Rockjumper
Pied Starling
Swee Waxbill
Cape Siskin
Cape Weaver
Cape Spurfowl
Victorin's Warbler
Cape White-eye
Knysna Woodpecker
Cape Sugarbird
Ground Woodpecker
Southern Black Korhaan
Orange-breasted Sunbird
INFRASTRUCTURE
• An information guide containing a
complete list of the birds of the area as
well as a detailed map with routes on
where to locate the specials.
• Trained BLSA guides.
• Special activities eg cycling routes, wine
farms, river trips etc.
• Bird hides.
• Accessible birding destinations in the area.
ACCOMMODATION
• All interested accommodation
establishments should be geared for
birders in terms of meal times, birding
media and general interest.
• Becoming a Birder Friendly establishment
through BLSA requires the above and is
good for marketing
RESIDENT AND BUSINESS
INTEREST
• Gardens and the layout thereof attract lots
of birds.
• Businesses selling bird books and other
related items.
• Art and craft relating to birds of the area.
• Welcoming to birders.
ACCESSIBILITY
• Stanford is ideally situated for birders
arriving in Cape Town and who would like
to explore a wider area.
• The surrounding farm roads are easily
accessible for normal sedan cars.
• Existing operations offer river and ocean
trips
AREA WITH GOOD HABITAT DIVERSITY AND SCENERY
BIRDFAIR: What do we have?
•
•
•
•
•
•
Talks and Slideshows
Photographic Competition
Outings
Market
Gin Tasting
Kids activities and Shows
What can we add to this to make it
attractive to birders from all over
the country?
• A good chance to see the special
Endemics of the area!
• Outings with a difference.
• Good hospitality.
• Low carbon footprint.
• Social responsibility.
Suggested Bird outings for the Fair
• Kleinrivier boat trip. Late afternoon sundowners.
(Gin tasting)
• Guided birding tour through town on bicycle.
• Tafelberg endemics trip. (Salmonsdam)
• Farmland loops for wheat field specials.
• Danger Point. (I&J)
• Cheese Farm and Wine farms.
• Exciting activities for the children eg Feather
hunt, Waterbird ID, colouring competition.
MARKETING
• Marketing for the Bird Fair should be done
over the whole of S.A. through the various
Bird clubs.
• Stanford Birding Website.
• Birds and Birding magazine.
• Newspaper articles.
• WORD OF MOUTH.
What to do from here?
• Set priorities for the establishment of above
mentioned needs and infrastructure.
• Identify the potential role players.
• Identify accessible areas where the specials
occur eg nesting sites.
• Incorporate potential activities into monthly
outings.
• Establish working relationship with BLSA for the
training of guides and registering of birder
friendly accommodation.
Thank you very much.
Now for YOUR input!