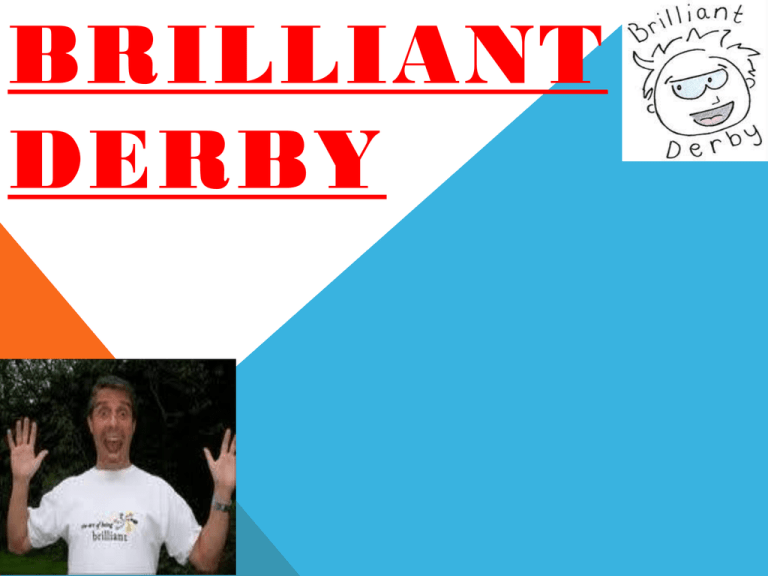 BRILLIANT
DERBY
WHAT IS BRILLIANT
DERBY?
Brilliant Derby is a project to make people
more positive. The aim was to make the
whole of Derby 2%ers. 2%ers are
people who are always happy and their
happiness grows and then spreads all
around Derby and eventually the world.
WHAT IS A 2%
If people are positive and happier they will
be able to achieve more .Whether it's
getting better at a forward roll or getting
high marks in a SATS test.
If you are positive, your confidence will
soar and you can achieve anything you
want!!!!!!
THE PIG OF HAPPINESS VIDEO!
WHAT ARE MOOD HOOVERS?
Mood Hoovers are people that are
BORED AND LAZY and can't get on
with their 4000 weeks of their lives.
They are always moaning about
other people who may have a better
car or are richer than them selves.
CHOOSE TO BE POSITIVE
The first step to becoming a 2%er is
to choose to be positive . Andy
Cope , who is the author of Spy
Dogs and is also the producer of
Brilliant Derby , went to see the
happiest man in Britain and he said
that he chose to be positive!
UNDERSTAND YOUR IMPACT
If you decide to be a 2%er you will see the impact on
other people. 10% of your life happens and you
have no control over it. How you deal with life and its
problems is the other 90%.
Are you going to change your life for the better?
We are now going to show you a video that took 14
months to make. 42 countries were involved in the
making . It is an example of spreading happiness.