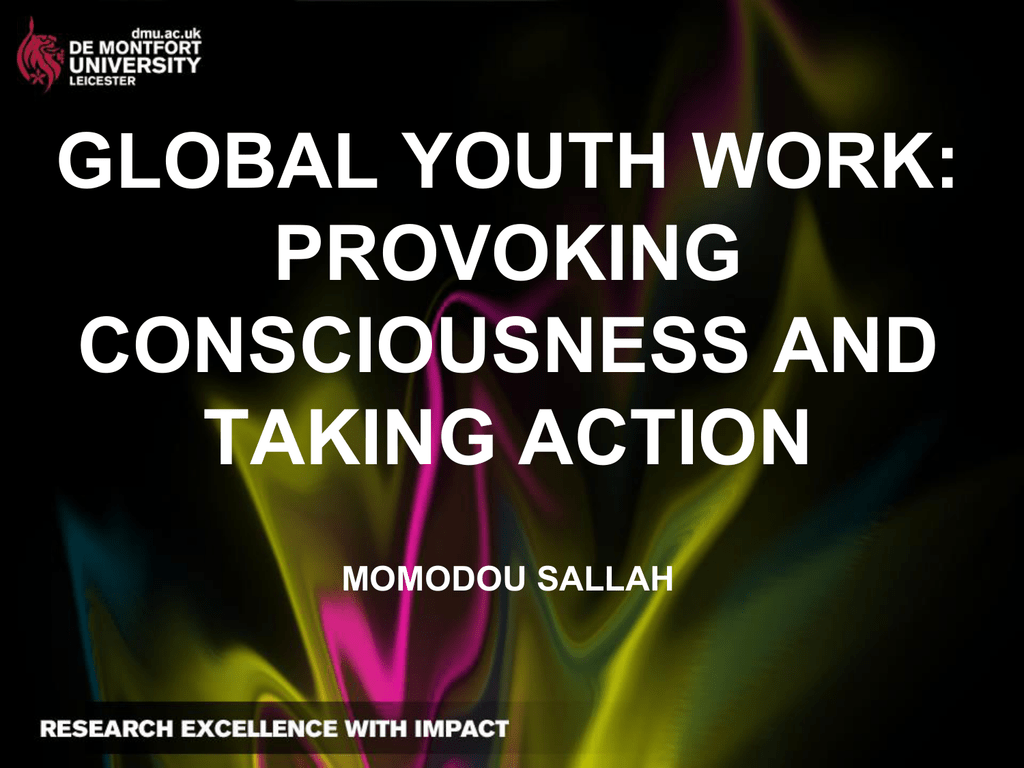 GLOBAL YOUTH WORK:
PROVOKING
CONSCIOUSNESS AND
TAKING ACTION
MOMODOU SALLAH
OBJECTIVE
• To highlight different terminologies and focus on
process
• To share Global Youth Work Conceptual models
• To share defining characteristics of Global Youth
Work
• To provoke a reflection on the effectiveness of
our practice in building a more humane world
WHAT IS IT CALL?
• Global Youth Work
• Global Education
• Education for Sustainable Development and Global
Citizenship (ESDG) (Wales)
• Global Citizenship
• International Humanitarian Education
• Global Learning
• International Youth Work
• Development Education in Youth Work and Global Justice in
Youth work (Ireland)
Sallah (2009); Cotton (2009); Dare to Stretch (2009) (North-South Centre 2010)
DEFINITION
"Global Education is education that
opens people's eyes and minds to the
realities of the globalised world and
awakens them to bring about a world
of greater justice, equity and Human
Rights for all."
The Maastricht Global Education Declaration (2002:2)
WHAT IS GYW?
• Is concerned with how the concept and process
of globalisation impacts on young people's
realities
• Is based on the principles of informal education
• Promotes consciousness and action
• Challenges oppression and promotes social
justice
• Located in young people's realities
•DEA (2004) Global Youth Work Practice Training and Resource Manual
•Bourn, D. & McCollum, A. (eds) (1995) A World of Difference: making global connections in youth work. DEA: London
•Sallah, M. & Cooper, S. (eds.) (2008) Global Youth Work: Taking it Personally. Leicester: National Youth Agency.
CONNECT, CHALLENGE, CHANGE
DEA (2010)
Woolley (2011)
WOOLLEY (2009)
DIMENSIONS OF THE GLOBAL
EDUCATION CONCEPT (NORTHSOUTH CENTRE 2010)
MAKING PLINGS
• a) an analysis of events and developments
happening at micro level in the nearest reality
• b) selection of specific themes related to
those events
• c) recognition of connections with the macro
world and the emerging dialogue between
them (North-South Centre 2010:21)
Sallah, M. (2014) Global Youth Work: Provoking
Consciousness and Taking Action. Lyme Regis:
Russell House Publishing
WHY DOES GYW WORK?
• Informal and experiential learning
• New learning – stretching the imagination
• Generation of curiosity "View the world in
someone else's eyes"
• Young people as co-producers of knowledge
• Symbiosis of consciousness and action
• Sallah, M. (2013) Evaluation of the Global Youth Work in Action project
(2010 - 2013). London: Ycare International
CONCLUSION
• GYW can be a catalyst to provoke
consciousness and bring about change
• Is it a plaster on a broken bone or an
anaesthetic?
• Is it from the "Missionary Position" or
critical consciousness?
• Global Youth Work is not only "out there"
but "in here" too.