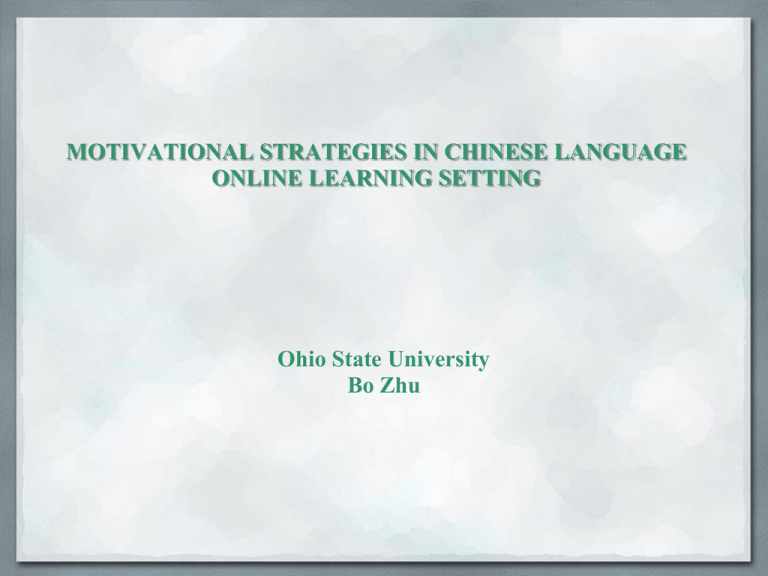 MOTIVATIONAL STRATEGIES IN CHINESE LANGUAGE
ONLINE LEARNING SETTING
Ohio State University
Bo Zhu
Motivation And Language Learning
 A motivated learner is (a) eager to learn the language, (b) willing to expend effort on the
learning activity, and (c) willing to sustain the learning activity (Gardner,1985).
 Motivation arouses, directs, and sustains increased performance (Duttweiler, 1986).
 A student's motivation is the most critical factor for success within computer-assisted
language learning (CALL) environments (Brandl, 2002; Desmarais, 2002; Doherty, 2002;
Gilbert, 2001; Ushida, 2005).
 The Role of Motivation in L2 Learning (Gardner's model 2000)
Intrinsic Motivation for Learning
Above all the basic wants, the brain wants survival. This survival machine is selfregulated. To survive, we must be in control, or believe that we are. Therefore wanting
survival means wanting control.
We are ruled by the pleasure system i.e. "I want this", and our fear system i.e. "I don't
want that". Our brain is in the constant process of evaluating our environment and then
develops strategies to enhance our opportunities and minimize our dangers in order to
survive. We survive by thinking, planning, and deciding.
Fear and pleasure are innate, however what to fear and what gives us pleasure may be
learned. Cognition triggers a type of internal reward system, we want to learn because we
enjoy it and in order to survive we have to learn.
As educators, must help people see how it matters in their own lives. Because our
emotions are such an integral part of the survival system, if we expect people to learn, we
must expect to encounter emotion, and we must take it seriously
The extrinsic "rewards" (such as grades, scholarships golden stars) are aimed at the
wrong target, they have no natural relationship to the internal life of learning. Intrinsic
motivation is automatically connected with learning. If our aim is to help others learn, we
must identify what is already motivating them. This is not to say that extrinsic rewards
are altogether worthless, they can serve a stepping stone toward intrinsic rewards.
Three Motivational Strategies In Designing An Online Language
Course:
1) TO ESTABLISH A LEARNING COMMUNITY
Main characters in the story serve as learning buddies.
A forum creates the learner-to-learner communication.
2) TO REWARD LEARNING WITH LEARNING
3) TO CONSTRUCT AN ACTIVE LEARNING SETTING
Individualized instruction with CMC
Approach the learning target from different angles
Project Introduction
 Project Title: Play Smart Beyond 8 Hrs
 Delivery Media: Internet-based material
 Level: Intermediate to advanced level
 Target Population: Learners of Chinese as a Foreign Language who are or
will be living in China as professionals.
 Objective:
To interact with their Chinese work associates,
To blend themselves into the Chinese social life,
To build up successful interpersonal networks.
Strategy 1: to establish a learning community
Main characters in the story serve as learning buddies.
Strategy 1: to establish a learning community
A forum creates the learner-to-learner communication.
Strategy 2: to reward learning with learning
A CULTURAL TIP
The tips are all contributed by previous learners of Play Smart.
"TIP-WRITER AWARD"
After collecting 50 tips, the learner wins the honor to write his or her own cultural
tips, which will be include in the existing tip reservoir.
TRANSITION OF LEARNING POWER
The power of learning is transmitted from extrinsic support to intrinsic strength.
Strategy 3: to construct an active learning setting
Approach the learning target from different angles
Strategy 3: to construct an active learning setting
INDIVIDUALIZED INSTRUCTION WITH CMC
The loneliness of distance learning
The sense of social link
The satisfaction of authentic communication
Conclusion
With the new media and technologies, language educators can
improve students' motivation in online self-learning by
creating a communicative, active, and intrinsically motivating
learning environment. It is our goal that learners can enjoy
learning with computer assistance and, most importantly, learn
with joy.
References
Chang, MM. 2010. "Effects of Self-Monitoring on Web-Based
Language Learner." CALICO Journal, v. 27 issue 2, p. 13.
Duttweiler, P. C. (1986). Educational excellence and motivating
teachers. (ERIC Document Reproduction Service No. ED 275 791).
Gardner, R. C. (1985). Social psychology and second language
learning: The role of attitudes and motivation. London: Edward
Arnold.
Zull, James E. 2002. The art of changing the brain: enriching
teaching by exploring the biology of learning. Sterling, Va: Stylus
Pub.