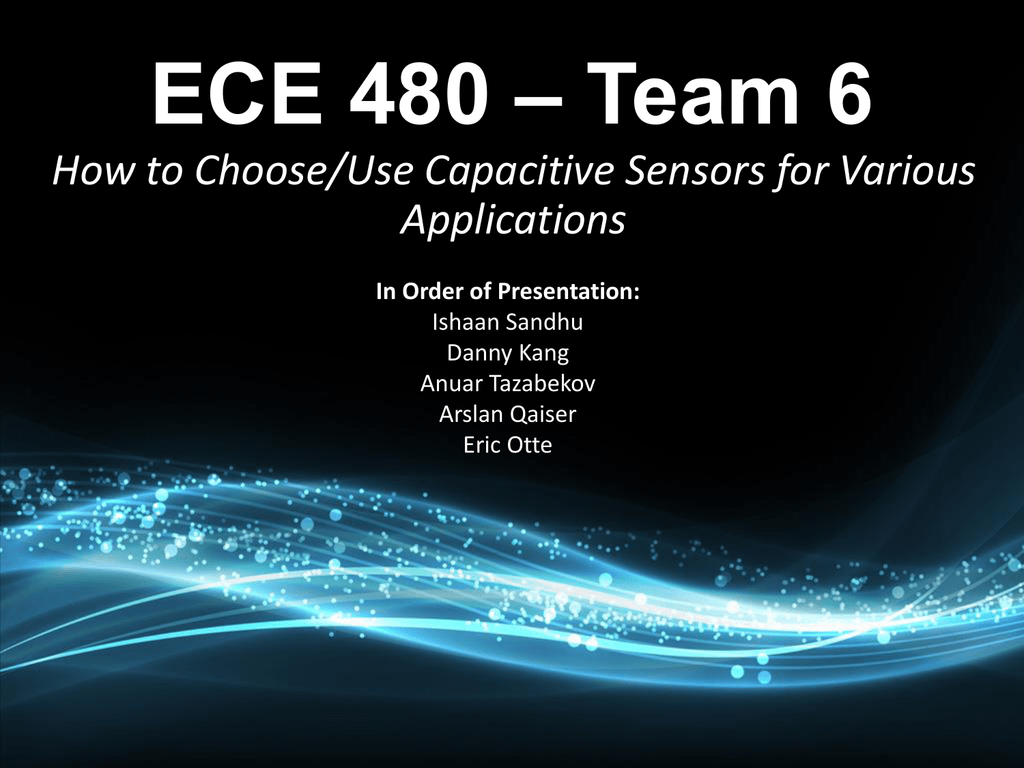 ECE 480 – Team 6
How to Choose/Use Capacitive Sensors for Various
Applications
In Order of Presentation:
Ishaan Sandhu
Danny Kang
Anuar Tazabekov
Arslan Qaiser
Eric Otte
Background
• Three Main Types:
• Displacement
• Touch Sensor and iPod Click
Wheel
• Accelerometer
• Automobile Suspension System,
Air Bag System, ABS
• Pressure
• Tire Pressure
Background (cont...)
• Capacitance
• Electric Fringe Fields
• Dielectric differences
Background (cont...)
• Advantages of Capacitive Sensor
•
•
•
•
•
•
•
Higher accuracy
Smaller size
More reliable (compared to mechanical)
No moving parts (more durable)
No direct contact with the sensor
Sealed from dirt
Cheaper
Water level sensor
• Metal electrode
• Ground vessel
• Dielectric change
causes change in
capacitance
Water Level Sensor (cont...)
• Figure shows simplified
view
• Typical Applications:
• Gas Tank Sensor
• Water Reservoir
• Production Vats
• Cheaper than similar
sensors
• More Accurate
Airbag System
• Required by Government law since 1999
model year
• Capacitive Pressure Sensor and Capacitive
Accelerometer Sensor are used for passenger
protection
Airbag System
• Sense a passenger.
• Capacitive Pressure Sensor
• Use a thin diaphragm
• Pressure is detected based on change in the
capacitance between the diaphragm and the electrode
Airbag System
• Sense a crash
• Capacitive Accelerometer Sensor
• A change in electrical capacitance with respect to
acceleration
Touch sensor
•
•
•
•
Electrical disturbance
Two plate sensor
Surface charge
Overlay of 1-3mm
Touch sensor (cont...)
• Interaction with E-fields
• E-fields projects through material
• Responsive to conductive devices
Touch sensor (cont...)
• Change in capacitance
• Dielectric permittivity influence
• Common applications
– Touch screens (ex. iPhone, Nexus1)
– Track pads
Vehicle Identification Capacitive Sensor
• Used at road toll stations
• Current Inductive sensors
• Drawbacks:
• Covers large area
• Senses only metal
• Not very accurate
• Solution: Use a capacitive sensor
Capacitive sensor structure
• 11 Excitation and 30 detection electrodes
• B0 (detection circuit and CtD)
• B0 connects to B1-B30
• Capacitance between plates A and B
Structure (cont...)
• Sensor embedded into a ramp
• Help slow the cars down
• Stray capacitance
Capacitance measuring circuit
• Cx is very small
• Cs1 and Cs2 are large
• Measured Cx:
V3 = 2fVcCxRf + V1-V2
• Detection of 0.001 pF
• Sensitivity 1V/pF
Capacitive Sensors for Thickness
Measurement




Utilizes high-performance,
complex sensors
Resolution down to less
than one nanometer
Thickness measurement:
capacitive vs. inductive
Ex: Measuring the
thickness of silicon wafers
Capacitive Sensors for Thickness
Measurement
• Components:
• Probe: Device which emits
the electric field
• Probe Guard: Shapes the
electric field
• Circuitry: Measures very
small changes in
capacitance using complex
algorithms
Capacitive Sensors for Thickness
Measurement
• Single channel:
• Only one sensor probe
• Non-flat surfaces produce
error
• Dual channel:
• Uses two sensors placed on
opposite sides of object to
be measured
• Nulls out curved surface
errors due to differential
operation
Capacitive Sensors for Thickness
Measurement
• Typical Applications?
• Machining
• Manufacturing
• Precision thickness
measurements
Conclusion
•
•
•
•
•
•
•
Background
Water Level
Air Bag deployment systems
Touch sensors
Vehicle detection system
Thickness Measurement
Questions?