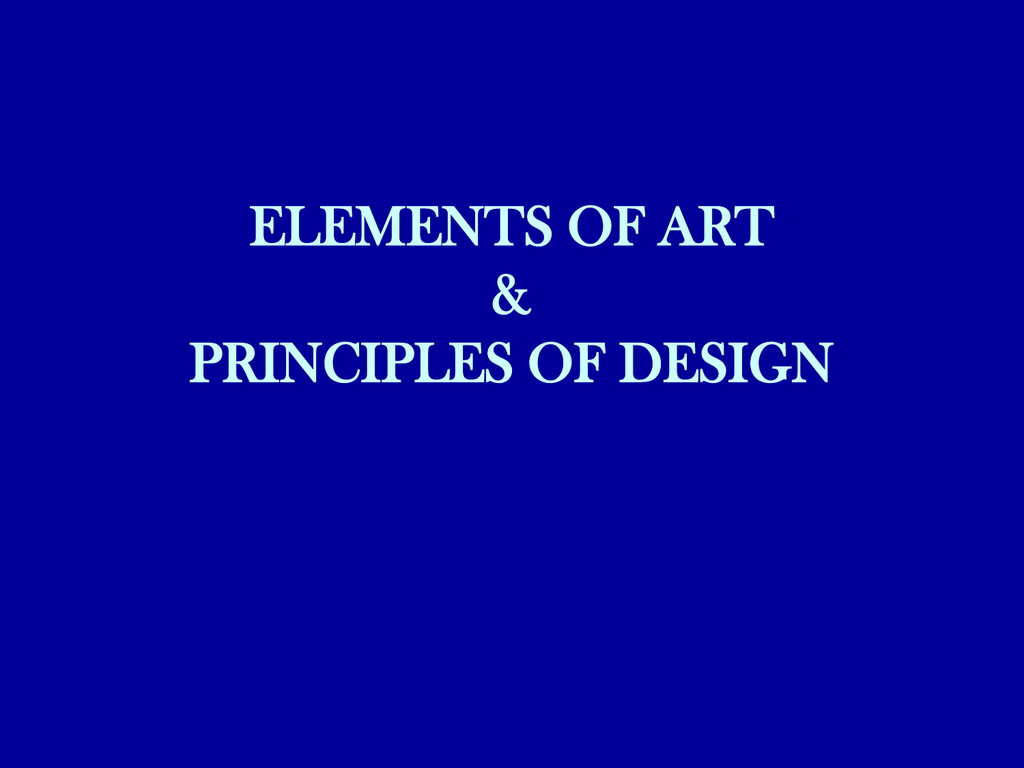 ELEMENTS OF ART
&
PRINCIPLES OF DESIGN
The elements and principles of design are
the building blocks used to create a work
of art. The elements of design can be
thought of as the things that make up a
painting, drawing, design etc. Good or bad
- all paintings will contain most of if not all,
the seven elements of design.
The Principles of design can be thought of
as what we do to the elements of design.
How we apply the Principles of design
determines how successful we are in
creating a work of art.
SEVEN ELEMENTS OF ART
LINE
TEXTURE
VALUE
COLOR
SHAPE
SPACE
FORM
LINE
 A thin mark on a surface created by a pencil, pen, brush,
or other tools. There are many types of lines. Lines can be
joined together to create shapes.
 Lines are used to define shape, contours, and outlines and
also used to suggest mass and volume.
 It may be may be a continuous mark made on a surface with
a pointed tool or implied by the edge of shapes and forms.
COLOR
PRIMARY COLORS
RED, YELLOW, BLUE
SECONDARY COLORS
INTERMEDIATE COLORS
COMPLEMENTARY COLORS
Helen
Frankenthaler
Bay Side (1967)
Acrylic on
Canvas
The Golden Wall
Hans Hofmann
59½ x 71½"
Oil on Canvas
1961
The Art Institute of
Chicago
Claude Monet. Haystack at the Sunset near Giverny. 1891. Oil on canvas.
Museum of Fine Arts, Boston, MA, USA
Claude Monet, Impression: Sunrise (1872): oil on canvas
Emil Nolde
Still Life, Tulips (1930)
Watercolor on paper
Judy Pfaff
Voodoo (1981)
Contact paper collage
on mylar
TEXTURE
The surface quality of an object.
Real Texture
The actual texture of an object.
Artists may create texture in art to give
it a visual interest or evoke feeling
Implied Texture
A two-dimensional piece of art is made
to look like a certain texture but is in
fact just a smooth piece of paper.
SHAPE
FORM
SPACE
SHAPE
Any two-dimensional image or
element that is used in the artwork
FORM
An object that has three
dimensions.
SPACE
The perception of depth or dimension.
It defines whether objects are in front
or behind other objects, are situated
around them, or projects from them.
Shapes found in nature with
characteristics that are free flowing,
informal and irregular.
Positive Shapes
&
Negative Shapes
Static Shape
Shapes that appear stable and
resting
Dynamic Shape
Shapes that appears moving and
active
LINEAR PERSPECTIVE
One-Point Linear Perspective
Two-Point Linear Perspective
VALUE
The element of art and design
dealing with the lightness and
darkness of color in an artwork.
A color can be darkened by adding black that
results in a shade of that color.
A color can be lightened by adding white
that results in a tint of that color.
There are many elements of art
that are involved in creating,
that an artist uses or
manipulates to create
artwork.
A. Choose three elements of art
and define them.
B. Using the three elements
that you defined, describe
how the Picasso uses or
manipulates each one in
"The Old Guitarist".