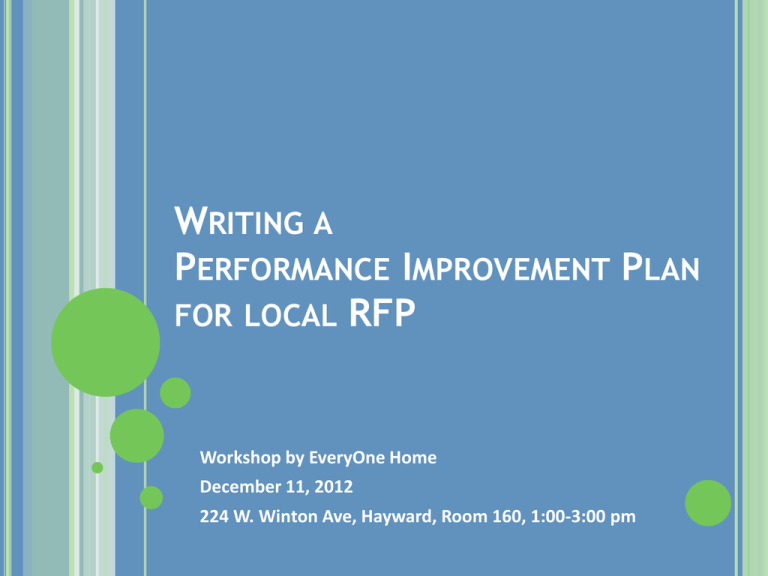 WRITING A
PERFORMANCE IMPROVEMENT PLAN
FOR LOCAL RFP
Workshop by EveryOne Home
December 11, 2012
224 W. Winton Ave, Hayward, Room 160, 1:00-3:00 pm
MAKE YOUR PERFORMANCE IMPROVEMENT PLAN
SMART
S
Specific
M
Measureable
A
Attainable
R
Relevant
T
Time
Bound
MAKE YOUR PERFORMANCE IMPROVEMENT PLAN
SMART

Specific—Be very clear about what you are trying to
achieve

Measureable— Identify what will be measured to
determine progress

Attainable—Include realistic strategies that can be
implemented

Relevant—Choose strategies that will have a direct
impact on the situation

Time—Have a deadline for achievement
SMART goals can be harder to write than they sound. Fortunately, the
PIP template has done some of the work for you.
PERFORMANCE IMPROVEMENT PLAN TEMPLATE IN RFP
PERFORMANCE IMPROVEMENT PLAN TEMPLATE
COLUMN 1 FOR OUTCOMES
Column 1 lists the specific goal
you are trying to achieve





Obtaining or Retaining
Permanent Housing,
Exiting with earned income or
exiting with some income,
Exits to know destinations,
Fully expending the grant,
Achieving a passing grade on
data completeness.
PERFORMANCE IMPROVEMENT PLAN FAR RIGHT
COLUMNS FOR OUTCOMES
The two right hand columns identify what
is to be measured:

For the Outcome measures, you must
hit the community benchmark or
improve your performance by 10
percentage points over your current
level.

For Spending, you can propose to
reduce unspent funds by 50%.

In HMIS you must get a grade of C or
better on the data completeness
report card.

The methods of measuring your
results are generated out of HMIS and
the APR's, which you must run
yourselves and include with your local
application.
PERFORMANCE IMPROVEMENT PLAN FAR RIGHT
COLUMNS CONTINUED..
The two right hand columns
also identify the time
boundaries for the PIP:
 Your plan has to include
the rate of progress you
will have achieved by
June 30, 2013 and then
by September 30, 2012.
PERFORMANCE IMPROVEMENT PLAN
MIDDLE COLUMN FOR OUTCOMES
Complete the middle
column with Attainable
and Relevant actions you
will take.
Reviewers will be instructed
to evaluate whether the
actions you propose are
likely to achieve the
results you intend.
They will be accessing how
realistic and relevant
your action steps are.
IMPROVING OUTCOMES

Is your program housing-focused?
Do consumers hear right away that a primary purpose is to get them permanently housed as
quickly as possible. In TH do you talk about the permanent housing plan in first formal
Case Management meeting, at orientation, even earlier as part of the program application.
SSO and drop-in centers are all staff trained to ask about housing encourage people to
work on it.
In permanent housing there can be a disconnect between property management and
services, wherein property management can be rushing to evict rather engaging services
staff in solving problems so persons stay housed. Actions to impact that dynamic can
improve housing retention.

Do rules and policies support housing?
Does your program have a lot of exits back to homelessness because people don't comply with
program rules or expectation. If the answer is yes, that is a great place to look for changes.
Are people being exited for rule violations like curfew, rudeness to staff, failing a drug test or
not meeting with their case manager or going to all the required groups. These practices are
going to lower your exits to permanent housing.
IMPROVING OUTCOMES CONTINUED..

Is your team of staff engaged in the goal of housing?
What do your staff see as their primary job, maintaining order, providing clinical
services or helping people to obtain or retain housing.
Action steps here can include revising job descriptions, offering trainings in housing
first and harm reduction, change the staff evaluation and supervision tools so
that they are evaluated on how many people they helped to obtain permanent
housing. Bring housing up at every staff meeting.

Should your program convert to a different program
type?
Finally, TH and SSO not tied to permanent housing may want to look at conversion
to permanent housing. For TH programs, this makes sense if you have a
primarily or exclusively disabled population. Exploring that or preparing to do
that are legitimate actions to propose taking in your plan.
SSO programs may want try negotiating with mainstream resources such as SSA or
BHCS to cover the cost of the services and convert the HUD grant into a
rehousing or PSH subsidy pool. Those are things EH can help with as well.
SPENDING
 Getting
TA from jurisdictional grantee
 Requesting
budget changes from HUD
 Conversion
 Reallocation—can
still be done this year!
It is still possible to reallocate this year to the common pool for
new projects. You will get 10 pts of credit on this and not
have to write a spending PIP. This makes sense if you have a
line item or portion of a line item that you can't spend over
multiple years and HUD won't let you reallocate within the
project.
DATA ACCURACY

How frequently are you monitoring for data quality and
completeness? Are you running reports on a regular
basis?

Do the people who collect the data and/or enter the
data into HMIS understand how their work contributes
to the program's outcomes?

Do staff value their role in ensuring the program's work
is accurately reflected in HMIS data? Is data quality and
accuracy included in the job descriptions of any staff
who collect or enter data?
A FEW THINGS TO KEEP IN MIND

EH staff are not scoring the Performance Improvement
Plans nor doing the rating and ranking. The Review
Panel will be looking for strategies that fit with the areas
for improvement identified by the project and that are
likely to result in improvement. Copying examples from
today may not result in success if the actions are not
attainable and relevant for your project.

In next year's NOFA the project will be evaluated on the
outcomes and improvement achieved, not the efforts
undertaken. All projects will be expected to meet
performance goals.