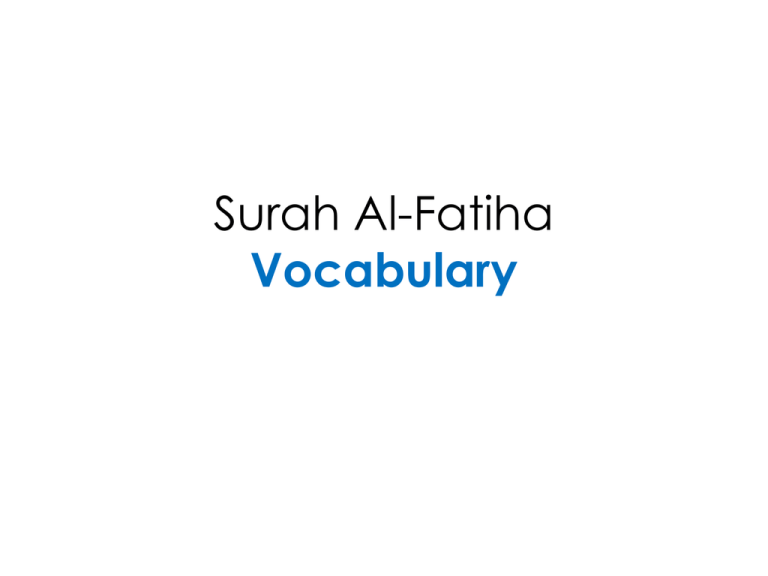 Surah Al-Fatiha
Vocabulary
Read the word.
• Think of what the word means.
• Try and think of the picture you
drew to help you remember each
one.
Bismillah
• In the name of Allah
• We should say this before starting
anything.. Can you think of an
example?
Alhamdulillah
• All thanks is for Allah
• What are some things you are
thankful for?
– Family
– Health
- Being Muslim
- Food and water
Rabb
• Lord
• This is another name for Allah
Alamin
• Everything that exists
• Examples:
Ar-Rahman
• The Most Gracious (giving)
• This is one of His 99 names
• Allah has given me….
Ar-Raheem
• The Most Merciful (forgiving)
• Only Allah is perfect. People make
mistakes. Allah forgives me for…
Maliki
• Master
• Allah is the Master of all things. He
is the one in charge.
Yawm
• Day
• Yawn is the Arabic word for day.
Ibadah
• Worship
• We worship or show Allah we love
Him in many ways. We do this by:
• Fasting, praying, giving charity,
doing good deeds.
Siraat
• Path
Mustaqeem
• Straight
Siraatul Mustaqeem
• Straight path
Islam
Islam is our straight path. It tells us how to
live our lives the right way, the way to
make Allah happy.