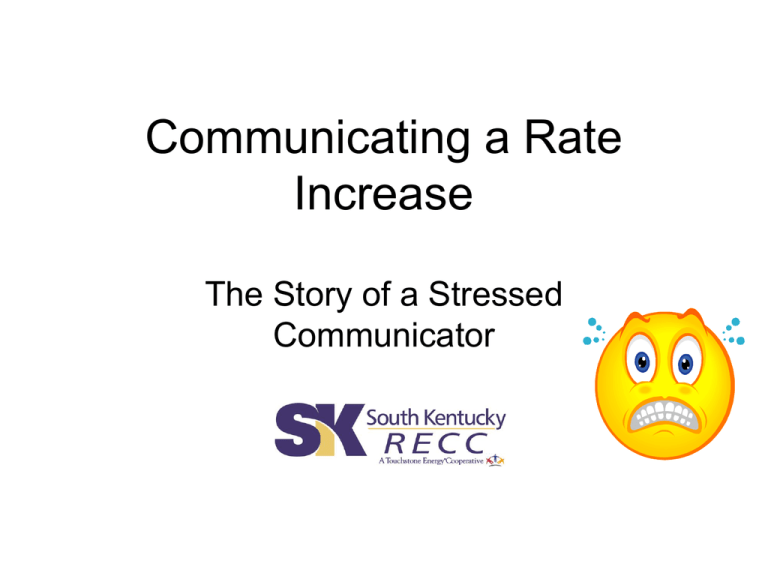 Communicating a Rate
Increase
The Story of a Stressed
Communicator
How NOT to Communicate a Rate
Increase…
5. Tell your members that Ky. Gov. Ernie
Fletcher is all for it…..
4. Tell members about the increase in one line
on their May bill….
3. At Annual Meeting, say "Oh, by the way…"
2. Put the announcement in Kentucky Living
in code: "We are Having a
Rate Increase!"
Translated: "We are Having a Rate
Increase."
And the #1 way NOT to
Communicate a Rate Increase….
Encourage a "Don't Ask, Don't Tell"
Policy about your increase
What SKRECC Did…
• 2005 – Informed employees that rate increase
was imminent - Created a Communication
Plan
• Nov. 2005 – Employee meetings to address
increase
• Dec. 2005 – First Press Release informing
members/public that SKRECC applied for an
increase
• Dec. 2005 – Press Release coincided with first
Kentucky Living article regarding increase
What SKRECC Did…
• Jan. 2006 – Article in Kentucky Living
– More "personal" – letter from CEO
• Mar. 2006 –Memo about legal notice
• Attachments including copy of notice and "Talking
Points"
• May 2006 – Annual Report in Kentucky
Living addressed increase
• June 2006 – Annual Meeting – Q & A
available at co-op booth; addressed issue
during state of the co-op address
What SKRECC Did…
• Sept. 2006 – Received notification from PSC
of Rate Increase Approval
– Immediately sent Press Release to local
media about increase
Plan of Attack
• Include "key" players in decision
making – management, employees, board
• Develop your main message – No rate hike in X
years; inflation; we want to help; Kentucky still
one of the lowest rates in nation; alternative fuels
comparison
• Educate EVERYONE on the main message and
related material
– Develop Q & A or Talking Points for employees
– Make sure management, employees, board understand
and can talk about main message points
• Provide a United Front!
Deal with the Fall-Out
• Members are going to be unhappy no
matter what you say
- Encourage employees to always be
understanding, polite, etc.
- Allow for open communication with members
- Have Energy Advisors/Employees prepared
to talk about co-op programs of assistance
- Button-Up
- Tune-Up
- Energy Audits
Questions?
Ideas or
Suggestions!