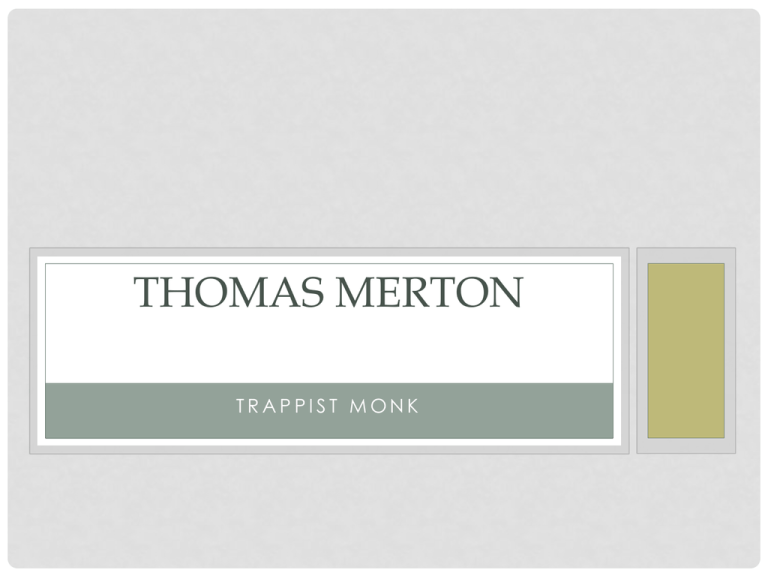 THOMAS MERTON
TRAPPIST MONK
THOMAS MERTON (1915-1968)
He wrote over 60 books, hundreds of poems and
articles on topics ranging from monastic spirituality
to civil rights, nonviolence, and the nuclear arms
race
Born in France to artists; both parents die young
Rambunctious youth and adolescence
Attends college at Cambridge (London), then
Columbia (NY)
Converts to Roman Catholicism
Enters Abbey of Gethsemane , a Trappist
Monastery in Kentucky
Controversial Catholic writer
MERTON QUOTES TO LIVE BY…
• "In Louisville, at the corner of Fourth and Walnut, in
the center of the shopping district, I was suddenly
overwhelmed with the realization that I loved all those
people, that they were mine and I theirs, that we
could not be alien to one another even though we
were total strangers….There is no way of telling
people that they are all walking around shining like
the sun."
QUOTES TO LIVE BY…
 "It is a glorious destiny to be a member of the human
race, ... now I realize what we all are .... If only they
[people] could all see themselves as they really are ...I
suppose the big problem would be that we would fall
down and worship each other ... At the center of our
being is a point of nothingness which is untouched by
sin and by illusions, a point of pure truth ... This little
point ...is the pure glory of God in us. It is in
everybody."
- Conjectures of a Guilty Bystander
QUOTES TO LIVE BY…
 "There is a paradox that lies in the very heart of
human existence. It must be apprehended before
any lasting happiness is possible in the soul of man.
The paradox is this: man's nature, by itself, can do little
or nothing to settle his most important problems. If we
follow nothing but our own natures, our own
philosophies, our own level of ethics, we will end up in
hell."
- Seven Story Mountain
QUOTES TO LIVE BY…
 Pride makes us artificial and humility makes us real.
 The biggest human temptation is to settle for too little.
 In the last analysis, the individual person is responsible
for living his own life and for 'finding himself.' If he
persists in shifting his responsibility to somebody else,
he fails to find out the meaning of his own existence.
QUOTES TO LIVE BY…
 A life is either all spiritual or not spiritual at all. No man
can serve two masters. Your life is shaped by the end
you live for. You are made in the image of what you
— From "Thoughts in Solitude"
 Love is our true destiny. We do not find the meaning
of life by ourselves alone - we find it with another.
 Every moment and every event of every man's life on
earth plants something in his soul.
QUOTES TO LIVE BY…
• To consider persons and events and situations only in
the light of their effect upon myself, is to live on the
doorstep of hell.
• Be good, keep your feet dry, your eyes open, your
heart at peace and your soul in the joy of Christ.