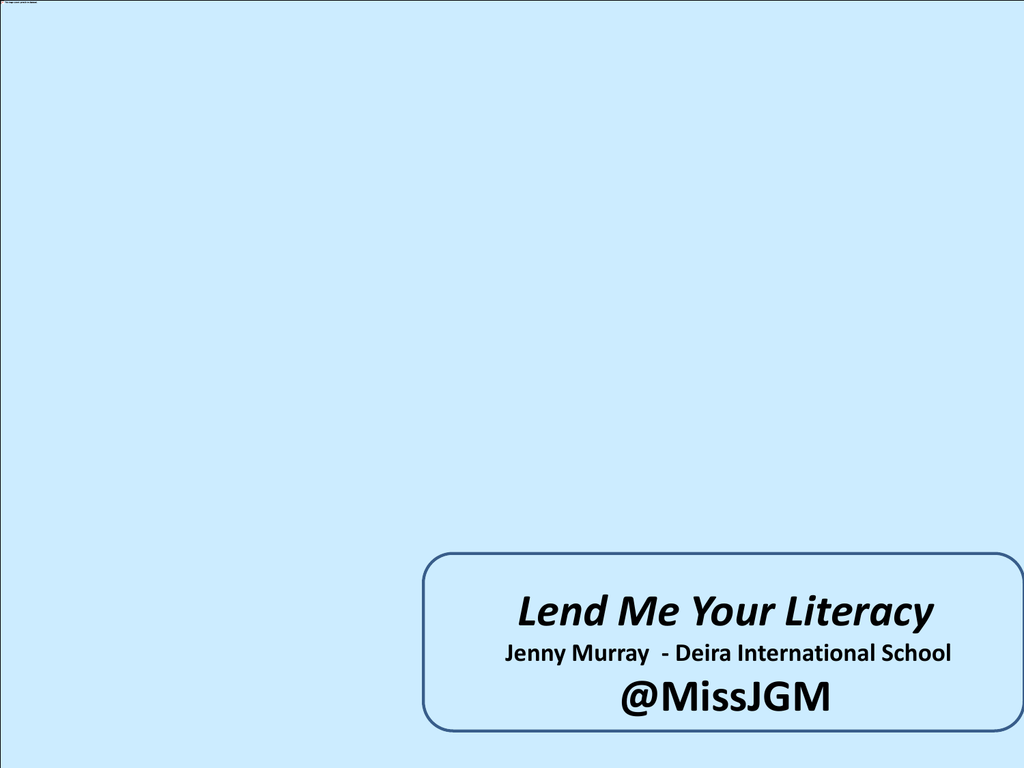 Lend Me Your Literacy
Jenny Murray - Deira International School
@MissJGM
'Schools should redefine their conception of
literacy and associated pedagogies to connect
to the lives that children are living and offer
authentic and realistic opportunities for young
people to remain engaged...'. (Thomson, 2009)
Create
Motivate
Collaborate
Celebrate
Watch the
views and
comments
appear –
Literacy
Learning
Send a
photograph
SHARE,
– LMYL
TRACK,
team
CELEBRATE
publish
Engage your
whole school
community
by
participating
in the LMYL
community
Motivation,
engagement
and
attainment
all increase
Students in
class/at home/in
free time
Independent /Peer All genre, all
abilities, all
writing
standards
Create
Buddy assessing
of LMYL samples
Audience
School links
Purpose
Motivate
Collaborate
Immersion in real
Writing
Celebrate
Twitter/website/
assemblies
Stars/certificates/
wall of fame
Community
collaboration on
comments
Teacher
moderation tool
IB CAS credits
What now?
• www.lendmeyourliteracy.com – sign up for free, trial
it and see the impact
• Follow Deira International School – comments
welcome! 
• @MissJGM for what's going on at DIS
• @literacylender for lots more information
References
• Thomson, J. (2009). Literacy and inclusion in the 21st Century. A Journal of
Youth Work(3), 43-58.