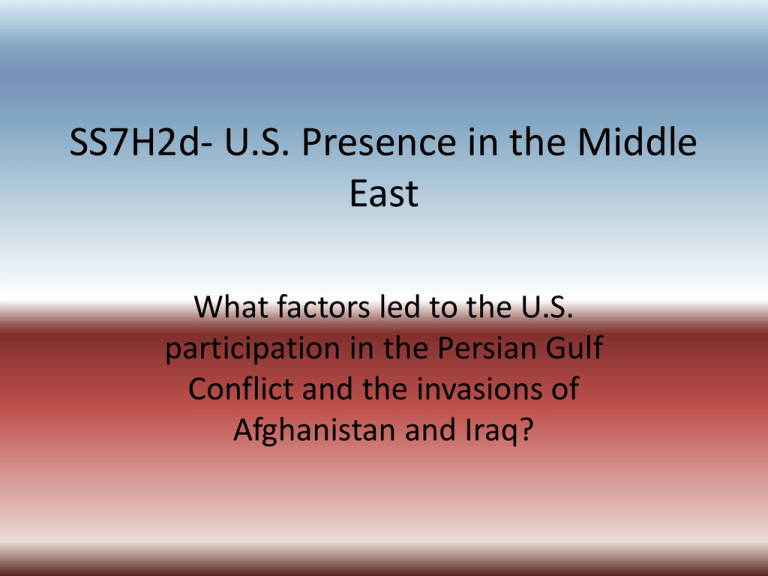 SS7H2d- U.S. Presence in the Middle
East
What factors led to the U.S.
participation in the Persian Gulf
Conflict and the invasions of
Afghanistan and Iraq?
Who
When
What
Where
Why
Persian Gulf Conflict
•
Who
United States, Iraq, & Kuwait
What
Iraq invades Kuwait because they think they are taking to much
oil from a shared oil field and Iraq wants Kuwait's coastline
•
Where
Iraq and Kuwait
•
When
•
Why
1990
The U.S. gets a large amount of their oil from Kuwait
and Saudi Arabia.
Invasion of Afghanistan
•
Who
United States & Afghanistan
What
The U.S. invaded Afghanistan as a response to the
9/11 attacks.
Where
• When
Why
Afghanistan
2001
Afghanistan and its government, the Taliban, allowed Osama
bin-Laden and his terrorist group, Al-Qaeda, to set up terrorist
training camps in the country.
Invasion of Iraq
•
•
Who
United States & Iraq
What
The United States invades Iraq as a part of the war
on terrorism.
Where
Iraq
When
2003
Why
It was thought that Iraq had weapons of mass
destruction (nuclear weapons). None were found.
New Goal for invading- End Saddam Hussein's
dictatorship and free the Iraqi people and help create
a democratic country.