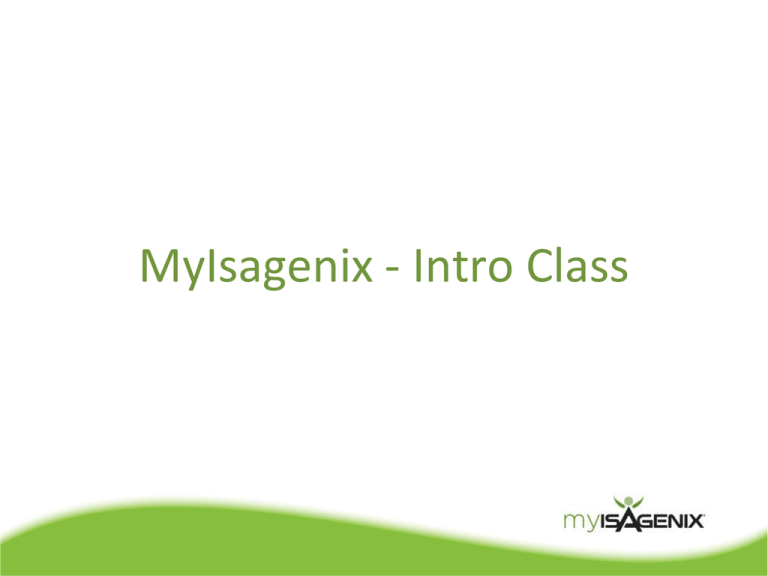 MyIsagenix - Intro Class
Intro Class Agenda




MyIsagenix Overview
Getting Started
Page by Page Walkthrough
Q&A
What is MyIsagenix?
 Prospecting and Lead Generation Tool
 Contact Management System
MyIsagenix is not…
 A Magic Bullet
 A Mass-Emailing Tool
MyIsagenix Key Features*






SPOT Marketing
Autoresponders
Instant Contact Minutes
Isagenix Revealed Interactive Video
Mobile App
Upload Custom Videos
*Availability depends on subscription level.
Getting Started
 Login to your Associate Back Office
 Tools Menu (before Signup)
• MyIsagenix – Signup
 Tools Menu (after Signup)
• MyIsagenix – Change Subscription
• MyIsagenix – Go to MyIsagenix
Home Page




Announcements
Contact Summary
Appointments
Marketing Summary
Marketing Tools Page




My Web Sites
Most Active SPOTs
Page Views
SPOT Views
SPOTs Page Overview
 Lead Capture Form
 Information Entered in
Contact List
 Configure SPOTs*
 Instant Contact Option*
 Share, Embed, Link on Web
*Availability depends on subscription level.
Configure a New SPOT* Overview
 Select Type, Size & Theme
 Add Message, Button,
Autoresponder
 Send Contact to URL
 Finalize and Share SPOT
*Availability depends on subscription level.
Video Manager* Page
 Create and Upload
Videos to Customize
SPOTs
*Availability depends on subscription level.
Purchase Leads Page
 Leads purchased from Peak Impact are
automatically entered in Contact List (with
exception of Voice-Lead)
 May import leads purchased from other
vendors
Manage Contacts Page
 Contact List
 Upcoming Appointments
 Contact Count
Contact List Overview





View and Edit Contact Details
Add a Contact
Import Contacts
Export Contacts
Manage Groups
Contact List Columns






Contact Information
Source
Type
Group
Options
Search Functionality
View/Edit Details Option






Edit Contact Information
Assign Type and Group
Call/Text Contact
Send Email
Contact History
Send Autoresponder
Isagenix Revealed* Overview
 Interactive,
Conversational Video
 Send to a Viable
Prospect from
Autoresponder List
*Now Available on Top Three Subscription Levels!
Isagenix Revealed Email Example
Isagenix Revealed Video Example
Feedback Email Example
Calendar Page
 Viewing Appointments
 Adding Appointments
 Calendar Sync Options
Email Center Page
 Sent Emails
 Scheduled Emails
Create Email Page
 Select Recipients
• Single
• Multiple
 Schedule Delivery
 Create Email Content
• Email Templates
Autoresponders Page
 Single or Series of Email Messages
 Types
•
•
•
•
Thank You
Product Series
Business Series
IsaDiary Series
 Edit Autoresponder Options
My Profile Page




Account Overview
My Profile
My Instant Contact Details*
Mobile App*
*Availability depends on subscription level.
Q & A Session
Support Center Page
 "Contact Us" Button
 Tabbed Sections
 Quick Search
Thank You!
 Advanced Class
•
•
•
•
Share a SPOT
Upload Custom Video
Isagenix Revealed
Mobile App
MyIsagenix - Advanced Class
Advanced Class Agenda






Configure a SPOT*
Upload Custom Video*
Isagenix Revealed Interactive Video*
Mobile App*
10 Steps to Success
Q&A
Configure a SPOT* Feature
 Types
• Video
• Prospecting
• Call
 SPOT Sharing Options
Example of SPOT on Facebook
People on Facebook
More than 500 million active users
50% of active users log on daily
Average user has 130 friends
People spend over 700 billion minutes per
month on Facebook
Activity on Facebook
Over 900 million objects that people interact with
(pages, groups, events, etc)
Average user is connected to 80 community pages,
groups and events
Average user creates 90 pieces of content each
month
More than 30 billion pieces of content (links, news,
blog posts, photos, etc) shared each month
Global Reach of Facebook
More than 70 translations available
About 70% of Facebook users are outside
the United States
Over 300,000 users helped translate the
site through the translation application
Upload Custom Video*
 Customize Your SPOTs
 Compliance Review
• Length
• Copyrighted Materials
• Misrepresentation of
Products and Comp Plan
Custom Video Production




Video Camera
Tripod
Script
Video Editing Software
Isagenix Revealed* Overview
 Interactive,
Conversational Video
 Send to a Viable
Prospect from
Autoresponder List
*Now Available on Top Three Subscription Levels!
How does Isagenix Revealed work?
1.
2.
3.
4.
Send the link to your prospect
Prospect opens video
Prospect makes personal choices
You receive detailed information
Why is Isagenix Revealed Powerful?
 Offers unique, customized experience
 Generates interest and excitement
 Allows you to help guide your prospect
towards personal success
When to use Isagenix Revealed?
1.
2.
3.
4.
Make initial contact with your prospect
Understand their needs and interest level
Determine if prospect is viable
If so, send Isagenix Revealed link to them
Isagenix Revealed is not…
 Intended as a mass email
 Something to send to a prospect you have
never talked to before
 Designed to build your business for you
Isagenix Revealed Email Example
Isagenix Revealed Video Example
Feedback Email Example
Isagenix Revealed Next Steps
After your prospect watches the video:
 Follow-up with a phone call
 Use information gathered to guide
conversation
If they haven't opened the link yet:
 Send a friendly reminder, by phone or email
Isagenix Revealed
 What if my prospect
forwards the link to
someone else?
Mobile App* Overview
 Installation
• Option 1: Text a link to your phone
• Option 2: Open URL from your phone
 View Contacts, Calendar, SPOT Stats
 New! Add and Edit Contacts
Mobile App Installation
 Mobile Passkey on My Profile Page
 Moblie App URL: myIsagenix.com/my/mobile
Elevate Your Business
 Building L.E.A.D.E.R.S.H.I.P.
with the 10 Steps to Success
 Incorporate MyIsagenix into
each step
MyIsagenix Elevate Site
 Information about MyIsagenix
 http://myisagenix.com/elevate
 QR (Quick Reference) Code
Create Your Own QR Code




http://tag.microsoft.com
Create Your Own Code
Print on Business Cards
Use Marketing Pages URL
Q & A Session
MyIsagenix has been a wonderful tool in helping to
organize my team's contacts, calendar, creating and
distributing email campaigns and much more....it
ultimately keeps everyone organized and moving
forward in our Isagenix business! Thank you Isagenix
for another amazing tool to help our business
continue to thrive and flourish!
- Deborah J.
"Isagenix Revealed closes for me! I enrolled
someone I had been touching for over a
year. They watched Revealed and emailed me
with the comment "It is time for me to get
started" Thanks David for a powerful tool!"
- Lynne K.
"This is an excellent contact management
system. I used it as a way to track all my
connections. I can profile them, take notes on our
meetings, save them for instant retrieval when
following up."
- Lynne K.
"For two years I have wanted a way to easily market
Isagenix online using technology and marketing
strategies… Now, I have a way to not only market
my business using the SPOT technology; I also have
a system to teach and train my downline…. I am so
excited to be working with and exploring the
possibilities of this amazing new tool!"
Susan H.