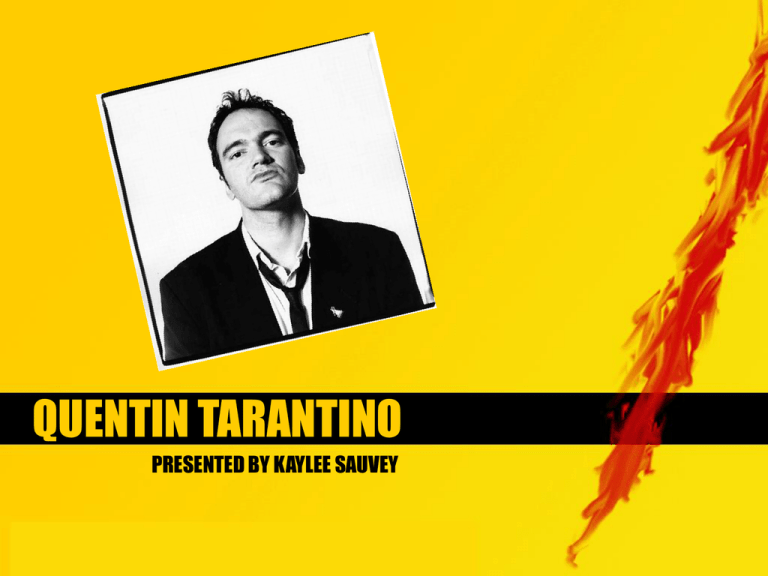 QUENTIN TARANTINO
PRESENTED BY KAYLEE SAUVEY
FILMOGRAPHY
•
•
•
•
•
•
•
RESERVOIR DOGS (1992)
PULP FICTION (1994)
JACKIE BROWN (1997)
KILL BILL: VOLUMES 1 & 2 (2003 & 2004)
DEATH PROOF (2007)
INGLOURIOUS BASTERDS (2009)
DJANGO UNCHAINED (2012)
AT A GLANCE
• PASTICHE
– " BORROWED" THEMES AND SCENES
• KILL BILL AND ITS JAPANESE INFLUENCES
• TARANTINO SIGNATURE ELEMENTS
– NON-LINEAR PLOT LINES
– TRUNK SHOT
– CORPSE POV
– FREQUENTLY RE-USED ACTORS
• TECHNIQUES
– BLACK AND WHITE SEGMENTS
PASTICHE
"A LITERARY, ARTISTIC, MUSICAL, OR
ARCHITECTURAL WORK THAT IMITATES
THE STYLE OF PREVIOUS WORK."
PASTICHE
• TARANTINO IS KNOWN FOR HIS TRIBUTES TO
CLASSIC CINEMA WITH DETAILS RUNNING
STRONGLY THROUGHOUT EACH FILM.
• KILL BILL BLATANTLY " BORROWS" IDEAS FOR
PLOT LINES AND CHARACTERS FROM NUMEROUS
JAPANESE FILMS SPANNING SEVERAL DECADES.
LIST OF KILL BILL INFLUENCES
1.
2.
3.
Lady Snowblood (1973)
Battle Royale (2000)
Samurai Reincarnation
(1981)
4. Shikoku (1999)
5. Goke: Body Snatcher From
Hell (1968)
6. Ichi The Killer (2001)
7. Shogun Assassin (1980)
8. War of The Gargantuas
(1966)
9. Fudoh (1996)
10. Black Lizard (1968)
11. The Streetfighter (1974)
12. Godzilla, Mothra and King
Ghidorah
13. Samurai Fiction (1998)
14. Tokyo Drifter (1966)
15. Zatoichi (1962)
16. Sukeban Deka (1987)
17. Sanjuro (1962)
18. Battles Without Honor
(2000)
19. The Yagyu Family
Conspiracy (1978)
20. Lone Wolf and Cub:
Babycart to Hades (1972)
LADY SNOWBLOOD (1970)
• PLOT FOLLOWS A WOMAN ON A BLOODY REVENGE QUEST.
– TARANTINO'S O-REN ISHII IS INSPIRED BY THIS CHARACTER.
• ENDING SNOW GARDEN DUEL IS TAKEN FROM THIS FILM.
• BOTH FILMS FEATURE AN ANIMATED SEQUENCE.
• CHAPTER DIVISION
• " TRUNK SHOT"
• BORROWED " THE FLOWER OF CARNAGE" FOR SOUNDTRACK.
"Since he made his debut with 'Reservoir Dogs,'
Tarantino has populated his work with
borrowings and homages to everything from
film noir and martial arts films to Japanese
animation and spaghetti westerns, not to
mention a long-forgotten 1939 B movie that
actually kills off Hitler that Tarantino discovered
in an old videotape rack at Safeway."
- PATRICK GOLDSTEIN,
LOS ANGELES TIMES
" I love having influences because I want people
to get excited when they see something in the
film or hear me talking about it and then actually
go see the movie that inspired me in the first
place."
- Quentin Tarantino
DIGITAL VS. 35 mm
" I'm not a fan of digital. Why would you hire
a cinematographer? If you're doing a
digital movie it doesn't make any sense
whatsoever. All you need to do is look to
the screen to see if you like it."
TARANTINO SIGNATURE ELEMENTS
NON-LINEAR PLOT LINES
• PULP FICTION BEGINS AT THE END – OR DOES IT
END AT THE BEGINNING?
• KILL BILL: VOLUME 1 BEGINS WITH A SEGMENT
THAT IS UNEXPLAINED UNTIL VOLUME 2.
• RESERVOIR DOGS WEAVES IN AND OUT OF REAL
TIME AND FLASHBACKS TO TELL A STORY OF A
JEWELRY HEIST.
" TRUNK
SHOT "
" WHERE WOULD YOU
PUT THE CAMERA?"
- QUENTIN TARANTINO
• Tarantino From Below
• Kill Bill Vol.1 Cinematographic Techniques,
Camera Movement
BLACK AND WHITE SEGMENTS
• AFFINITY FOR EARLY CINEMA IS AN INSPIRATION FOR
THIS ARTISTIC TOUCH IN HIS FILMS.
– USED IN FLASHBACKS AS A SUBTLE WAY TO TELL THE
AUDIENCE THIS IS A PAST EVENT.
• CRAZY 88 SEGMENT IN KILL BILL CHANGED TO B & W
PARTIALLY TO AVOID AN NC-17 RATING.
– CONTRARY TO SPIELBERG'S VIOLENTSCHINDLER'S LIST,
WHICH WAS SHOT IN B & W TO GIVE THE FILM A
TIMELESS FEELING.
– CUTS OUT THE SEVERITY AND HARSHNESS OF VIOLENCE
BY PRESENTING IT COLORLESS.