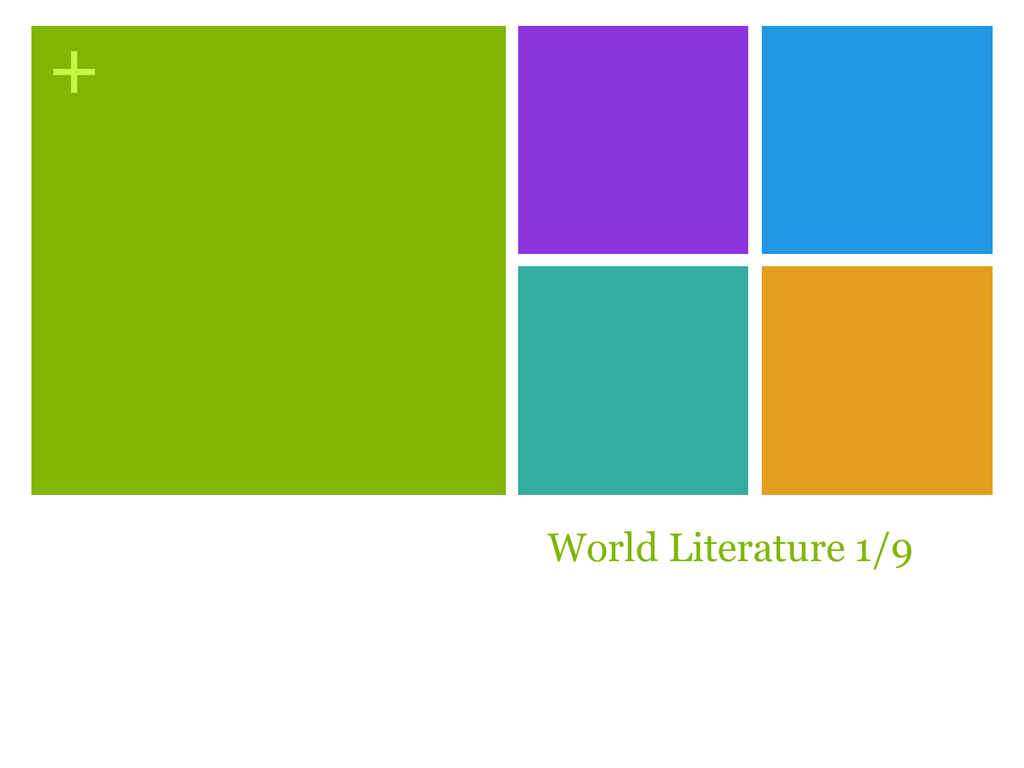 +
World Literature 1/9
+ Do Now
Which choice shows the correct spelling of the possessive form of
gentlemen?
A)gentlemans'
B)gentlemen's
C)gentlemens
D)gentlemens'
2 The human characters in the novel are just as captivating. The main human character,
Kate Waterbee, is a typical thirteen-year-old. She is secretly angry with her parents
because she is not allowed to have pets. Kate believes that "allergies would have at least
evoked some sympathy. Unfortunately, her parents' noses and eyes could handle a dog
or a kitty. It was their worried minds that feared an animal whining at them all the
time." While pleased with their mellow daughter, Kate's parents feared adopting a
needy, demanding pet.
In paragraph 2, the word evoked means
A)almost seen.
B)tried to get.
C)thought about.
D)brought about.
+Announcements
This Week:
- AoW #2 due
FRIDAY (1/16)
Agenda:
-
Do Now
WoTD
Library Card
Nikki Rosa intro
Nikki Rosa video
Read, create your own
growing up poem
ARE practice
AoW #2 work
Exit ticket
+
WoTD

Empower

Implicit

Perspective
+
Library Card

Someone from the Atlanta Public Library will be here during
3rd period today signing people up for library cards

If you have a library card, or if you sign up to get one during
your lunch today, bring it and show Ms. Rowell or I and you
will receive 10 EC points
+
What is a hero?

This 9 weeks' unit theme is The Many Faces of a Hero

We will be reading a number of texts that look at heroes in
many different contexts

Before we begin, we need to think about what our individual
definition of what a hero is.
+
Nikki Giovanni

Very famous African American
poet

Born in Knoxville, TN

Poems talk about her personal
history and the Black experience
+
Anticipation- "Nikki Rosa"

"Nikki Rosa" is a poem about Giovanni's views on how she grew
up

Before we read, fill out concept web with "growing up" written
in the middle

4 minutes
+
+
"Nikki Rosa"

https://www.youtube.com/watch?v=CMCNoTRe-hI

As you listen and watch, be thinking of what your "Growing
Up" poem would look like
+
Answer questions in your group

10 minutes

Turn in ONE sheet per group with everyone's name on it
+
ARE Practice

What does ARE stand for?

A: assertion (claim

R: Rationale (reasoning)

E: Evidence (example)

Class Practice:

Who is the greatest Hip-Hop artist of all time?

A: 2Pac is the greatest Hip-Hop artist of all time.

R: He is a talented lyricist and his songs are timeless.

E: Last year, Better Dayz sold 200,000 copies, even 8 years after
2Pac passed
+
ARE Practice

Group Practice:

Who is better, Rich Homie Quan or Young Thug?

Does school dress code help improve student learning?

Individual Practice:

Should marijuana be legalized?

What is the best university in the United States?
+
Now, in your groups…

You are going to come up with three questions you will
respond to in ARE format

THEN, after getting your questions checked, choose the best
and write your question AND answer on a piece of chart paper

Present to the class, the best group (as voted by the class) will
get hot chips
+
AoW #2

You will have 15 minutes to read the article silently and begin
annotating/ writing your reflection

DUE FRIDAY
+
EXIT TICKET

What was Nikki Rosa's CLAIM about growing up Black?
Respond in ARE format.