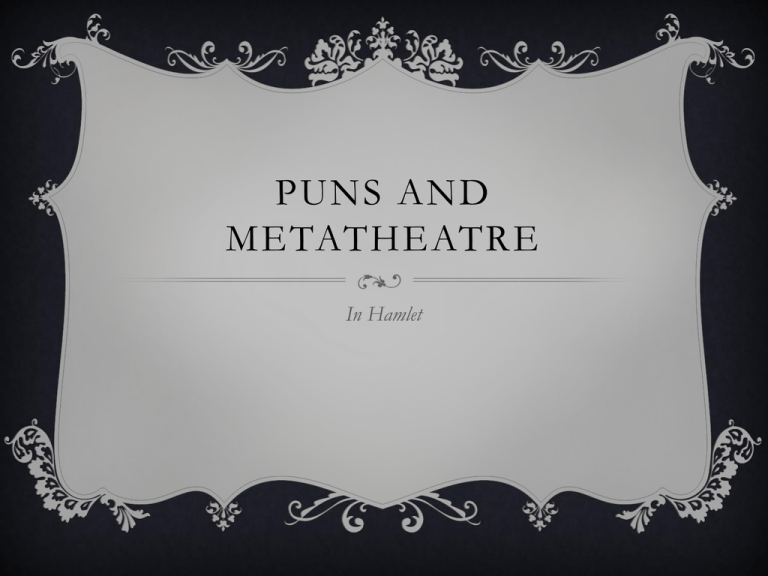 PUNS AND
METATHEATRE
In Hamlet
PUNS
 What is a pun?
 a form of word play which suggests two or more meanings, by
exploiting multiple meanings of words, or of similar-sounding words,
for an intended humorous or rhetorical effect. These ambiguities can
arise from the intentional use of homophonic,, metonymic, or
metaphorical language. Henri Bergson defined a pun as a sentence or
utterance in which "two different sets of ideas are expressed, and we
are confronted with only one series of words". Puns may be regarded
as idiomatic constructions, given that their usage and meaning are
entirely local to a particular language and its culture. For example,
camping is intense (in tents).
PUNS IN HAMLET
 Why does Hamlet use puns?
 What effect do the puns have on the play and meaning of his
words or his intentions?
 Read the article on Puns and annotate – star five important
sentences in understanding the role of puns in Hamlet.
TURN TO ACT 5 SC1
 I need volunteer actors:
•
•
•
•
Gravedigger
Helper
Hamlet
Horatio
 Note the puns and humor used in this section and the effect.
 Note how Hamlet talk about death in this section and the tone.
 After, we will watch the Brahnagh version of this scene.
METATHEATRE
 What is it?
 Play within a play – where the audience becomes cognizant of the
fact that we are watching characters watch a play
• Cultivates self reflection on the part of the characters and
audience
• Cultivates catharsis (emotional purging)
• Cultivates parody (mocking a technique and style)
• Cultivates a microcosm of the theatrical situation and helps
us separate reality from illusion (acting)
 Role-playing derives from the character not accepting his societal role and
creating his own role to change his destiny.
 Stuart Davis suggests that "metatheatricality" should be defined by its
fundamental effect of destabilizing any sense of realism: " 'Metatheatre' is a
convenient name for the quality or force in a play which challenges theatre's claim to
be simply realistic — to be nothing but a mirror in which we view the actions
and sufferings of characters like ourselves, suspending our disbelief in their
reality. Metatheatre begins by sharpening awareness of the unlikeness of life to
dramatic art; it may end by making us aware of life's uncanny likeness to art or
illusion. By calling attention to the strangeness, artificiality, illusoriness, or
arbitrariness — in short, the theatricality -- of the life we live, it marks those frames
and boundaries that conventional dramatic realism would hide."
TURN TO ACT 3 SC 2
 Hamlet gives advice to the actors on how to act…ironic?
 "speak the speech …as I pronounced it to you, trippingly on the tongue…do
not saw the air too much with your hand…for in the very torrent, tempest
and…whirlwind of your passion, you must acquire and beget a temperance that
may give it smoothness…be not too tame neither…suit the action to the
word…hold…the mirror up to nature to show virtue her own feature, scorn her
own image… Oh, there be players that I have seen…imitate humanity so
abominably…"
ACT 3 SCENE 2
 We will watch the Branagh version of the play within a play
 Analysis of Polonius as acting the traitor Brutus (stabbed soon
after this scene, ironically).
 Effect of metatheatre in this scene?
 Watch how Hamlet acts during the play…is Claudius
demonstrating guilt or just frustration at Hamlet's obnoxious nature?
 What do we learn about Claudius in his soliloquy in scene 3?