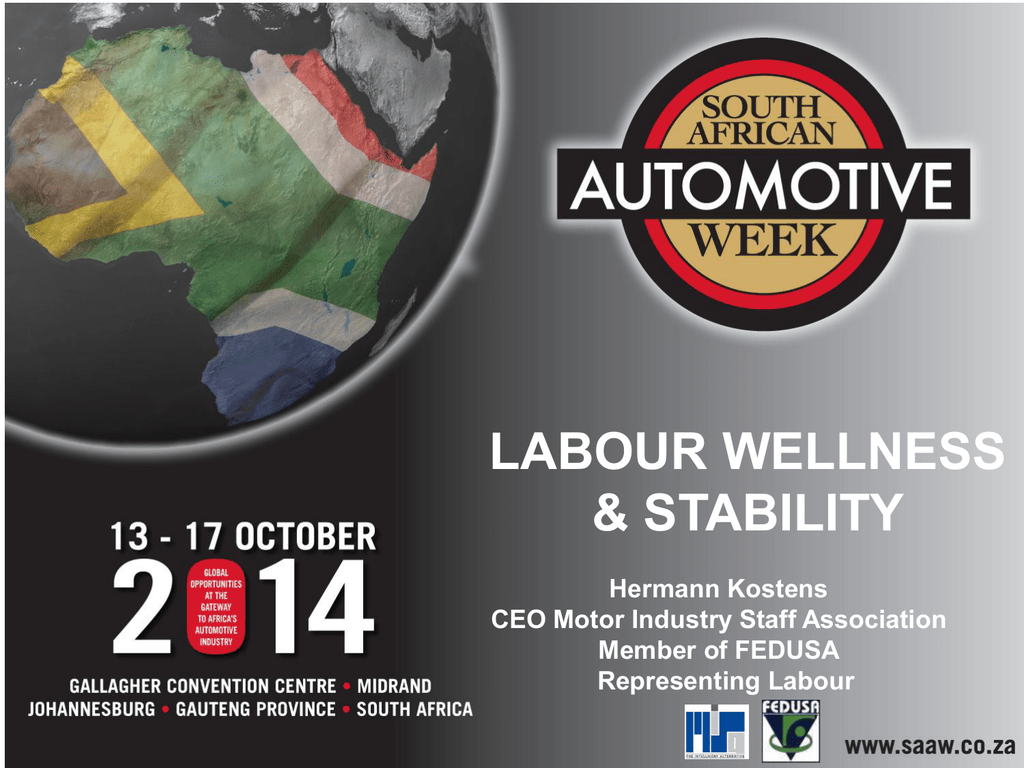 LABOUR WELLNESS
& STABILITY
Hermann Kostens
CEO Motor Industry Staff Association
Member of FEDUSA
Representing Labour
CURRENT SITUATION
Not sufficient trust and political will between business and labour brought
about by different perceptions on aspects such as:
 Benchmarking • Basic needs of employees vs salary scales of top management (SA a
developing country)
• Labour legislation and possible amendments (1st world legislation)
 Negotiation modules within industries (confrontational)
 Small Businesses (Relaxation of compliance and start-up incentives)
 Foreign Investment (At what cost?)
BUSINESS VS LABOUR
BUSINESS
LABOUR
 Benchmarking •
Wage gap
Costly to close
Should be narrowed
•
Labour legislation
Relaxation on minimum
Status quo
wages and termination clauses
 Negotiation module
Diverse
Collective and Sectorial
 SME's
Taxation and loans
Not at employees expense
 Foreign Investment
Environment needs to look economically
No exploitation
attractive / profits
WHERE TO START
If you cannot change within a situation, change the situation
How do you create trust ? - In order to compel change it is more
likely to be successful when rules are changed within a module then
attempting to change attitudes.
Example of the significance of trust - Minimum wages = more
employment?
POSSIBLE SOLUTIONS
 South Africa should aspire to move closer to a 1st world environment in
all aspects.
 Negotiations should focus on the sector / cluster needs within an
industry. Motor Industry is large enough to justify such an approach,
with the principal of fairness entrenched across sectors.
 Government should assist SME's in a responsible manner.
 Foreign investments a must for South Africa but not while labour is
exploited but rather with costs incentives.