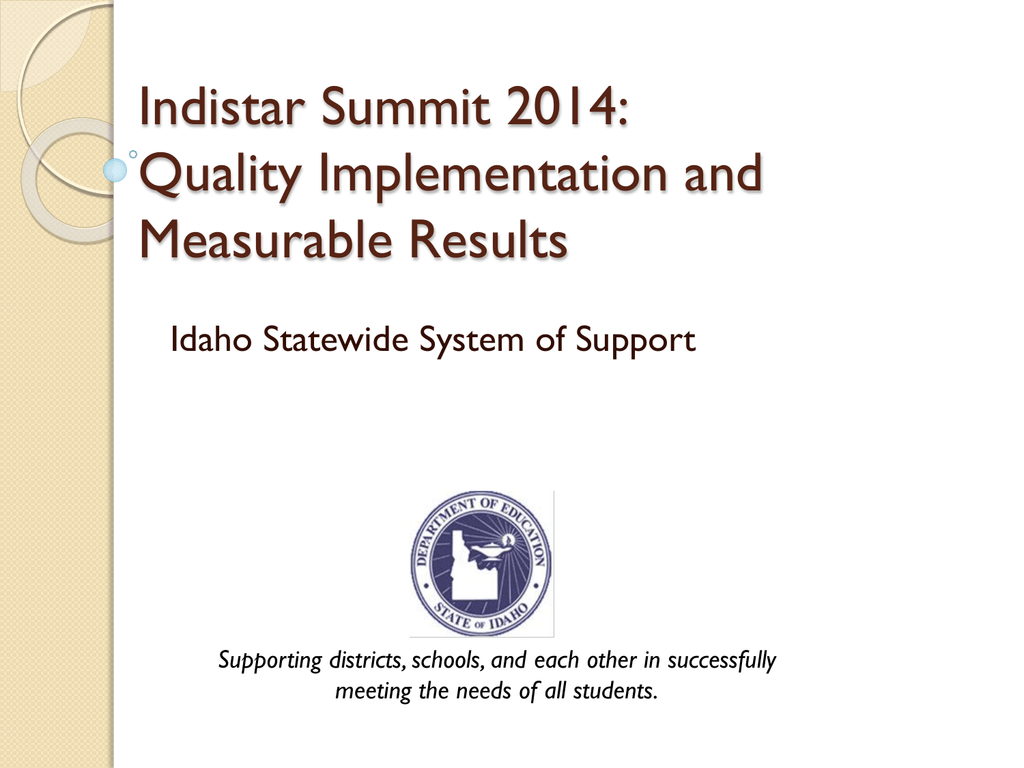 Indistar Summit 2014:
Quality Implementation and
Measurable Results
Idaho Statewide System of Support
Supporting districts, schools, and each other in successfully
meeting the needs of all students.

Idaho SSoS Team Goal

80% of school improvement plans will be
approved upon first submission for 20132014 SY.
◦ (In 2012-2013 SY, 35% were approved)
How can we increase our approval
rate by 45%?
 Clear
expectations
 Checkpoints
 Coaching & Building Capacity
Clear expectations

2013-2014 Improvement Planning &
Implementation Workbook
◦ http://www.sde.idaho.gov/site/schoolImprove
ment/docs/20132014%20Improvement%20Planning%20and%2
0Implementation%20Workbook%20(revised%
201_2014).pdf
Checkpoints
#1 – SMART Goals
 #2 – One Indicator

◦ Both reviewable forms in
Crossing over…from compliance to
useful improvement plans
Think – Pair – Share
 When
you review improvement
plans, what do your schools and
districts struggle with the most?
Leadership Teams Doing the Work
of Improvement
Assessing the Indicators
 Starting
point
 Current level of development
 Leave the planning for the next step
How it will
look when fully
met.
Current Level of
Development
Tasks
 At
least two
 Small incremental steps
 Measurable
 Related to the indicator
 Clearly written
 Target dates that are reasonable
Coaching & Building Capacity

There are common threads and expectations
for continuous School Improvement in the
Coeur d'Alene School District!
Leadership Team Goals
Improving Student Achievement
 Building Leadership Capacity
 Continuous Improvement
 Sustainability

WISE Tool: Ways To Improve School
Effectiveness
SMART Goals
 Assess - Plan – Monitor
 5-10 Indicators
 Action Plans with Tasks

Quality Improvement Plans …
Meeting all the targets!





WHY? Our four goals!
WHO? Leadership Teams for
the district and ALL 16 schools.
WHAT? WISE Tool, SMART
Goals, 5 Indicators, Action Plans
WHEN? Required timelines and
due dates for checkpoints and
final submission
HOW? Teams using the process
of Assess, Plan, and Monitor
Monitoring the Plan: Supports,
Resources, Gentle Reminders,
Checkpoints, Responsibilities,
Accountability!



Leadership Teams are responsible for keeping the
Improvement Plans current, active, and up-todate.
Peer Review Teams
Districts are responsible for the quality of the
School Improvement Plans completed and for
those that are submitted to the SDE for review
and approval.
Did your Leadership Team meet
the targets?
1.
2.
3.
4.
5.
Understand the steps and components in the
WISE Tool in order to move from compliance
to quality Improvement Plans.
Develop high quality SMART Goals.
Assess and create plans for 5 indicators aligned
with the SMART Goals.
Understand how to monitor improvement
plans.
Understand the characteristics of a high quality
peer review process.
Quality Implementation . . .
Measurable Results!