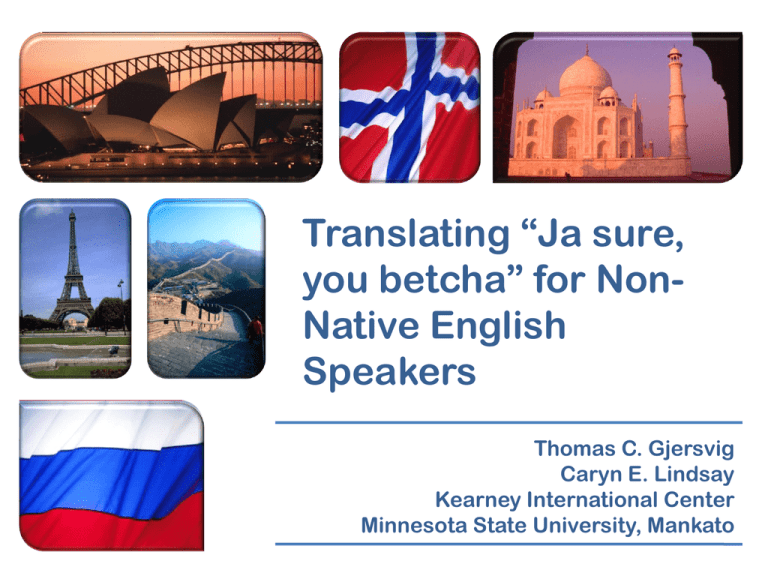 Translating "Ja sure,
you betcha" for NonNative English
Speakers
Thomas C. Gjersvig
Caryn E. Lindsay
Kearney International Center
Minnesota State University, Mankato
With thanks to
• Gary Althen, author of American Ways: A
Guide for Foreigners in the United States
• Claire Cardwell & Lee Seedorff, University of
Iowa
• This presentation will be available at:
• http://www.mnsu.edu/kearneyic/faculty/
Introductions
• Name
• Institution
• Your role at work
Why is this session important?
• Changing demographics of Minnesota
• Student retention
• Joy of learning about others
Our Goal for this Session
• Leave feeling more confident when you meet
and interact with people from other cultures
• Session Guidelines:
– No right or wrong answers
– Confidential
1 Obvious – 1 Invisible
TWO ISSUES
Obvious: Language
Students sometimes:
• Have poor understanding of English
•Have accents and pronunciation that
make it difficult for us to understand
them.
•Sometimes understand the words,
but not the overall context
English lesson
Students are sometimes
unfamiliar with the specific
terms we use.
Activity:
New Employee Information Form
WHAT FORMS IN YOUR
OFFICE COULD BE MODIFIED
TO BE MORE EASILY
UNDERSTOOD?
EXAMPLE FROM MANKATO
1 Obvious – 1 Invisible
TWO ISSUES
Invisible: Culture
•
•
•
•
•
•
Values
Beliefs
Learning Styles
History and historical interpretations
Arts
Achievements
Culture
Values, Beliefs, Learning Styles, History and historical interpretations,
Arts, Achievements
WHAT DOES IT MEAN TO BE
MINNESOTAN?
Educational Culture &
Assumptions
• U.S.: It is efficient and effective to use forms, form
letters, and written information sheets to carry out
routine procedures, and being efficient and effective
is desirable.
• International: If I'm asked to fill out a form, nothing is
likely to happen.
Educational Culture &
Assumptions
• U.S.: My institution's rules, procedures, and
requirements are reasonably related to the
achievement of its purposes, and are generally fair
and logical.
• International: "Facts" and "truths" are relative, and
besides, what matters most are people's feelings. I
need to gain the human sympathy of staff members
who have something I want. They should take the
time to talk with me.
Educational Culture &
Assumptions
• U.S.: I got my job as a result of demonstrating my
competence.
• International: Younger people and females are not
entrusted with significant decision-making
responsibility. I have to see the boss, who is nearly
always a male.
Summary
• Interacting across cultures is challenging (even
when you've been doing it all your life!)
– Obvious differences: Language
– Invisible differences: Culture
• Being aware of the differences and your own
culture is the first step to make our campuses
more welcoming!
THANK YOU!