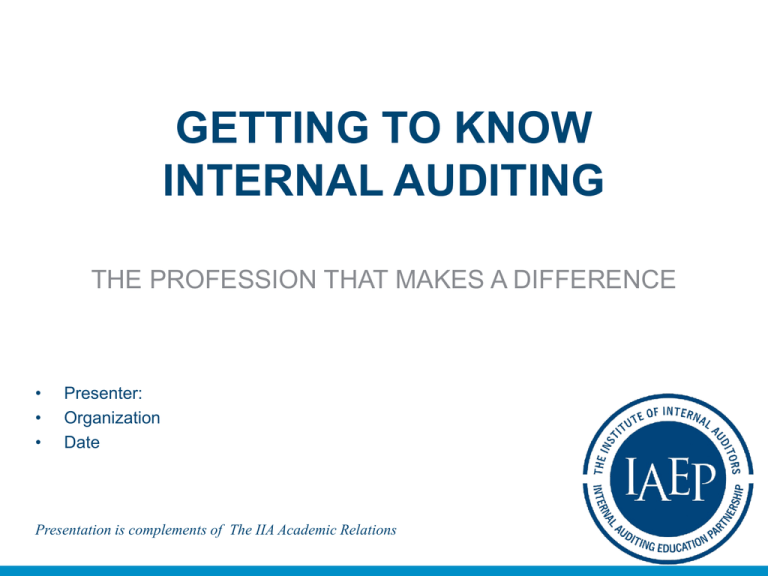 GETTING TO KNOW
INTERNAL AUDITING
THE PROFESSION THAT MAKES A DIFFERENCE
•
•
•
Presenter:
Organization
Date
Presentation is complements of The IIA Academic Relations
INTERNAL AUDITORS ASSESS RISKS…
• To help keep bad things from happening
• To help assure good things can happen
• To help management understand
– Where their risks are
– Whether the risks are under control
– Whether the risks are worth taking
FINDING RISK IS NOT ENOUGH
• Internal auditors evaluate the controls
that help organizations manage risks
– Are controls in place?
– Do the controls work?
– Are additional controls needed?
– Are there unnecessary controls?
– Are the controls cost-effective?
EFFECTIVE GOVERNANCE
Board of Directors
Internal Audit
External Audit
Management
MAINTAINING INDEPENDENCE:
DUAL REPORTING RELATIONSHIPS
• About 80 percent of Chief Audit Executives
(CAEs) report functionally to the Audit
Committee/Board of Directors
– Independent from audited activities
– Wide authority
• Most common administrative reporting
relationship is to the President/CEO
MEETING DIVERSE STAKEHOLDER NEEDS
Key
Stakeholders
Secondary
Stakeholders
Tertiary
Stakeholders
• Audit committee/
board
• CEO
• CFO or individual
to whom CAE
reports
administratively
• Potentially, other
chief officers
• Other business unit
executives
• External auditors
and regulators
• Investors and
creditors
• (Government audit)
citizens and
taxpayers
• Employees and
retirees
• Investment
analysts
• Potentially, the
general public
INTERNAL AUDTORS
•
•
•
•
•
•
•
Find out what's working and what's not
Keep an eye on the corporate climate
Look at the organization with fresh eyes
Look beyond the financial statements
Advocate improvements
Raise red flags
Tell it like it is
AUDITORS TELL IT LIKE IT IS
• Keep senior management aware of critical
issues
• Ensure factual communications of financial,
operational and compliance data
• Make suggestions based on knowledge of
operations throughout the organization
WHAT WOULD YOU SAY…
• If someone asked you
whether or not their
organization needed
internal auditors?
WHEN DOES A COMPANY NEED AND
INTERNAL AUDIT FUNCTION?
• Internal audit is not legally required in the U.S.
– Exceptions: NYSE-listed corporations and a few specific
industry/government requirements
• Required in some countries
• Every organization, regardless of its size, should
have some type of internal control system/process
• The IIA believes that an organization is best served by
a fully resourced and professionally competent
internal auditing function
WHAT WILL AN INTERNAL FUNCTION
ACCOMPLISH?
• Will it reduce liability or help control risks?
• Will it free management to focus on core
mission?
• Will it improve the accuracy of financial and
operational information?
• Do we need a second opinion?
• Can we improve service delivery?
• Will it improve financial results?
INTERNATIONAL PROFESSIONAL
PRACTICES FRAMEWORK
• Mandatory Guidance
– International Standards for the Professional Practice
of Internal Auditing
– Definition of Internal Auditing
– Code of Ethics
• Strongly Recommended
– Position Papers
– Practice Advisories
– Practice Guides
Questions?