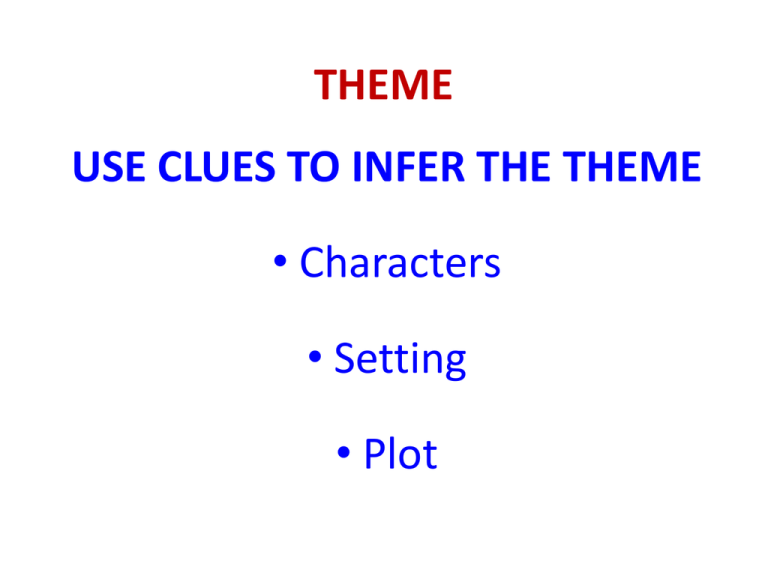 THEME
USE CLUES TO INFER THE THEME
• Characters
• Setting
• Plot
Every 20 seconds or so, a noise to keep
people like George from taking unfair
advantage of their brains.
All individual differences have been
eliminated.
….the announcer, like all
announcers, had a serious speech
impediment.
People are not hired for their
strengths.
They (ballerinas) weren't really very
good-no better than anybody else
would have been, anyway.
Everyone in this society is mediocre
(below average) and bland (not
exciting)
Harrison smashed his headphones and
spectacles against the wall.
rebels against/defies/takes a firm stand against
EQUALITY/SOCIETY/SYSTEM
And she had to apologize for her voice
which was very unfair voice for a
woman to use.
To excel (be better than) at anything is
shameful and unfair.
The music began, it was normal at
first-cheap, silly, false.
All pleasures in life are reduced to the
ridiculous.
Two of the ballerinas had collapsed to
the studio floor.
The ballet would have been excellent if
they hadn't been handicapped.
"You can say that again," said George.
There is no higher-level thinking; only
literal, flat interpretation.
(you completely agree with someone)
A moment passed, and then a
ballerina arose,………..
Harrison is not only person who hates
the system.