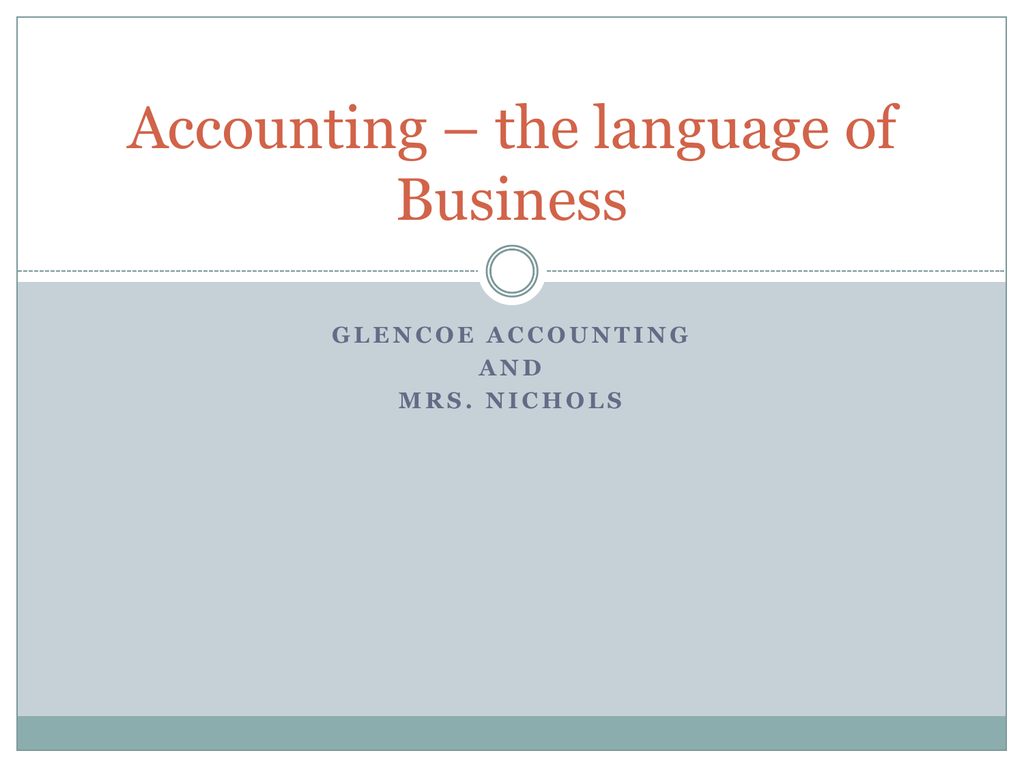 Accounting – the language of
Business
GLENCOE ACCOUNTING
AND
MRS. NICHOLS
Key Terms
 Accounting Systems
 Manual Accounting Systems
 Computerized Accounting
Systems
 Accounting Standards
 GAAP "gap"
 IAS
 Financial Reports
 Financial Accounting
 Management Accounting
 Accounting Assumptions
 Business Entity
 Accounting Period
 Going Concern
Objective
You will have an understanding of the computerized
accounting system and how the information processed
is used to make business decisions.
Decisions like a popular band deciding where to play, the
cost of their tour, how profitable their music has been or
how much the ticket prices should be?
These decisions are probably made by a financial team!
Accounting Systems
 Collect
 Document
 Report
Input
Checks
Invoices
Sales slips
Receipts
Source Documents – Transactions
1st step to Financial Reporting
Processing
Analyzing
Classifying
Recording
Tasks
Outputs
•Financial condition
•Results of operations
•Investments by and
distributions to owners
Financial and Management
Accounting Reports
System – Financial Accounting
Outsiders looking in
(external reportin)
Investors
Loaning Institutions or
Individuals
Local, State and Federal
Government
Employees, Unions,
Consumers
System – Management Accounting
 INTERNAL
REPORTING

The day-to-day decision
makers.
Purchasing
 Hiring
 Production
 Payments
 Sales
 Collections

Uses of Accounting Reports
List three ways each type is used.
Financial Accounting
Reports
Management Accounting
Reports
1
1
2
2
3
3
Accounting Assumptions
 Something taken for granted as true
 What are some assumptions you make daily?
When you go to a movie?
 Go to a restaurant?
 Enter school?
 Wake up in the morning?

 Each business needs to set up systems
 (methods to track transactions)
Accounting Assumptions #1
 Business Entity


Separate legal entity from
the owners personal
finances.
Accounting reports, and
records are maintained
separately.

The most difficult to
separate is farming and
ranching, why?
Personal
Business
Accounting Assumption #2
 Accounting Period
 Life of a business is
divided into sections of
time.



One Month
Quarterly (every 3 months)
One Year
Reports are printed for
each period and
compared to make
decisions.
Accounting Assumption #3
 Going Concern

Assume the business will
continue to operate unless
it is clear it cannot survive.

Many fail in first 5 years
Accounting
Assumptions
#1 Business Entity
#2 Accounting Period
#3 Going Concern
Suppose you work for a company
called Greenwood Sky Divers as a
sky-diving instructor. Since you have
your pilot's license, you also give
flying lessons on the side. You and
the owner of Greenwood Sky Divers
both belong to a local club, the
Greenwood Eagles, whose members
get together for sky dives on the
weekends. G.S.D is a sole
proprietorship that has been in
business for six years. The owner of
the company regularly reviews the
financial reports, prepared by the
accountant and compares them from
year to year.