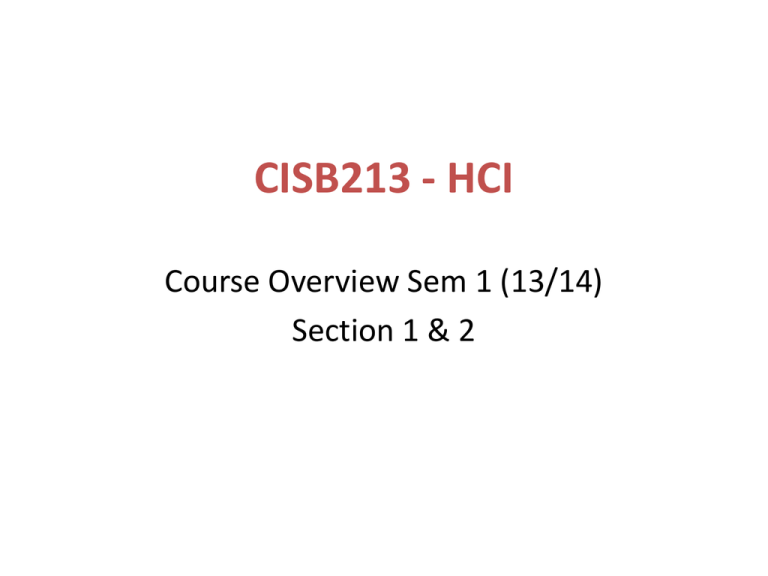 CISB213 - HCI
Course Overview Sem 1 (13/14)
Section 1 & 2
CISB213 - HCI
About Me
Rubijesmin Binti Abdul Latif
rubi@uniten.edu.my
BW-3-C45, Level 3 COIT
03 – 8921 2384
http://metalab.uniten.edu.my/~rubi
CISB213 - HCI
• 3 Credit Hour subject.
• 3 hours of Lecture
• Lecture:
Sect 1
Tuesday
12:00 pm – 2:00 pm
BW-1-L16
Friday
11:00am – 12:00pm
BW-2-R06
Monday
12:00 pm – 1:00 pm
BW-1-R06
Wednesday
4:00 pm – 6:00 pm
BW-2-R06
Sect 2
Course Objectives
This course aims to:
1. Introduce the basic concepts and evolution of
human-computer interaction
2. Discuss prevalent issues and requirement in HCI
3. Highlight the effects of different models of
interaction
4. Explain the process of interaction design
principles/rules
5. Explain the concepts of usability in designing
interfaces
6. Evaluate techniques in interface design
CISB213 - HCI
• Assessment:
- Assignments (Class & Bring Home)
- Mid Term Test:
- Project
- Final Exam:
Total:
15%
15%
30%
40%
100%
Rules & Regulations
• ATTENDANCE IS COMPULSORY. Those who have attendance
less than 80% are not allowed to take final exam.
If you are absent from the lecture due to
Sickness – MC is required
Emergency – letter from guardian is required
• Assignment Submission Policy
It is important that you MUST meet the deadlines
specified for each assignment.
If you are unable to meet the deadlines, you will be
given penalty 25% of your total mark.
CISB213 - HCI
• Text book:
Human-Computer Interaction
3rd Edition
by Alan Dix, Janet Finlay,
Gregory D. Abowd,
Russell Beale,
Prentice Hall, 2004
CISB213 - HCI
Interaction Design: Beyond Human - Computer Interaction,
3rd Edition, Rogers Y, Sharp H, Preece J,Wiley, 2011
CISB213 - HCI
• Other references:
1. Designing the User Interface-Strategies for
Effective Human-Computer Interaction, 5th Edition,
by Ben Shneiderman and Catherine Plaisant, Pearson
Addison Wesley, 2010.
2. Designing the Mobile User Experience by Ballard
and Barbara, John Wiley & Sons, New York, 2007.