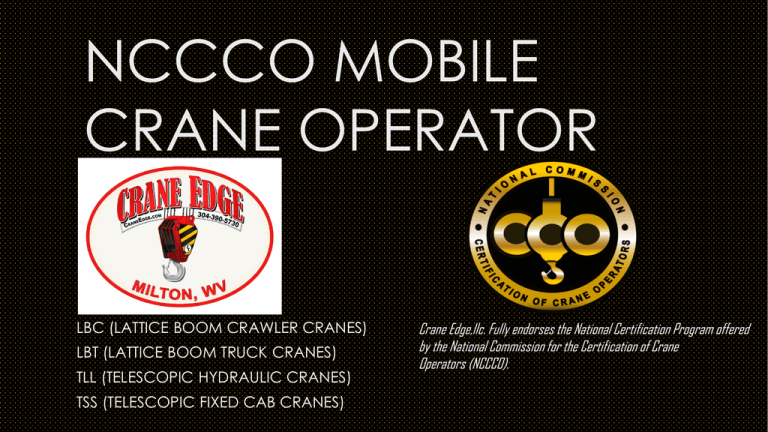 NCCCO MOBILE
CRANE OPERATOR
LBC (LATTICE BOOM CRAWLER CRANES)
LBT (LATTICE BOOM TRUCK CRANES)
TLL (TELESCOPIC HYDRAULIC CRANES)
TSS (TELESCOPIC FIXED CAB CRANES)
Crane Edge,llc. Fully endorses the National Certification Program offered
by the National Commission for the Certification of Crane
Operators (NCCCO).
Certification process
Contact our office: (304) 993-2235 We will guide you through the entire process. We
submit and get approved all necessary paperwork and documentation.
Certification process
Upon receipt of applicable fees. Candidates will receive a user and password enabling
them to access Crane Edge web site study/testing program. www.craneedge.com
Course Objectives
Course Objectives
Results/Outcome
Expected
Skills Developed
Objective 1
Result 1
Skills Developed
Objective 2
Result 2
Skills Developed
Objective 3
Result 3
Skills Developed
Objective 4
Result 4
Skills Developed
Required Materials
Reading
•Books
•Articles
•Web
•Other
Project
•Supplies
•Equipment
•Other project materials
Technology/Tools
•Software and hardware
Instructional Methods

Briefly describe instructional methods

Lectures

Demonstrations

Class discussion/Virtual discussions

Individual/group projects

Labs
Schedule
Week
Topic
Assignment/Project
Objective
Week 1
Topic 1
Brief description
Objective
Topic 2
Brief description
Objective
Topic 3
Brief description
Objective
Topic 4
Brief description
Objective
Topic 5
Brief description
Objective
Week 2
Week 3
Week 4
Week 5
Assessment Criteria

Weekly assignments

Projects

Quizzes

Final Exam
Percent of Grade
10
40
30
20
Weekly assignments
Projects
Quizzes
Final exam
Resources
Web &
Software Tools
Social Media
Class web site
Twitter
Collaboration
tools
Facebook
Mobile/Other
apps
Other
Labs, Study
Groups
Labs
Study groups
Instructor Contact Information
Email
Office
phone
Office
hours
Instructor
web page
Questions?