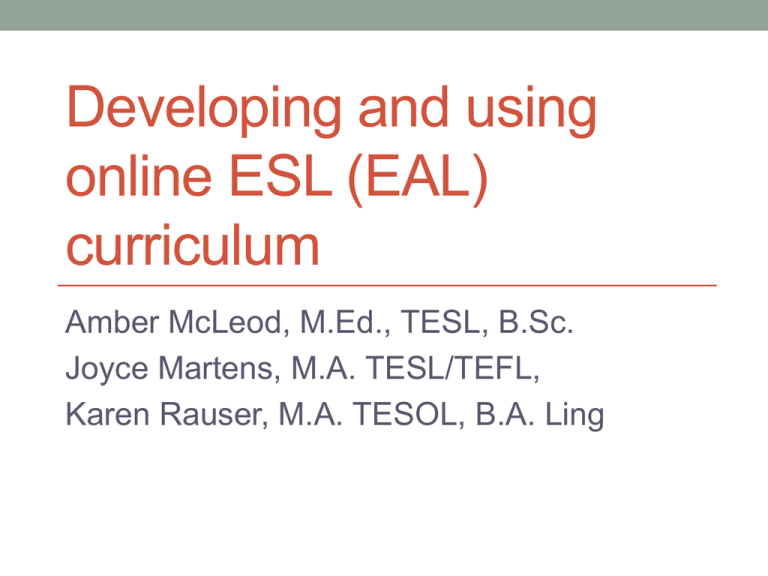 Developing and using
online ESL (EAL)
curriculum
Amber McLeod, M.Ed., TESL, B.Sc.
Joyce Martens, M.A. TESL/TEFL,
Karen Rauser, M.A. TESOL, B.A. Ling
WHAT IS YOUR BIGGEST
QUESTION ABOUT
DEVELOPING AND
TEACHING ONLINE ESL?
Please write your question on the
paper provided (write BIG!)
The Journey
Part 1 - Questions and Concerns
Part 2 - The Process
Part 3 - Challenges and
Benefits
Part 4 - Take-aways
Part 1 - Questions and Concerns
Let's take a look at our questions:
o What is the role of the Teacher in online
learning?
o Based on what we know about the ways
that ELL's acquire language, is online
learning an effective tool for language
learning?
Part 2 - The Process
STEP 1: Where do we start?
STEP 2: Choosing an LMS
STEP 3: Transformation
STEP 1: Where do we start?
Start with a reference point to keep you focused on
meeting the objectives.




CLB
CEFR
ACTFL
Exam prep
Benchmarks
and
Outcomes
(IELTS, TOEFL, Cambridge Certificates)
STEP 2: Choosing an LMS
LMS = Learning Management System
Blackboard? Desire to Learn? Moodle?
Blackboard: http://ondemand.blackboard.com/r9/index.htm
D2L: http://www.desire2learn.com/products/learning-suite/
TIPS:
o know what support programs you need
(java, flash)
o have technical support!!
Moodle- marking
Blackboard- building course content
Desire to Learn- inserting info
STEP 3: Transformation
Transform language learning concepts and techniques from
the classroom to an online environment.
o prior knowledge
o
teaching vs testing
o
repetition & practice
STEP 3: Transformation
eslcourses.ca
Techniques available online:
types of activities
question types
pronunciation practice
instant feedback
monitoring student progress
•
•
•
•
•
Other Web 2.0 Tools for ELL
•
•
•
•
•
•
•
•
•
Facebook
Google docs
e-clicker (available on the App store for a price!)
Voice blogs (many LMS systems have these!)
Skype
Elluminate
iPads
iPhones
http://nathanhall.posterous.com
Part 3: Challenges & Benefits
Challenges:
f2f interaction - motivation
•
•
cheating and control
•
technical issues- training and support
•
teachable moments
•
time consuming 20:1 (1 lesson =4 hours of online activity)
Benefits
•
•
•
•
•
•
millenium students
support tool
monitoring/grading
autonomous learning
instant feedback
any place, any pace, any time
Part 4: Take Aways
•
wave of online education is here
•
teacher's role is vital!
•
blended learning
•
provide technical training and support
•
step out and get your feet wet!