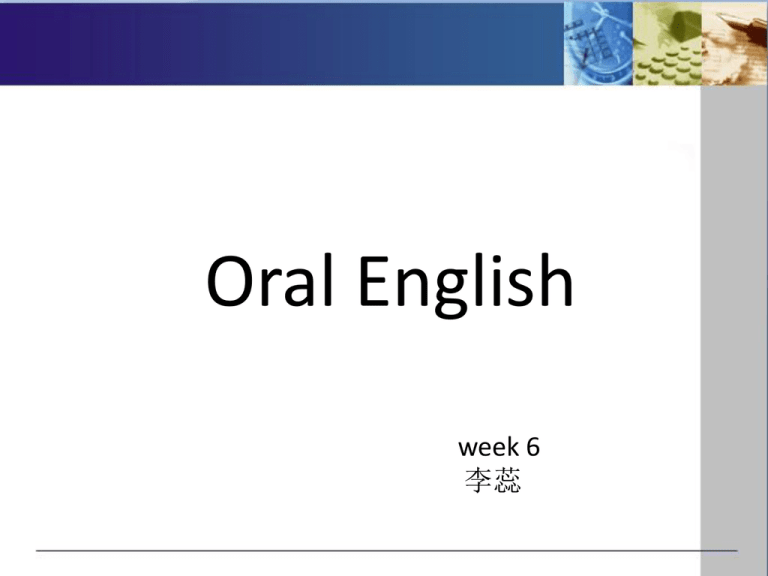 Oral English
week 6
李蕊
Age
Young middle-aged elderly上了年纪的 old
Build体形
Fat thin slim苗条的 medium-build中等身材的 broad shoulders(m)
宽肩膀
Height
1.70m
Hair color
Black
Hair style
Long short straight直的 wavy波浪状的 curly卷曲的 pigtails马尾
Face
Thin long round oval椭圆的 squared方形的
wide/narrow/long nose thick/thin lips pointed chin 尖下巴 double
chin Beard(m)山羊胡 moustache(m)小胡子 whisker络腮胡
Eyes(brow)
Blue grey brown long eyebrows长眉
眉 small eyes big eyes
Skin--color
肤色
Pale苍白的 sunburned晒黑的
fair-skinned白皙的
dress
casual
medium height
brown棕色的
tall
short
tallish较高的
blonde金黄色的 grey灰色的 dyed染的
thick/thin eyebrows浓/淡
tanned深褐色的
elegant优雅的 fashionable cool
brown
black
He/she is tall/ fat.
He/she has (got) wide nose/pigtails.
His/her face is/are very thin.
group activity
(guessing pictures)
Idiom part
Idiom
• Walk on air :
When you are happy and excited because of a
pleasant event that makes you feel as if you
are floating, you are walking on air.
E.g. "Sophie has been walking on air since her
painting won the first prize.
• Make up a short dialogue with your partner
using this idiom.
Sounds part
/u:/
/u/
/ u: /
Too
soon
food
movie
Tuesday
roommate
school
true
soup
lose
group
fruit
juice
shoe
/ u: /
1.Two blue shoes.
2. Bruce flew back to eat noodle near
the zoo.
3. If Stu chews shoes, should Stu choose
the shoes he chews?
4. who's it? So cool.
See you soon.
/u/
•
•
•
•
•
•
look
put
could
sugar
cookbook
good
•
•
•
•
•
•
full
push
pull
should
woman
cookie
/u/
You shouldn't eat too many
cookies.
Who's that woman reading a good
book?
We could put some sugar on the
fruit.
Minimal pairs
Luke look
Pool pull
Fool full
Suit soot(煤烟)
Stewed (煨炖) stood
Minimal pairs
Cap(帽子) cup •
Bag bug(小虫) •
•
Cat cut
Rag(碎布) rug(地毯) •
Ankle(脚踝) uncle •
•
Ran run
Cup cop(警察)
Dan done Don
Cut cot(简易床)
Suck(吸) sock
Hat hut(小屋) hot
Run
Ron
Family
Do you know how to name your whole family
members?
brainstorm words for family members and make a
list.
1. immediate family- mother, father, brothers and sisters. 直系亲属
2. extended family- everyone that is related to you besides your
immediate family. (eg cousins, aunts, uncles, grandparents, nieces and
nephews. 大家庭
3. siblings ['sibliŋz] - brothers and sisters兄弟姐妹
4. cousin- the children of your parent's siblings.堂兄妹,表兄妹
5. only child- no brother or sisters 独生子女
6. great-grandparents- parent's grandparents (外)曾祖父母
7. brother/sister-in-law- the person who married your brother or sister.
嫂子,弟媳,姐夫,妹夫
8. aunt and uncle- parent's sisters and brothers and their wives and
husbands. 姨妈,姑妈,舅妈,姨夫,姑父,舅,大伯,叔
9. niece and nephew- daughter or son of your siblings 外甥女,侄女;
外甥,侄子
• Family tree
• Task: look at Sam's family tree. How are
people related to him?
•
draw your family tree or a friend's family
tree and present it in English.
Do you know how to describe
your family?
• I have a large/small family / household… My family has …… members.
• I have one older/younger brother/sister… Our family name is
(surname)..
• My parents have been married for … years. I don't have any siblings /
John is my sibling. I'm an only child… I've one older sibling, a brother.
My sister has two children….
• I closely resemble my mother. /I take after my father's… I look like my
sister…
• I was raised in the city/country… I grew up in (place)..
• My family originates from (place)… My family moved from (place) to
(place)…
• I get on/don't get on well with my….. My family are quite close. We
have a great relationship…
• Both ____ and I have an older brother and a younger sister. My
family is very different from her/his. I have 3 siblings and he/she is
an only child.)
Pair activity
Bye!