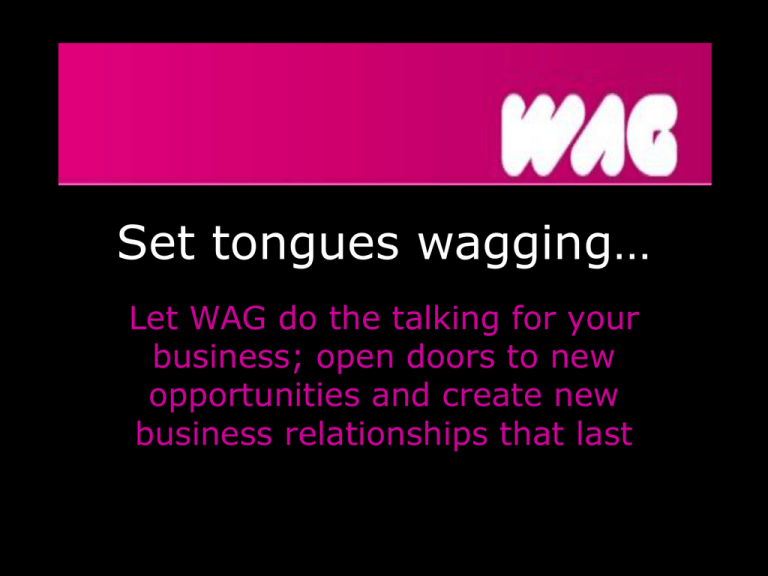 Set tongues wagging…
Let WAG do the talking for your
business; open doors to new
opportunities and create new
business relationships that last
Who do WAG work with?
• Businesses who are serious about growing their client
base
• Clients who have a clear target audience and can
identify their market
• Forward thinking individuals who appreciate the art of
building relationships
• Owners who don't have time to do it themselves
• Even those who know they need to do something and
are not sure what!
What will WAG do for your bottom line?
•
•
•
•
•
•
•
•
•
•
Telephone contact builds Brand & Reputation
Email supports message & leaves contact details
Pipeline call backs for point of readiness
Email capture for newsletters/offers/constant contact
Book your diary with genuine, qualified appointments to do
business with the Decision Maker
Generate quotations/leads for new business
Create New accounts with regular orders
Turn existing contacts into customer service calls
Glean additional information that can be fed back to
improve business operations
Use ethical, intelligent and effective methods of marketing
Why is working with WAG different?
•
•
•
•
•
•
•
No up front set up fees (some charge approx. £300)
No minimum contract
(others want 10 days up front)
Part of Your team
(happy for us to represent you)
Results for now & future ((friendly yet persistent))
Pay as You Go
(Simple day rates & 7 day notice)
Bespoke marketing plan & support
(full consultation & development plan)
Your own dedicated Wagger
(check the website & see our Testimonials!)
How WAG builds your Campaign
•
•
•
•
•
•
•
•
•
A FREE full consultation on what's best for you
Brief with full expectations on delivery
Who to contact and why as a target audience
Database template to track prospects
Script to qualify the offering and get the message across
Flow chart to map the route of each enquiry
Email to reinforce the message
Full access to your Campaign
Daily Feedback & Key Performance Indicator's*
* Used to report and analyse activity
Industry sectors include:
Finance
Accountants
Office Storage Solutions
IT Support & Networks
Web Development
Print & Design
SEO
Telecoms
CGI
Vending
Business Machines
HR and H&S
Utilities
Security
Business Coaching
Facilities Management
Exhibitions
Online Booking Systems
Electrical Engineers
& yes, a Magician!
The List is Growing!!
Delivering:
Ongoing Business Development
Effective Marketing Strategies
Targeted Telemarketing
Appointment Setting
Lead Generation
Pipeline Building
Database Management
Research & Development
Benchmarking your marketplace
Training
Recruitment & interviewing consulting
Objective advice
WAG Recommendations
•
•
•
•
•
•
From as little as one day a week @ £195 per day
90 – 100 calls data supplied per day or 65 - 75 calls data sourced per day
One appointment and pipeline leads from each days activities
Identifying development opportunities
Work closely with the Sales team offering support
Diary availability and concentration on geography
Benefits
No HR/PAYE, flexible and seamless extension to your business, fully managed
service, cleanse your data, research your market place, qualify your position and
build for the future
Campaign Examples
£10 million turnover – Leasing
Phase One
32 days to deliver 1500 historic clients from existing database to call and re-qualify and classify.
Identify appointment opportunities over £30k turnover per month and pass smaller prospects
internally. This is now an ongoing campaign with tailored focus supporting the Sales Force.
WAG identified
16 appointments = potential new business in excess of £8 million
48 internal leads = potential new business approx. £750 000
84 existing clients = turned into customer service calls
72 in house = now big enough to offer funding themselves
894 disqualified = no longer in business or market for funding
392 constant contact = identified as potential clients for continued marketing
To Date April – December
89 appointment = potential business in excess of £32 billion
356 internal leads, 120 existing clients, 266 pipeline, 112 inhouse, 1234 disqualified,
Web, Software CRM & Mobile App Developer
Established in 2006, MD and three staff
2 days to contact 95 clearly defined prospects in the Creative Design
arena. Offer and identify outsource opportunities to support existing staff
for overspill work or for the prospect to be able to add the services to
their portfolio and become a virtual team. Ultimately, adding to the
prospects bottom line.
WAG identified
7 new business appointments
10 qualified strong pipeline prospects to convert to appointments
1 Branch and already in contact with head office
17 Disqualified as not a viable prospect
2 Already in contact and turned into a customer service call
1 Invitation a prospects event and meet
48 Pipeline call backs for constant contact
55 Email introductions sent
Challenge!
Ask yourself this
How long would it take to identify 90 calls who are your target?
When would you have the time to call them?
Where would you be able to fit in the return calls?
How much would it cost you a day to do the calls?
Got a figure?
Now ask WAG to build your Campaign and
See how investing in us can influence your growth
So! Are you ready to
'set tongues wagging'?