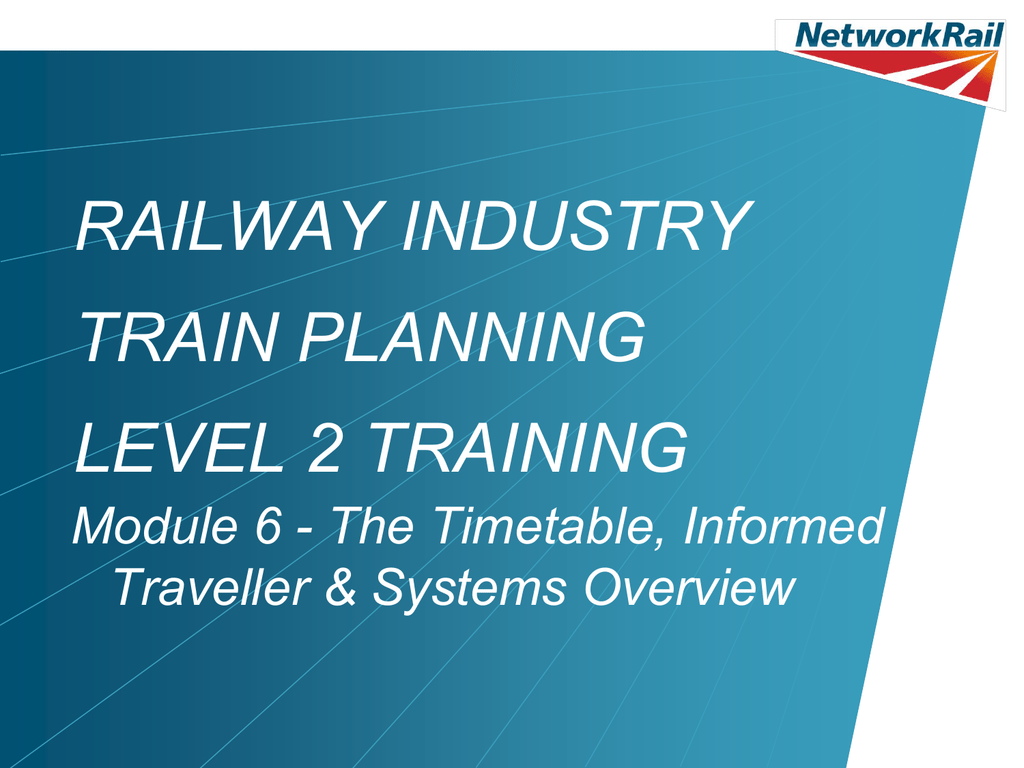 RAILWAY INDUSTRY
TRAIN PLANNING
LEVEL 2 TRAINING
Module 6 - The Timetable, Informed
Traveller & Systems Overview
Informed Traveller – the Vision (1)
Before the Journey.
Guaranteed journey planning, fares and seat
availability information, with associated
booking and reservation facilities.
To include information on:
• Station geography and access.
• Special needs arrangement (disabled, elderly, parent
with child, etc).
• Car parking.
• Refreshments, shopping etc.
• Taxi, buses, underground, etc.
Informed Traveller – the Vision (2)
At departure point, during the journey and at
interchange/intermodal points:
Plan confirmation and real time train running
information.
• To include information on:
• Platform.
• Train punctuality (late / on time).
• Position of accommodation (First/Standard).
Informed Traveller
"THE RULES WE LIVE BY"
Timetable data requirements:• Accurate data to be available electronically to customers 12
weeks prior to date of travel (G.I.G.O)
• EVERY train running schedule to be in TSDB on EVERY
occasion
TRAINPLAN
TSDB
NIGHTLY EXTRACT
OF CHANGED SCHEDULES
COMMON INTERFACE FILE (CIF)
TRAIN MANAGEMENT SYSTEMS
E.G. TOPS, TRUST, TSI, CCF
LATIN
PERIODIC
EXTRACTS
STATION
&
SIGNALBOX
SIMPLIFIERS
ADHOC
INTEGRATED ELECTRONIC
CONTROL CENTRES (IECC)
EXTRACTS
RETAIL ENQUIRY/
RESERVATION SYSTEMS
E.G.TTIS RJIS, NRS
CUSTOMER INFORMATION
SYSTEMS
NRT
E.G DEPARTURE BOARDS,
DISPLAY SCREENS,
PLATFORM INDICATORS
POCKET
TIMETABLES
Free to Download
TSO and
Middleton Press
VARIOUS TIMETABLE EXTRACTS
RAILPLANNER
COUNTY COUNCILS
PTE'S
ATOC
NETWORK RAIL – ARDV – S4CS
OVERSEAS RAILWAYS e.g. DB
DfT
DELTA RAIL
ATOS Origin
ORCATS
INTERNET TIMETABLE
The Planning Systems
•
TOCs – Voyagerplan
–
Combined Timing & Diagramming
–
Contains only individual TOCs trains (plus Area of
Interest)
–
Geography & Train data from NR
The Planning Systems (contd.)
• Network Rail – TrainPlan II
– Timing/Validation
– National Database
– TSDB Upload
The Planning Systems (contd.)
• Network Rail – Bplan
– Master Geography for all Planning Systems (updated by NR)
– TOCs maintain their Areas of Interest
– Creates Geography .pif outputs for TrainPlan II and
Voyagerplan
Voyagerplan – Train Edit Screen
Module 6 Syndicate Questions
1. WHY do we need a timetable?
2. WHAT constitutes a good train plan?