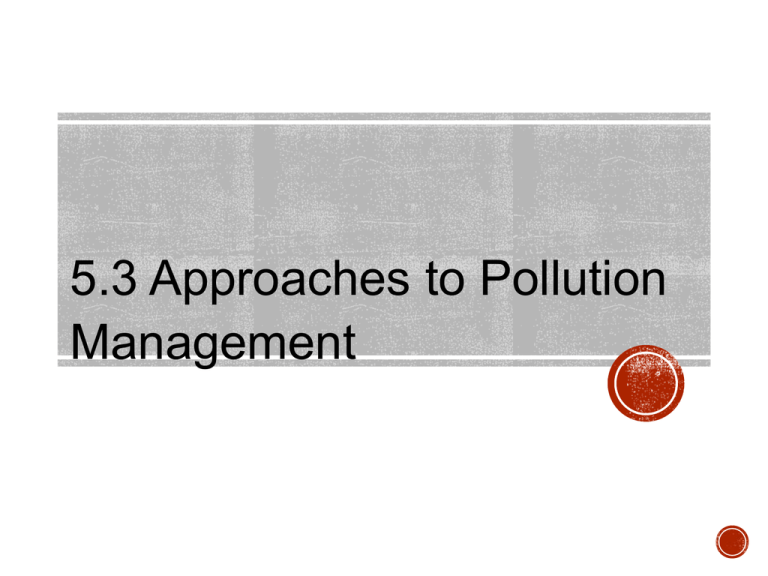 5.3 Approaches to Pollution
Management
• 5.3.1 Outline approaches to pollution
management with respect to figure 5.
• 5.3.2 Discuss the human factors that
affect the approaches to pollution
management.
• 5.3.3 Evaluate the costs and benefits to
society of the World Health
Organization's ban on the use of the
pesticide DDT.
Assessment Statements
5.3.1
Management
(3 R's)
5.3.1 Three-Level Model
Replace
●
●
●
Alternatives to the pollutant
o Biodegradable packaging
o New refrigerants
o Hybrid vehicles
Alternative choices in lifestyle
o Paper or plastic
o Water bottles
Reduce, reuse, recycle
o Ordered according to what is best
o Electronics
http://b2bbusinessnews.files.wordpr
ess.com/2011/11/biodegradableplastic.jpeg
http://inhabitat.com/compostablepackaging-test-bambu-platesbreakdown/
5.3.1 Three-Level Model
Regulate
●
●
http://www.csdimarioenvironmental.com/resources/Environmental_Law_7_09.j
pg.opt423x423o0,0s423x423.jpg
Setting/imposing standards
o EPA (US)
o UNEP
o Ministry of Environmental
Protection (China)
Extraction techniques
o "Clean coal"
o Sequestration
o Catalytic converter
5.3.1 Three-Level Model
Restore (most expensive)
http://www.nyc.gov/html/dcp/gif/about/prkillsco
ntextmap.jpg
●
●
●
●
●
●
Extracting pollutant from
ecosystem
US Superfund
Chernobyl, Ukraine
Replanting/restocking ecosystem
Chuquicamata, Chile
Fresh Kills Landfill → Freshkills
Park (NY, USA)
5.3.2 Human Factors
"It is unrealistic to expect human
activities to cease to pollute the
environment." Davis & Nagle
Economic systems
Production requires raw materials
Cultural values
May not be willing to change
May not know how to change
Political systems
Jobs or environment?
5.3.3 DDT & the WHO
●
●
●
●
http://www.icangarden.ca/images/Jpgs/ART/Workersbeingspr
ayedDDT.jpg
Dichlordiphenyltrichloroethane
Used extensively during WWII to
control lice and mosquitoes
Insecticide in agriculture
1955 – WHO began program to
eradicate malaria (with DDT)
o
Resistance evolved after 6 years

o
Sri Lanka, Pakistan, Turkey,
central America, DDT has lost its
effectiveness
40,000 tons used worldwide each
year (1950-1980)
5.3.3 DDT
●
4-5000 tons produced each year
o
o
o
India, China, North Korea
India largest consumer
Applied to inside of homes


●
Inside Residual Spraying (IRS)
Cheap, persistent, and works
well
Malaria kills 2.7 million
people/year
o
o
o
Mostly children under 5
Infects 300-500 million/year
Disease of the "poor"

No research funding
5.3.3 DDT Issues
POP (persistent organic pollutant)
Absorbed by soils
Half-life (22 days → 30 yrs)
Hydrophobic (not water soluble)
Soluble in lipids (fats)
Breaks down into DDE and DDD
DDE – Dichlorodiphenyldichloroethylene
Reproductive toxicants for birds
Neurotoxic
http://arcticportal.org/ima
ges/stories/Logo_Organi
zation/pops_migration.gi
f
Carcinogenic
Skin irritant
h
t
t
p
:
/
/
w
w
w
.
s
t
a
n
DDD – Dichlorodiphenyldichloroethane
5.3.3 DDT
Silent Spring
1962 -Rachel Carson – American
biologist
Widespread spraying killing wildlife
Cancer in humans
Biomagnifies and bioaccumulates
Agricultural use banned in 1970's and
1980's (though not as a vector
control)
First banned in Hungary in 1968
Norway/Sweden 1970, US 1972, UK
1984
http://upload.wikimedia.org/wikipedia/
commons/thumb/f/f4/RachelCarson.jpg/300px-Rachel-Carson.jpg
http://sustainable-nano.com/2013/12/17/the-cautionarytale-of-ddt-biomagnification-bioaccumulation-andresearch-motivation/
5.3.3 DDT
Malarial cases are increasing, so what do we do?