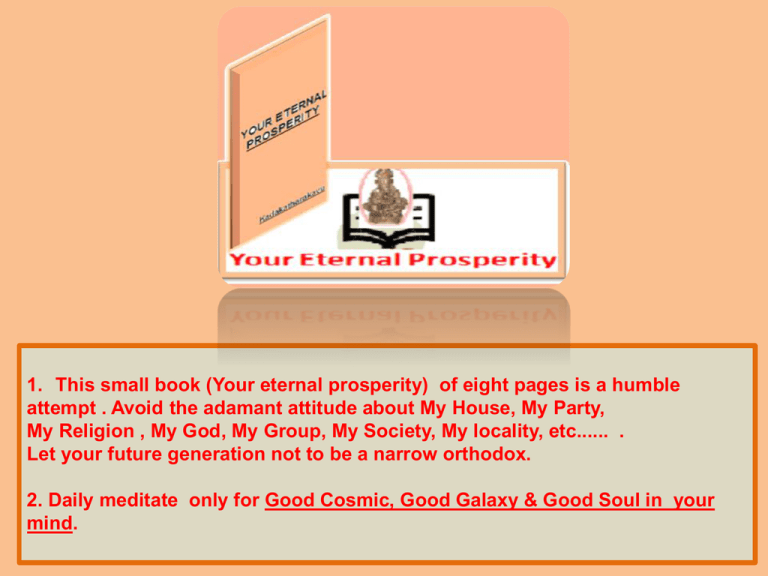 1. This small book (Your eternal prosperity) of eight pages is a humble
attempt . Avoid the adamant attitude about My House, My Party,
My Religion , My God, My Group, My Society, My locality, etc...... .
Let your future generation not to be a narrow orthodox.
2. Daily meditate only for Good Cosmic, Good Galaxy & Good Soul in your
mind.
GANAPHATYUPANISHAD
(This Maha Mantra given a beautiful image, evaluate and
assess its beauty and quality in every time in your mind)
1. EKADANTHAM,CHATHURHASTHAM,PASAMAMKUSADHARINAM I
ABHAYAM VARADAM HASTHAIR BHIBHRANAM MUSHIKADHUAJAM I
RAKTAM LAMBODARAM SUURPASUKARNAM RAKTHAVASASAM I
RAKTAGANDHANULIPTANGAM RAKTAPUSPITHA SAPUJITAAM I
BHAKTANUKAMPINAM DEVAM JAGATKARANAMACHYUTAM I
AVIRBHUTAM CHA SHRISHTYADAU PRAKRITEH PURUSATPARAM I
EVAM DHYAYATI YO NITYAM SA YOGI YOGINAM VARAH I
(One who worship the single tusker, four handed, with rope, hook and shelter blessing
symbols in hand, Pot-bellied, blood hued, with mouse as vehicle,wide eared, clad in red,
pasted red sandal,arouned with red flowers, kind to the devotees, cause of universe ,
Immortal,orginated along with the first creation, and the one who is beyond nature and
Man, will gather immense blessing and achieve the immortal height to this salvation).
2. Daily Meditate in front of the god Mahaganapathy idol :- This
act create a beautiful image in your peaceful mind . Evaluate and
assess its beauty and quality in every time in your mind. Your
ideas(plan) should be stable like a hard stone/idol.
God Ganesha' other names & qualities are given bellow (Sahasranamas):-
BHAGAVADHE NAMA:
GANANADHAYANAMA:
SHIMHA VAHANAYA NAMA :
BRAHMA DEVAYA NAMA:
GENESWARAYA NAMA:
MUSHIKA VAHANAYA NAM:
VISHNUVE NAMA:
BRAHMANAYA NAMA :
RHUDRAYA NAMA:
ACHUTHAYA NAMA:
RAMAYA NAMA:
VIJAYA PRADAYE NAMA:
SHASTRE NAMA:
SARPARAJAYA NAMA:
YOGADHIPAYA NAMA:
MAHAYOGINE NAMA:
ANANDHAYA NAMA:
MAHABALAYA NAMA:
Devadidhevan ( Lord among Gods)
(WHEN YOU MEDITATE, CLOSS YOUR EYES & SEE THAT WORD MEANING, AND CREATE A
BEAUTIFUL GOD GANESHJI PICTURE IN YOUR MIND) and observe and pray.
Eg "OHM SHASTRE NAMA" ETC… .
4. Keep stable your mind. Don't worship a sorrowfulness/unhappiness/sadness photographs.
Your Eternal Prosperity . This small book of eight pages is a humble attempt at deriving a
proof for curative effects that Hindu Idol Worship, Serpent (Naga) Worship and Yogishwara
Worship has on today's problems effecting our minds and souls. This book will provide you
with the serenity that yogis have experienced. The book is intended to stimulate the mind
and provide new ways of thinking. The book does not indicate any author but is attributed
to the temple and its philosophical ideas.
Ganesh. The name Ganesha is a Sanskrit compound, joining the words gana (Sanskrit: गण;
gaṇa), meaning a group, multitude, or categorical system and isha (Sanskrit: ईश; īśa), meaning
lord or master.] The word gaņa when associated with Ganesha is often taken to refer to the
gaņas, a troop of semi-divine beings that form part of the retinue of Shiva. Ganesha is
Vighneshvara , the Lord of Obstacles, both of a material and spiritual order. He is popularly
worshipped as a remover of obstacles, though traditionally he also places obstacles in the path of
Those who need to be checked. With Buddhi (wisdom),Riddhi (prosperity), Siddhi(attainment) as
his consorts, he is considered the Devadidhevan ( Lord of the Gods).
Serpent :- Serpent worship refers to the high status in Hindu mythology. Nāga
(Sanskrit:नाग) is the Sanskrit and Pali word for a deity or class of entity or being, taking the
form of a very large invisible type snake, found in Hinduism. Half human body shape and
other half a snake shape. Nāgas forms an important part of Hindu mythology. The five
heads of Serpant depics the Pancha bhuta. They play prominent roles in various legends:Shesha (Adisesha, Sheshnaga, or the 1,000 headed snake) upholds the world on his many
heads and is said to be used by Lord Vishnu to rest. Shesha also sheltered Lord Krishna
from a thunder and lightning storm during his birth. Vasuki allowed himself to be coiled
around Mount Mandara by the Devas and Asuras to churn the milky ocean creating the
ambrosia of immortality. Manasa is the queen of the snakes. She is also referred to as
Manasha or "Ma Manasha". "Ma" being the universal mother. Ananta Shesha is the endless
invisible type snake who circles (protect)the world. Padmanabha (or Padmaka) is the
guardian snake of the south. Astika is half Brahmin and half naga.
It is not correct to consider Serpent as mere snake.
Cost : Rs 40/- (Please email to us if you need a copy )
•
•
•
•
Idol Worship.
Serpent (Naga) Worship.
Yogishwara Worship .
Today's problems effecting our minds and souls.