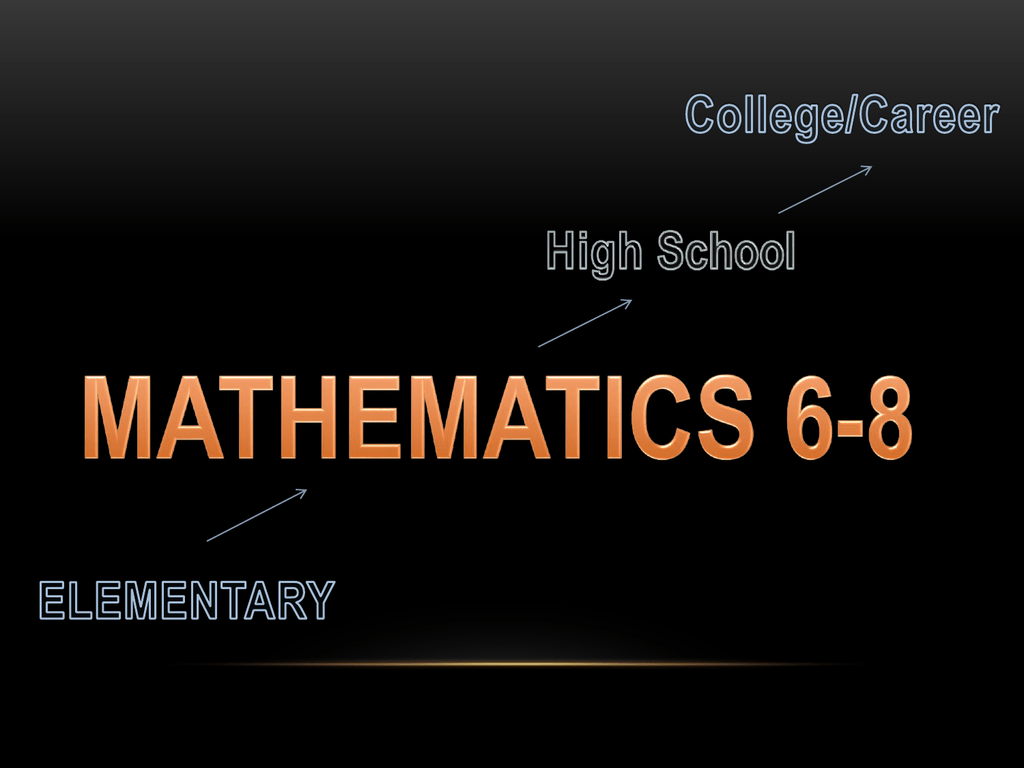 PART 1: MATH 6-8
• What does math 6-8 look like?
• What does DIGITS do for teachers/students?
• How do I get help if DIGITS doesn't work at
home ?
• What does my child see when they are using
DIGITS ?
• How do I help my child with their homework ?
• How can I tell if the homework is really
finished?
• What additional help is available to my child ?
MATH 6 - 8
THE MIDDLE,
THE TRANSISTION!
• VOCABULARY: precise language
• CALCULATIONS and PROCEDURES: accurate
and precise (even less calculator driven)
• PROBLEM-SOLVING: unique, application-level
• PERSEVERANCE : enhanced through revision,
improvement, and challenge!
43 minutes
7 classes
160 + students
180 days (- 5 for snow and counting)
…and a fire drill too !
• Pre-Made CCSSM-based resources: assists
teachers with classroom presentations &
lessons (practice link for students)
• Readiness assessments: identifies missing/weak
pre-requisite skills for each unit
• "Interventions"
• Customized mini-lesson and practice problems
• Addresses gaps, ensures coherence
• Topic Review: guides topic test study
• Practice test: with resulting
customized study guides for topic test
study
• Homework/Test banks:
• lesson objective – based
• skill, procedure and application level
• NOT MULTIPLE CHOICE aka.
MULTIPLE GUESS
www.mymathuniverse.com
www.successnetplus.com
Getting
TECH help
at home
PRACTICE: THIS IS HOW / WHERE
STUDENTS CAN ACCESS "MINI-LESSON"
OF ESSENTIAL CLASS CONTENT TO
REVIEW or MAKE- UP FROM ABSENCES !
HMWK
6.1
Overview… what you
should be able to do when
the lesson is completed
ANSWER
KEY
INCLUDED
PART 1,2 ,3… the
lesson and practice
MULTIPLE SLIDES
PER PART!
KEY
CONCEPT
provides the
essential
notes /
concepts for
the lesson
TO DO: ASSIGNMENT LIST
/ ACCESS TO
ASSIGNMENTS
(prior to deadlines)
LEADS THE STUDENT
THROUGH THE PROBLEM
WITH INTERACTIVE STEPS,
THEN PROVIDES A NEW
PROBEM TO SOLVE FOR
SCORING
THIS IS THE "TEXTBOOK"
EXAMPLE TO FOLLOW AND
GUIDE.. THE "NOTES" …
SPECIFIC TO THE PROBLEM
BEING SOLVED
LIMITED I-NET ACCESS?
LIKE TO HAVE A PAPER?
•
•
•
•
LOG INTO ACCOUNT
PRINT ASSIGNMENT
DO ASSIGNMENT
LOG BACK IN AND ENTER
ANSWERS FOR
FEEDBACK AND
ASSISTANCE
IS THE HOMEWORK
REALLY FINISHED?
WHAT WAS THE GRADE?
TRY AGAIN… Completed,
but below 70%
START… has
never been
opened!
COMPLETED.. Finished, above
70%... Can still be improved! 3
attempts EVERY time assignment
is opened prior to the deadline!
Grade
CLASS AVG
--/--Never
opened
AVAILABLE HELP
• See a teacher during homeroom, study hall, or ask
them when is a convenient time!
• MESSAGE the teacher thru DIGITS
• HOMEWORK HELP SESSIONS
• For grade 6 : MONDAY & WEDNESDAY 2:20-3:20
at SI
• For grades 7 & 8: MONDAY – THURSDAY at
SJHS
• "DROP-IN" format, NO COST, no sign-up,
• TRANSPORTATION HOME IS NEEDED!
QUESTIONS?
PLEASE FEEL FREE TO ASK
QUESTIONS NOW OR TO
SUBMIT THEM ON ONE OF THE
INDEX CARDS…
WE WILL EMAIL YOU BACK!
PART 2: BREAKOUT
MEET with your grade level teacher(s)
GRADE 6 ROOM :
GRADE 7 ROOM:
GRADE 8 ROOM :
Work at a chromebook to :
-
Log into digits
Review a homework assignment
Access the help features
Walk thru the process your child should be using nightly!