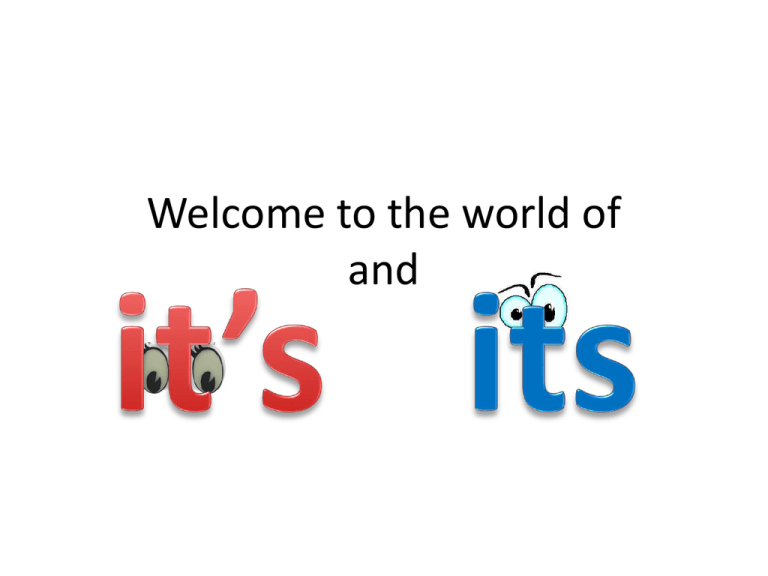 Welcome to the world of
and
Hi there!
I'm
,
but my real name can be
or
As you can see, I am a contraction:
And again you can see,
I am a contraction:
See if you can spot me in
the next few slides:
It's nice to see you all
here today.
Shannon says it's very
cold outside.
"It's been raining all
day," moaned Ruth.
It's Nicole who arrived
first, not Danielle!
It's been ages since I
saw Scott.
It's 1 o'clock, it's
lunchtime!
See!
I pop up all over the place!
I'd like you now, in
pairs, to see if you can
put me into a
sentence.
I think you've got it!
It's = It is or It has
Now meet my friend
Hi there!
I'm
.
I'm used for possession
Watch and I'll show you...
Mine!
s
For example:
The tiny kitten had hurt
its paw.
For example:
The giraffe lifted its
head to reach the
leaves.
Now, can you again, in
pairs, put its into a
sentence?
Remember, I'm used for
possession!
Let's finish up by
seeing how well you
can fill in the blanks:
It's cold today,"
"______
announced Alexander.
its
"The cat is eating ____
food," declared Alice.
Robert and Andrew
can't play football
it's
because _____
raining.
"Hurry up Beatrice and
it's time
Joanne, _____
for school!"
The dog was wagging ___
its
tail.
Well done!
Iiiiiiiiiiiiiiii been fun
working with you!