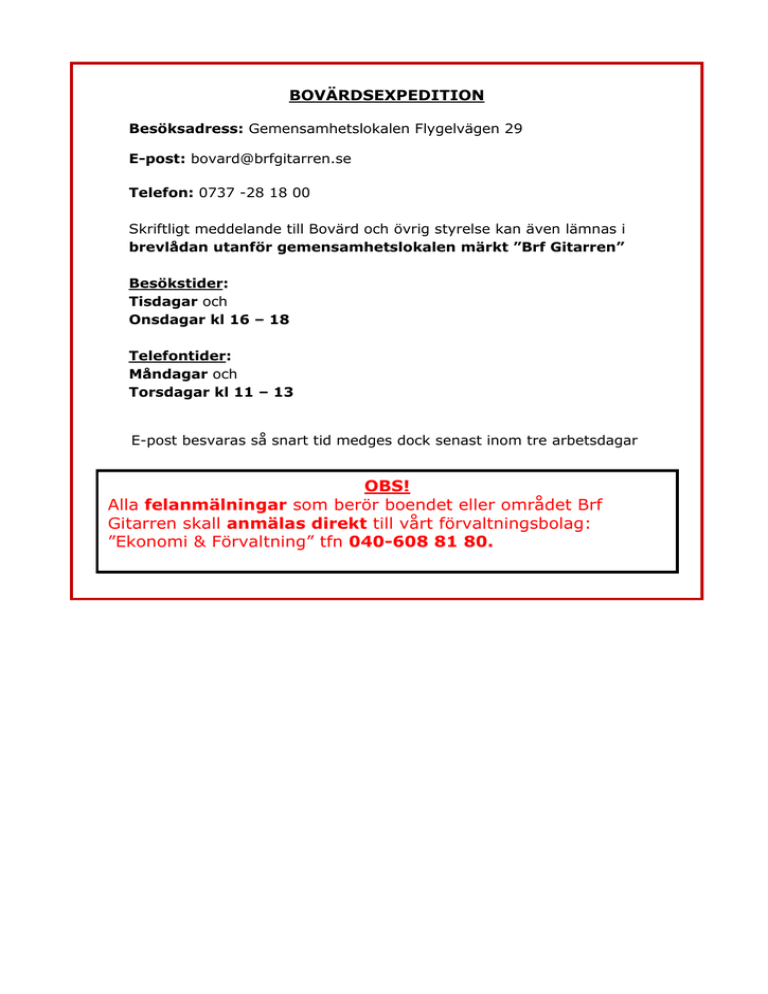 BOVÄRDSEXPEDITION
Besöksadress: Gemensamhetslokalen Flygelvägen 29
E-post: bovard@brfgitarren.se
Telefon: 0737 -28 18 00
Skriftligt meddelande till Bovärd och övrig styrelse kan även lämnas i
brevlådan utanför gemensamhetslokalen märkt "Brf Gitarren"
Besökstider:
Tisdagar och
Onsdagar kl 16 – 18
Telefontider:
Måndagar och
Torsdagar kl 11 – 13
E-post besvaras så snart tid medges dock senast inom tre arbetsdagar
OBS!
Alla felanmälningar som berör boendet eller området Brf
Gitarren skall anmälas direkt till vårt förvaltningsbolag:
"Ekonomi & Förvaltning" tfn 040-608 81 80.
Association Services Contact office
Visiting address: Association assembly room Flygelvägen 29
E-mail: bovard@brfgitarren.se
Telephone: 0737 -28 18 00
Please leave written messages to the Association Service Contact or to the
board of Brf Gitarren in the post box, labeled 'Brf Gitarren', next to the
Assembly room entrance door.
Opening hours:
Tuesdays and Wednesdays, 16:00 – 18:00
Telephone hours:
Mondays and Thursdays, 11:00 – 13:00
E-mails received will be responded to as soon as time permits or within three
working days at the latest.
Please note!
All problems that concern your apartment or Brf Gitarren as a
whole should be reported to our maintenance company,
"Ekonomi & Förvaltning" at 040-608 81 80.