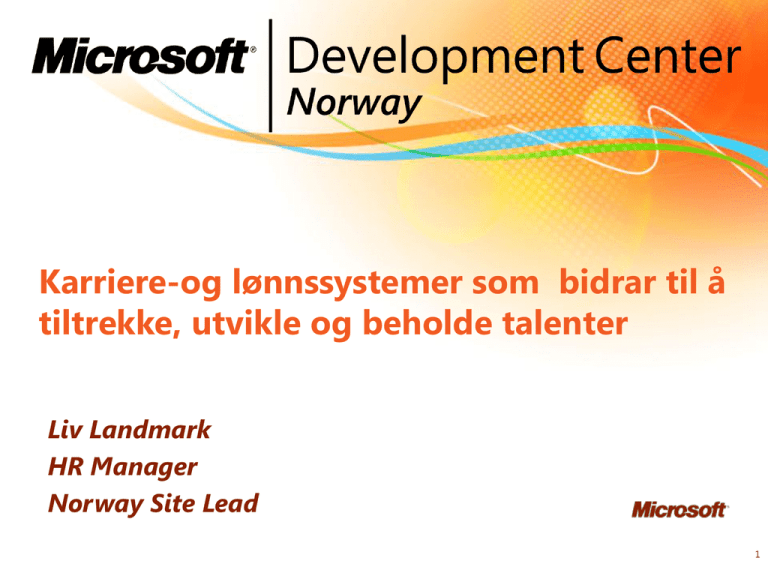 Karriere-og lønnssystemer som bidrar til å
tiltrekke, utvikle og beholde talenter
Liv Landmark
HR Manager
Norway Site Lead
1
MS Information Experience Group består av tidligere FAST
Search & Transfer og MS's Business Search Group
FAST ble grunnlagt i Norge i 1997 og har hatt en eventyrlig
vekst
900
800
700
250,00
Number of
employees
Revenue (adjusted)
600
200,00
150,00
500
100,00
400
300
50,00
200
0,00
100
0
-50,00
2000 2001 2002 2003 2004 2005 2006 2007 2008
2
I april 2008 ble oppkjøpet av FAST Search &
Transfer sluttført av Microsoft – til en verdi
av USD 6,6 milliarder
3
Information Experiences Group
Bjørn Olstad
317
GM Oslo: Hans
Rune Rønningen
Content
Management 66
Productivity
71
Search
Internet Business63
177
Search Foundation 99
Program
mgt
Jim Masson
Gerhard Schobbe
Sven Arne
Gylterud
Eirik Knutsen
Devmnt
Nathan Fink
Russ More
Troels W. Hansen
Petter Moe
Patrick Patterson
Dwight Kruger
Rolf Michelsen
Øyvind Hopsnes
Test
Fire IEG kontorer i Norge
•
•
•
•
Oslo
Trondheim
Tromsø
Brevik
Utenfor Norge:
•
•
•
•
Munchen
Rio
Colombo
(Redmond)
5
Products for Every Customer Need
Quick, easy, powerful
search (for free!)
Basic search
Complete intranet
search
Intranet-wide search
People and expertise search
High-end search delivered
through SharePoint
or stand-alone search
•
•
•
•
360° customer views
Research portals
Reputation analysis
…
Search is a PLATFORM to:
Do light-weight textual, structured and
rich media data warehousing
Enhance content and decompose it
into "atomic units" that can be
reassembled in a user context
Provide highly scalable and READ
optimized access across all data
Separate VALUE from NOISE
Power algorithmic information mashups based on intent
& context
Ansatte i Microsoft Development Center Norge AS
3%
2%
3%
5%
0%
1%
1%
Services
CustSvc&Supt
Sales
Finance
Business Services
85 %
ITOperations
Engineering
HR
9
Performance Management Cycle
Performance management
Gjennomgående prosess
Konstant utvikling
De ansatte i fokus
Annual Review (AR)
Annual Review/Årlig medarbeidersamtale: (80/20)
• Avholdes medio september/år
• Basert på tilbakemelding fra ledere, mellomledere og kolleger
• Basert på målsetninger som settes ved starten av året
• Har fokus på oppnådde resultater (totalt over året)
microsoft.com/careers
10
Annual Review - målsetning
Som ansatt skal AR gi deg mulighet til å:
• Forstå nåværende status i forhold til de målsetningene som ble
satt ved årets start
• Forbedre/utvikle egen rolle
• Identifisere nye utviklingsmuligheter
• Forsterke egne skills, kunnskap og evner
• Forstå og formulere personlige mål for neste vurderingsperiode
11
Annual Review Process
Give & Ask for
Feedback
Approved
Commitments
Employee Self
Assessment
Manager
Assessment
Calibration
Session
Final Rewards
Determined
Employee &
Manager
Discussion
June
June –
September
June
June – July
Mid June –
July
July
Mid Aug. –
Mid Sept.
Employees
recommend
others to their
manager to
receive feedback
from, and give
feedback on
their manager,
skip level
manager and
others
Ensure you
have updated,
approved FY10
Commitments
and begin FY11
Commitment
Setting
Employees
assess their
performance
against
commitments
(note that once
they save their
self assessment,
their FY10
Commitments
cannot
be edited)
Managers review
employee self
assessments and
feedback, then
draft assessments
and make
Commitment
Rating,
Contribution
Ranking, and
Promotion
recommendations
Employees are
discussed by
knowledgeable
managers in
a calibration
session where
Contribution
Ranking is
determined
Managers finalize
rewards based on
Commitment
Rating and
Contribution
Ranking
assessments
Employees have a
discussion with
their manager
about results
during the year
and review their
Commitment
Rating,
Contribution
Ranking, rewards
and written review
Recommend that
employees check
in on their
development plan
in CareerCompass
12
Mid Year Career Discussion (MYCD)
Mid Year Career Discussion/Halvårlig medarbeidersamtale: (20/80)
• Avholdes medio februar/år
• Basert på tilbakemelding som over
• Har fokus på fremtid/utvikling
microsoft.com/careers
Microsoft Confidential
13
Evaluering av egen innsats
Hva
– Definerer forretningsresultater som er oppnådd
– Store, ambisiøse mål eller trygge, enkle mål?
– Oppnådde du ønsket mål? Overgikk du dem? Mislyktes du?
– Håndterer du avhengigheter effektivt?
Hvordan – Understreker hvordan resultatene ble oppnådd
– Professjonalitet? Positivitet?
– Effektivt arbeide på tvers av organisasjonen?
– Konflikthåndtering?
Andre spørsmål:
– Oppnådde du resultatene som ønsket?
– Hva og hvordan kan du forbedre deg/resultatene dine?
14
1:1's
15
Kalibreringsprosess
• En standardisert ledelsesprossess som brukes for å
oppnå en ønsket distribusjon av alle ansatte
• Sikrer konsistens
• Forbedrer manager accountability og ansatte
differensiering
• Driver frem talenter og utvikler disse på tvers av firmaet
Avlønning og
insentivordninger i
Microsoft
Pensjon
Forsikringer
Konkuransedyktig
baselønn
Mulighet for å
kjøpe Microsoft
aksjer gjennom
trekk i baselønn
Alle i Microsoft får
årlig bonus uansett
stillingstittel/nivå
Andre goder
-bredbånd
-mobil
-trening
-transportutgifter
Konkurransedyktig baselønn I
• Fastlønn blir bestemt i forhold til de kvalifikasjoner
kandidaten besitter, samt hvilket nivå de blir ansatt på i
Microsoft
• Praksisen gjør at selskapet kan anerkjenne og verdsette
forskjeller i kompetanse, ferdigheter og erfaring de
ansatte bringer inn i stillingen
• Gjennomsnittlig ansatt grunnlønn skal ligge noe over
kandidater i tilsvarende jobber i større
teknologiselskaper.
• Microsoft gjør årlig en regional undersøkelse for å
opprettholde konkurranseevnen
Konkurransedyktig baselønn II
Alle i Microsoft har bonusordinger, uansett stillingstittel
• Mest vanlig bonus ordning er 10% av baselønn
• Fastsettes gjennom årlig vurdering mot oppnåelse av
egne mål og kalibrering mot andre ansatte på samme
nivå
• I tillegg har Salg og Services egne bonus ordinger
Konkurransedyktig baselønn III
Pensjon
• 6-8%
• Konkurransedyktig i forhold til markedet
Forsikringer
• Skadeforsikring for ansatt og nærmeste familie
• Reiseforsikring for ansatte og nærmeste familie
Mulighet til å kjøpe Microsoft aksjer gjennom månedlig
trekk i baselønn
• Ansatte bestemmer selv om de ønsker å delta i ordingen
Microsofts verdier
Integritet og ærlighet
Lidenskap
Åpenhet og respekt
Ansvarlig
Store utfordringer
Selvkritisk
microsoft.com/careers
21
Takk for oppmerksomheten!