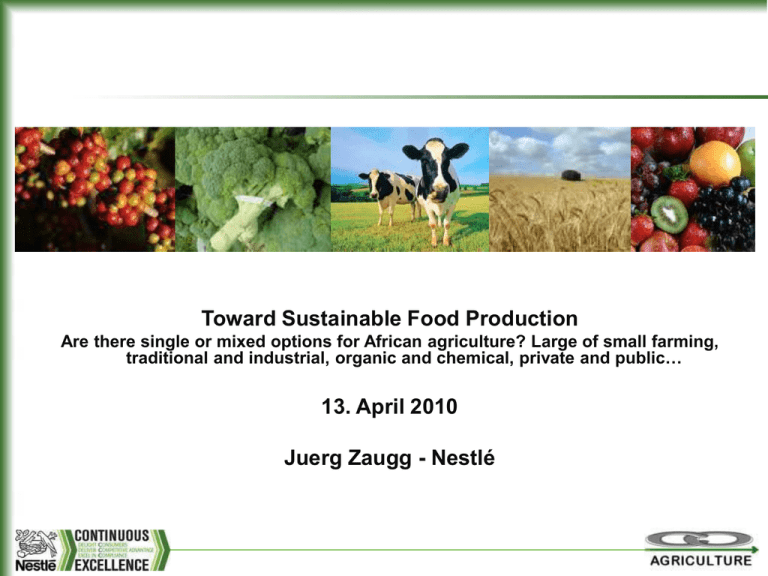 Toward Sustainable Food Production
Are there single or mixed options for African agriculture? Large of small farming,
traditional and industrial, organic and chemical, private and public…
13. April 2010
Juerg Zaugg - Nestlé
The Nestlé story – how it all began
1867
1866
1929
1938
1947
Henri Nestlé
1866
1960s
1970s
1980s
1990s
2000s
Nestlé
NestléSourcing
Sourcing of Operations
Agricultural Rawat
Materials
Nestlé Expenditures
Pack
9 billion
Milk, Total Volume Usage (MT) =
12'200'000
Coffee, Total Volume Usage (MT) =
763'000
Cocoa, Total Volume Usage (MT) =
372'000
SIM
28 billion
Agricultural Raw Materials
RM
21 billion
Coffee
Cereals
Dairy
58 billion CHF
(Cost of Goods
Sold)
Other RM
Sugar
Cocoa
Oil & Fat
Total Raw Materials
Source CO-PRO
3
Direct Fresh Milk Sourcing Markets
Direct Sourcing Markets
Fresh milk sourcing in 30 countries
Almost 700 sourcing specialists in milk
7mio tons fresh milk / year
Around 300'000 direct supplying farmers
little
tour
A little A
tour
around
thearound
world
the world..
China
India
Indonesia
Mexico
Nicaragua
Panama
Peru
Chile
South Africa
Our dairy farmers:
From one cow in milk….
… to 10'000 cows
China:China:
training
small farmers
Training
of farmers
China:
China:
improved
practices at
Practices
atfarm
thelevel
farm
India:
From small to commercial farms
India:India:
Improved
feeding
Improved
feeding systems
Indonesia:
Development of Cooperatives
South Africa:
Improved pastures and fodder
Chile:
Farm Assurance Manual
•14
Peru:
Improved pastures
Panama:
Spring protection
Nicaragua:
Nicaragua:
Manure
management
Water
and manure
management
Mexico:
Mexico:
Smallsmall
scale to–large
scale farms
medium
– large
dairy farms
Towards Sustainable Food Production - Priorities
Policy interventions and decisions
• Participate in relevant events
Research and Development
• Nestlé Research Centers and collaboration with other research institutes
Water Management
• Improve practices at farm level (and also at factory, distribution and consumer level)
Productivity at farm level
• Continuous improve of practices at farm – focus on soil fertility
Conclusion
• There is no "one fit - fit all" approach
• Different farming system in different countries
• Support local initiatives – Creating Shared Value
More Information available at:
Web site:
YouTube:
Linkedin:
Facebook:
Twitter:
www.nestle.com/csv
Nestle CSV YouTube channel
CSV LinkedIn Group
Facebook CSV page
www.twitter.com/nestlecsv
Questions and Comments?