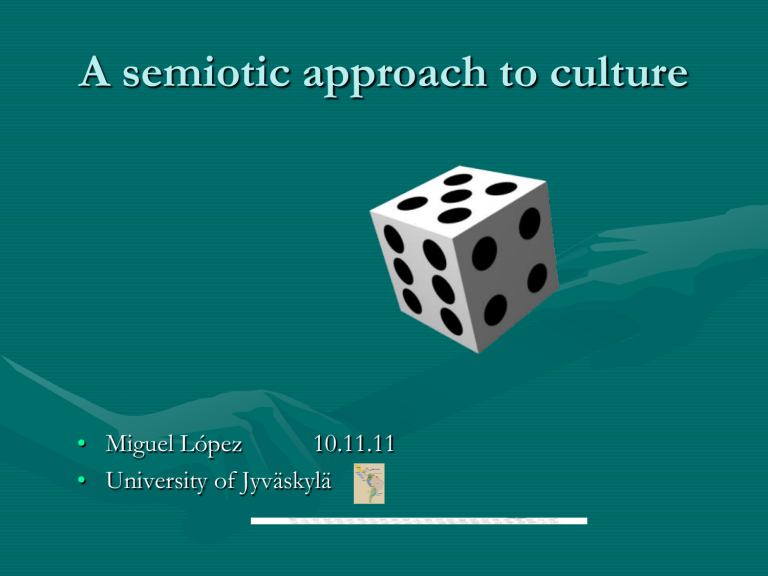 A semiotic approach to culture
• Miguel López 10.11.11
• University of Jyväskylä
THE PETERS PROJECTION
Semiotics , semiotic studies, or semiology is the study of sign processes, or signification and communication. It includes the study of how meaning is constructed and understood.
DEDUCTION (rationalism)
INDUCTION (empiricism)
ABDUCTION
Making sense  MEANING
MEANING
Point of view
SENSES
http://www.youtube.com/watch?v=8YRvWQmYMeM
http://www.telegraph.co.uk/news/1901656/OGC-unveils-new-logo-to-red-faces.html
COMMUNICATION
COMMUNICATION=EMPATHY
SILENCE
Tacet http://www.youtube.com/watch?v=hUJagb7hL0E
(from 0:38) John Cage "4'33"
CULTURE
LANGUAGE
RELIGION and BELIEFS
NATURE
CE SPA http://www.interpellatie.nl/2010/07/23/escher-in-3d/
TIME
KNOWLEDGE + EXPERIENCE
+ LINKING
Crossing the…
…borders
NEXT LECTURES (M.López)
Thursday 17.11 - H320 - 16:15-17:45  Latin America as a culture
Thursday 24.11 - Ylistö Kem1 - 16:15-17:45  Brazil: a world within
Calle 13 – Latinoamérica http://www.youtube.com/watch?v=DkFJE8ZdeG8