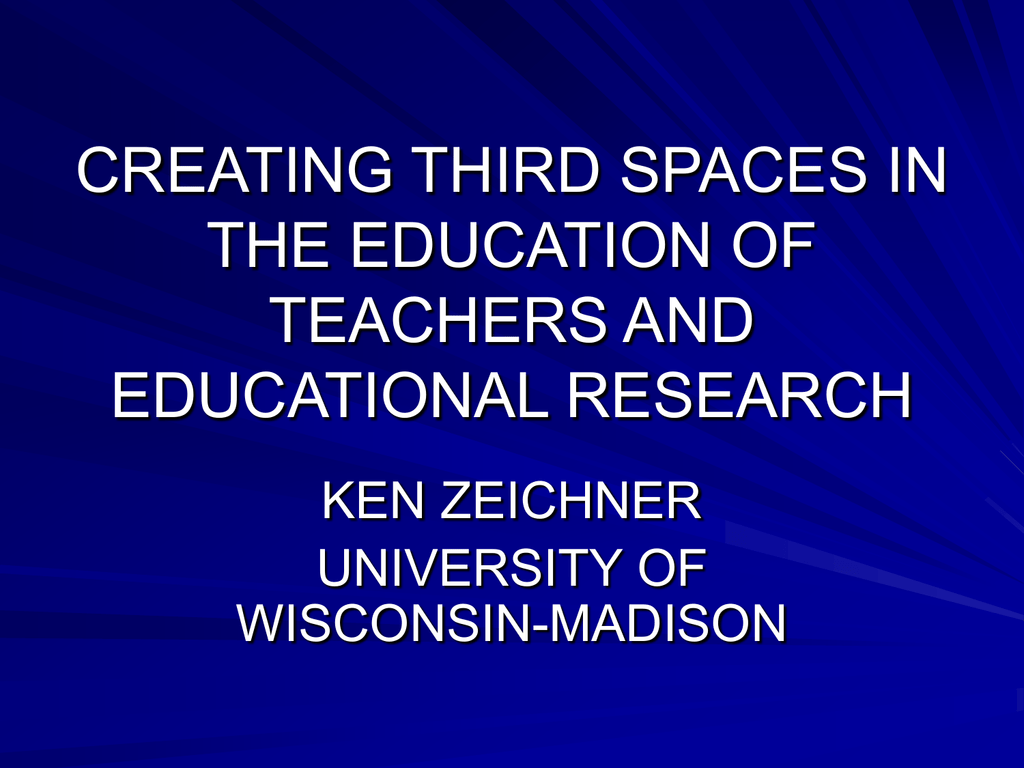 CREATING THIRD SPACES IN
THE EDUCATION OF
TEACHERS AND
EDUCATIONAL RESEARCH
KEN ZEICHNER
UNIVERSITY OF
WISCONSIN-MADISON
THIRD SPACES
THE IDEA OF THIRD SPACE COMES FROM
HYBRIDITY THEORY WHICH RECOGNIZES THAT
INDIVIDUALS DRAW ON MULTIPLE DISCOURSES TO
MAKE SENSE OF THE WORLD.
THIRD SPACE INVOLVES A REJECTION OF BINARIES
SUCH AS PRACTITIONER AND ACADEMIC
KNOWLEDGE, AND THEORY AND PRACTICE.
THIRD SPACE CAN INVOLVE THE INTEGRATION OF
WHAT ARE OFTEN SEEN AS COMPETING
DISCOURSES IN NEW WAYS (EITHER/OR VS BOTH
AND ALSO).
THIRD SPACES
THIRD SPACE THEORY HAS BEEN USED IN
FIELDS SUCH AS GEOGRAPHY, THE ARTS,
POSTCOLONIAL STUDIES, FEMINIST
STUDIES AND RECENTLY IN EDUCATION.
DEBATES OVER THE MEANING OF THIRD
SPACE (E.G., BRIDGING VS. INTEGRATION).
MY GOAL
THE INTEGRATION OF PRACTITIONER
KNOWLEDGE AND ACADEMIC KNOWLEDGE
IN NEW WAYS :
1. TO ENHANCE THE EDUCATION OF
TEACHERS AND THEIR ABILITY TO LEARN IN
AND FROM PRACTICE AND
2. TO ENHANCE THE VALUE OF EDUCATION
RESEARCH TO PRACTITIONERS,
ACADEMICS AND POLICY MAKERS .
A THIRD SPACE IS:
A CREATIVE RECOMBINATION AND
EXTENSION, ONE THAT BUILDS ON A
FIRST PLACE PERSPECTIVE THAT IS
FOCUSED ON THE 'REAL' MATERIAL
WORLD--- AND A SECOND PLACE
PERSPECTIVE THAT INTERPRETS THIS
REALITY THROUGH 'IMAGINED
REPRESENTATIONS OF SPATIALITY
(SOJA, 1996)
TWO SPACES
FIRST PLACE PERSPECTIVE –
PRACTITIONER KNOWLEDGE
SECOND PLACE PERSPECTIVEACADEMIC KNOWLEDGE.
DOMINANT MODEL OF
PRACTICE IN TEACHER
EDUCATION
LEARN YOUR "THEORY" AT THE UNIVERSITY AND
APPLY IT IN TEACHING PRACTICE IN SCHOOLS.
MARGINALIZATION OF PRACTITIONER KNOWLEDGE
AND RESEARCH IN THE UNIVERSITY AND OF
ACADEMIC KNOWLEDGE IN SCHOOLS.
STUDENT TEACHERS GO TO SCHOOLS TO
"PRACTICE" WHAT THEY LEARN AT UNIVERSITIES.
TEACHER RESEARCH IS PROFESSIONAL
DEVELOPMENT NOT KNOWLEDGE CREATION.
THE "NEW PROFESSIONALISM"
DEVELOPMENT OF 'FASTRACK'
TEACHER EDUCATION PROGRAMS
WHERE THE ROLE OF THE
UNIVERSITY IS SUBSTANTIALLY
REDUCED AND IT IS ASSUMED THAT
MOST OF WHAT TEACHERS NEED TO
LEARN TO TEACH CAN BE LEARNED
ON THE JOB.
BOUNDARY CROSSINGS AND
CREATING THIRD SPACES IN
TEACHER EDUCATION
READING TEACHER RESEARCH IN
UNIVERSITY COURSES AND TALKING
WITH TEACHER RESEARCHERS
ABOUT THEIR RESEARCH.
BOUNDARY CROSSINGS
USING ARTIFACTS OF TEACHERS'
PRACTICES IN PRE-SERVICE AND CPD
CLASSES.
gallery.carnegiefoundation.org/insideteaching/
E.G., PAM GROSSMAN'S USE ARTIFACTS
FROM THE TEACHING OF YVONNE DIVANS
HUTCHINSON TO TEACH STUDENT
TEACHERS ABOUT LEADING TEXT-BASED
AND STUDENT-CENTERED DISCUSSIONS.
http://quest.carnegiefoundation.org/~pgrossman/
EXAMPLE OF A TEACHER
WEBSITE
http://gallery.carnegiefoundation.org/collec
tions/quest/collections/sites/divanshutchinson_yvonne/
Website of Yvonne Divans Hutchinson (LA
teacher whose site is used by Pam
Grossman at Stanford).
BOUNDARY CROSSINGS
HYBRID EDUCATORSE.G. TEACHERS-IN RESIDENCE
PROGRAM AT THE UNIVERSITY OF
WISCONSIN-MILWAUKEE.
CO-TEACHING WITH FACULTY.
INVOLVEMENT IN PROGRAM
DEVELOPMENT AND RENEWAL.
BOUNDARY CROSSINGS
EXAMPLES:
MEDIATED FIELD-EXPERIENCESUNIVERSITY OF WASHINGTON.
PROFESSORS TEACHING KIDS AND
DOCUMENTING IT AND USING ARTIFACTS
OF THEIR OWN TEACHING IN TEACHER ED
(BALL, LAMPERT)
CLINICAL FACULTY IN PROFESSIONAL
DEVELOPMENT SCHOOLS.
ENHANCING THE VALUE OF
EDUCATION RESEARCH
TEACHER ACTION RESEARCH IS
MORE COMMON, MORE EASILY
ACCESSIBLE BUT IS LARGELY
IGNORED BY THE ACADEMIC WORLD.
HANDBOOKS OFTEN DO NOT INCLUDE
THE FINDINGS OF TEACHER ACTION
RESEARCH STUDIES.
JOINING PR AND AR IN THE DOING OF
RESEARCH (RESEARCH PROGRAMMES)
- EGS: CGI MATHS, THE FUNDS OF
KNOWLEDGE PROJECT
DIALOGUES ABOUT THE MEANING OF
ACADEMIC RESEARCH THAT GO BEYOND
THE PUBLICATION OF RESEARCH.
JOINING PRACTITIONER RESEARCH WITH
ACADEMIC RESEARCHIN CONFERENCE PRESENTATIONS
IN PUBLICATIONS INCLUDING RESEARCH
SYNTHESES
3. THE FOCUS SHOULD BE ON THE ISSUES
NOT WHETHER IT IS PRACTITIONER OR
ACADEMIC RESEARCH.
1.
2.
POLICYMAKING AND
PRACTITIONER RESEARCH
POLICYMAKERS OFTEN IGNORE ANY KIND
OF EDUCATIONAL RESEARCH.
LOCAL E.G.- MADISON SCHOOLS AND
SPECIAL EDUCATION.
STATE E.G.- CALIFORNIA AND MENTOR
PRACTITIONER RESEARCH
NATIONAL-????
CONCLUSION
THE CONTINUED DIVIDE BETWEEN
PRACTITIONER AND ACADEMIC
RESEARCH AND THE SECOND CLASS
STATUS FOR PRACTITIONER
RESEARCH IS HURTING THE QUALITY
OF EDUCATIONAL RESEARCH,
TEACHER EDUCATION AND
PROFESSIONAL DEVELOPMENT, AND
EDUCATIONAL POLICYMAKING.
REFERENCES ON THIRD SPACE
THEORY
Gutierrez, K. et al. (1997). Putting language back into
language arts: When the radical meets the third space.
Language Arts, 74(5), 368-378.
Moje, E.B. et al. (2004). Working toward third space in
content area literacy: An examination of everyday funds
of knowledge and Discourse. Reading Research
Quarterly, 39(1), 38-70.
Soja, E. (1996). Thirdspace: Journeys to Los Angeles
and other real and imagined places. Malden, MA:
Blackwell.
Bhabba, H. (1990). The 3rd space. In J. Rutherford (ed).
Identity, community, culture and difference (pp. 207-221).
London:
REFERENCES ON CREATING
THIRD SPACES IN TEACHER
EDUCATION
Howey, K. & Zimpher, N. (2006) (Eds). Boundary spanners.
Washington, DC: American Association of State Colleges and
Universities.
Ball, D. & Cohen, D. (1999). Developing practice, developing
practitioners: Toward a practice-based theory of professional
education. In L. Darling-Hammond & G. Sykes (Eds). Teaching as
the learning profession. (pp.3-32).
Lampert, M. & Ball, D. (1998). Mathematics, teaching and
multimedia: Investigations of real practice. New York: Teachers
College Press.
Zeichner, K., & Miller, M. (1996). Learning to teach in professional
development schools. In M. Levine & R. Trachtman (Eds.), Building
professional practice schools: Politics, practice and policy (pp. 1532). New York: Teachers College Press.