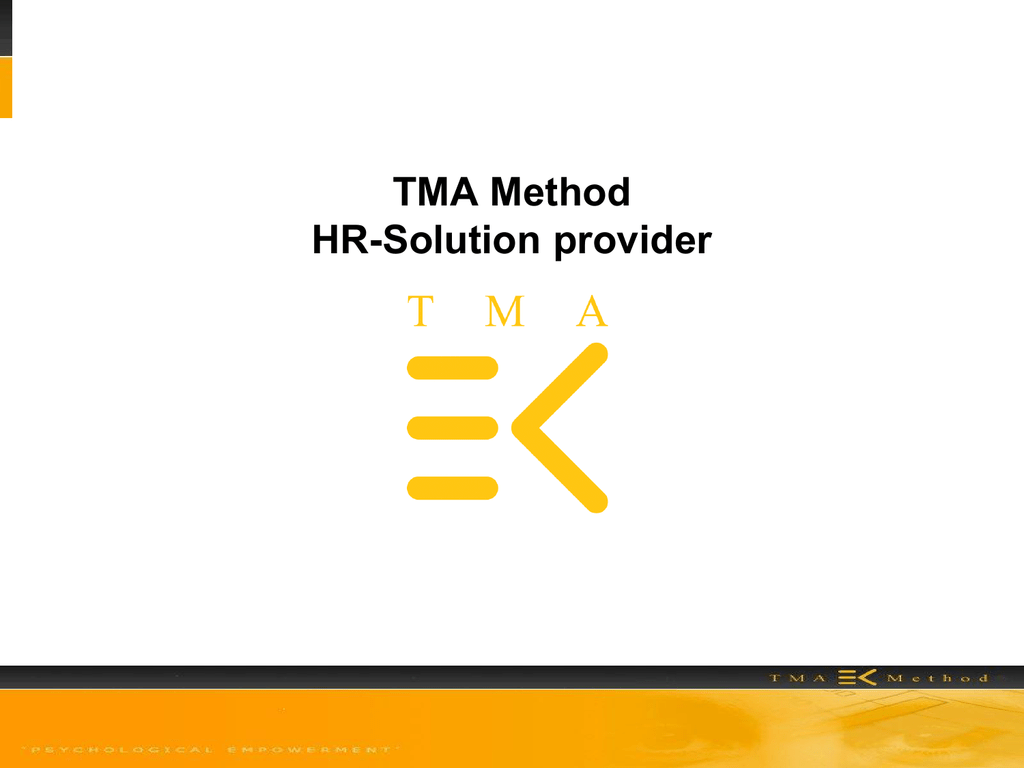 TMA Method
HR-Solution provider
TMA alignment model
TMA; reinvented the art of assessment.
•
•
•
Aligned assessments
– Matching strategy with individual talents & professional behaviour.
Inspiring assessments
– Clarifying the path of development, mastery and performance
Aligned ownership
– Necessary effort & commitment of all stakeholders
TMA; range of conduct
•
•
•
•
•
•
Organisational branding and (job)profiling
Recruitment & on boarding processes
Employee reviews & development
Retention, Redundancy & outplacement
Talent- competence & performance management
Selection – development & potential assessments
TMA Facts
•
•
•
•
•
•
Improvement of shareholders value with 30%
Significant reduction cost of hire & assessments
Minimizing out of pocket cost for competence – talent & performance
management
decreasing drop outs with 25% (improving retention)
Improving performance with 27%
Accomplishment for award for best employer of the year by CLR.
The Analysis Process
(Added validity of HR instruments: Schmidt & Hunter, 1998, p 265)
TMA process
S/D/E
Source
Predictor of performance
Validity coefficient
S/D/E
TMA Assessor
Structured interview
.51
S/D
TMA Assessor
Simulation exercise
.54
S/D/E
TMA CAP
Intelligence analysis
.51
S/D/E
TMA AC
Talent Competence analysis
.41
D/E
TMA BIA
Professional analysis
.48
D
TMA 360
Competence analysis
.48
S/D/E
TMA
Personality analysis
.41
S
External
References
.26
S
CV
Years of training
.10
S
letter of motivation
Interests
.10
S
CV
Years of working experiences
.18
S
D
E
: Selection
: Development
: Employability
HR Challenges
Behaviour
A competence is a
capability that is
expressed by
observable behaviour
Knowledge
Capabilities
Convictions, values and standards
Motivation and ambition
Aptitude and personality
Intelligence (IQ,SQ & EQ)
Translated into TMA
De 22 TMA Drives / 44 Talents
TMA Performance matrix©
Closure
TMA method
• Solution provider for HR issues
• Sound principals
• Outstanding track record
• Powerful instruments
Thank you and cherish your talents!