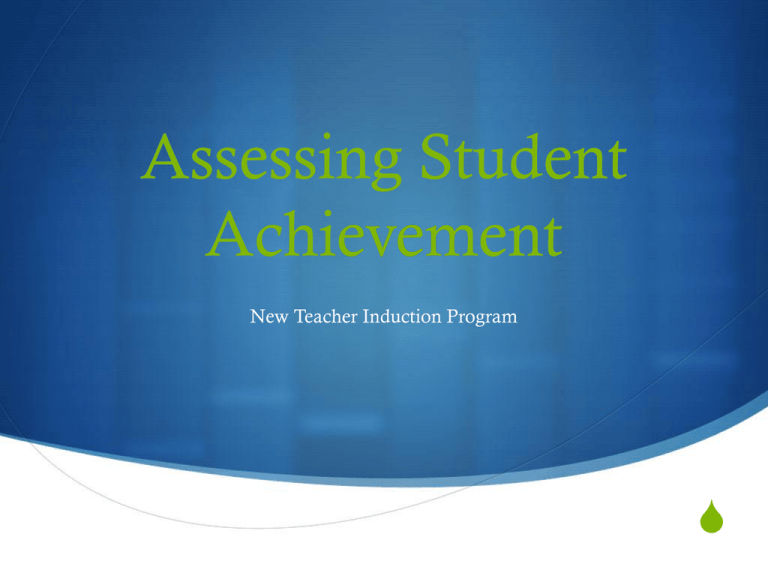 Assessing Student
Achievement
New Teacher Induction Program
S
Module Overview/Purpose
S District 214 curricula address the three district goals and
integrate the College Readiness Standards (CRS).
S Student progress monitoring is achieved through the
administration of standardized tests
(EXPLORE/PLAN/ACT), as well as consistent use of
formative and summative assessments in the classroom.
Objectives:
S After today's session, participants will….
S become familiar with the three district goals.
S understand the impact of CRS in their courses.
S understand key concepts of formative and
summative assessment.
S understand key components of Response to
Intervention (RtI).
District Goals
1. Each No Child Left Behind sub-group's average Education Planning and
Assessment System (EPAS) growth will surpass that of the previous cohort by
10% annually in reading, English, math, and science until growth from
EXPLORE to ACT exceeds six points.
2. Increase student success rate (as measured by a grade of A, B, or C) per course
by at least five percentile points each year until the threshold of 95% is
attained.
3. The number of students enrolled in at least one AP course will increase over
the previous year, as will the number of students taking at least one AP exam
and the number of students earning a passing score on an AP exam, until at
least 50% of all students have earned a score of three or higher on an AP
exam.
Implications for Teachers
S
EPAS (EXPLORE/PLAN/ACT): Emphasis on growth
S
Universal progress monitoring, used for placement and data-driven decision making for
program-wide instructional interventions (RtI)
S
Student Success Rate: Working in PLTs teachers will implement research-based
instructional practices and common formative and summative assessments in order to
provide timely and targeted interventions to groups and individual students to promote
student achievement (reduce the number of D's and F's).
S
AP Goal: Increase participation in AP courses, monitor student progress to promote
diagonal movement, provide students with a rigorous and challenging curriculum,
integrate AP skills at all levels
College Readiness Standards
S http://www.act.org/standards
S College Readiness Standards are detailed, research-based
descriptions of the skills and knowledge associated with
what students are likely to know and be able to do based on
their EXPLORE, PLAN, and/or ACT test scores. For each
content area—English, mathematics, reading, and science—
standards are provided for six score ranges along a scale
common to EXPLORE (1–25), PLAN (1–32), and the ACT
(1–36).
Assessment for / of Learning
S Assessment for Learning (formative assessment)
S Used by teachers to make instructional decisions
S Examples: written feedback, ungraded quizzes, exit slips
S Assessment of Learning (summative assessment)
S Used by teachers to evaluate student achievement
S Examples: unit tests, semester exams, standardized tests
Response to Intervention (RtI)
S As of January 1, 2009, all school districts are required to have a
District RtI Plan.
S What is RtI ?
S Response to Intervention integrates assessment and intervention
within a multi-level prevention system to maximize student
achievement and to reduce behavior problems. With RtI, schools
identify students at risk for poor learning outcomes, monitor
student progress, provide evidence-based interventions and adjust
the intensity and nature of those interventions depending on a
student's responsiveness, and identify students with learning
disabilities or other disabilities.
Grading/Student Feedback
S Grading is not the only way to give feedback to a student
S Incorporate peer feedback and student self-assessment as often as
possible
S Rubrics provide guidelines and expectations for students and
allow for consistent grading
S Providing examples of strong and weak work allows students to
see the connection between the criteria on the rubric and the
finished product
Standardized Testing
S The ACT is administered at various times throughout the
school year
S In April of each year, all Juniors take the PSAE/ACT
which is used to determine the percentage of students who
meet/exceed state standards
S Sophomores take the IACT test and Freshmen take the
PLAN in preparation for the ACT
Placement
S Incoming freshmen are placed according to their scores on
the EXPLORE test as well as teacher recommendations
S Sometimes students are misplaced and a level change is
necessary
S Level changes are initiated by the classroom teacher and
require parental approval
Building-Specific Info.
Questions/Comments
S What questions do you have about the information presented
today?
S Is there a topic that you feel you need more information on?
S Do you have any specific concerns at this time?