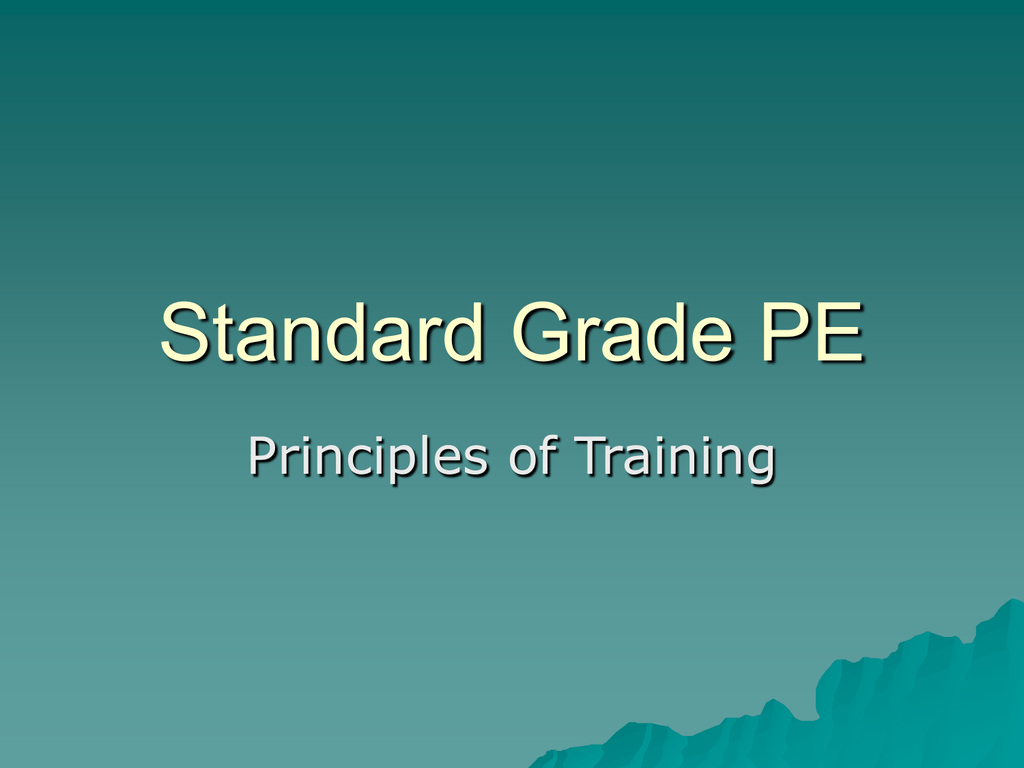 Standard Grade PE
Principles of Training
Learning Outcomes
 At
the end of this lesson you will;
 Understand
the principles underlying
a physical fitness training
programme
Outline of a Training
Session
1.
2.
3.
4.
5.
Warm Up
Fitness Work
Skills Work
Game Situation
Warm Down
Principles of Training
For a physical fitness training programme to be
effective you need to apply the principles of
specificity and progressive overload to your
programme. This can be achieved by adapting
the frequency, intensity and duration in your
programme.
Frequency
Physical
fitness
Training
Programme
Specificity
Progressive
Overload
Duration
Intensity
Principles of Training
F
– Frequency
 I – Intensity
 D – Duration
 O –Overload
 P – Progression
 S – Specificity
Specificity
Specificity is crucial to physical
fitness performance improvement.
Training has to be specific to your
needs, it has to be relevant to the
activity and to your existing levels of
fitness and ability.
Specificity
For example- The training for a shot
putter would be different from the
training for a marathon runner
………You would not ask your shot
putter to run round the field 3 times
as part of their fitness training.
Progression / Progressive Overload
Progressive Overload is crucial to performance
improvement and occurs when you exercise at
increasingly greater levels.
You progressively add to the demands of your
physical fitness programme as your body adjusts
to the benefits of your current fitness
programme.
The progressive overload principle can be
adapted by varying the frequency, intensity and
duration of your training.
Frequency
 Frequency
is the regularity and
routine of your training sessions.
 How many times per week you need
to train in order to improve your
fitness.
 For example
To improve CRE you would possibly
increase your training sessions from
3 to 4 sessions per week.
Intensity
 Intensity
refers to the relevant
demands to your training session and
varies according to the demands of
the activity.
• How hard should you train?
• Train at an intensity that will take
your pulse into the TARGET ZONE.
Duration
 Duration
refers to the length of
planned time spent training and
varies according to the demands of
the activity.
• How long each session must be in
order to be of any benefit and to
achieve improvement. The amount
must be at least 20 minutes in your
Target Range.
Reversibility
 If
you stop training then your body
will revert to the condition it was in
before you began training.