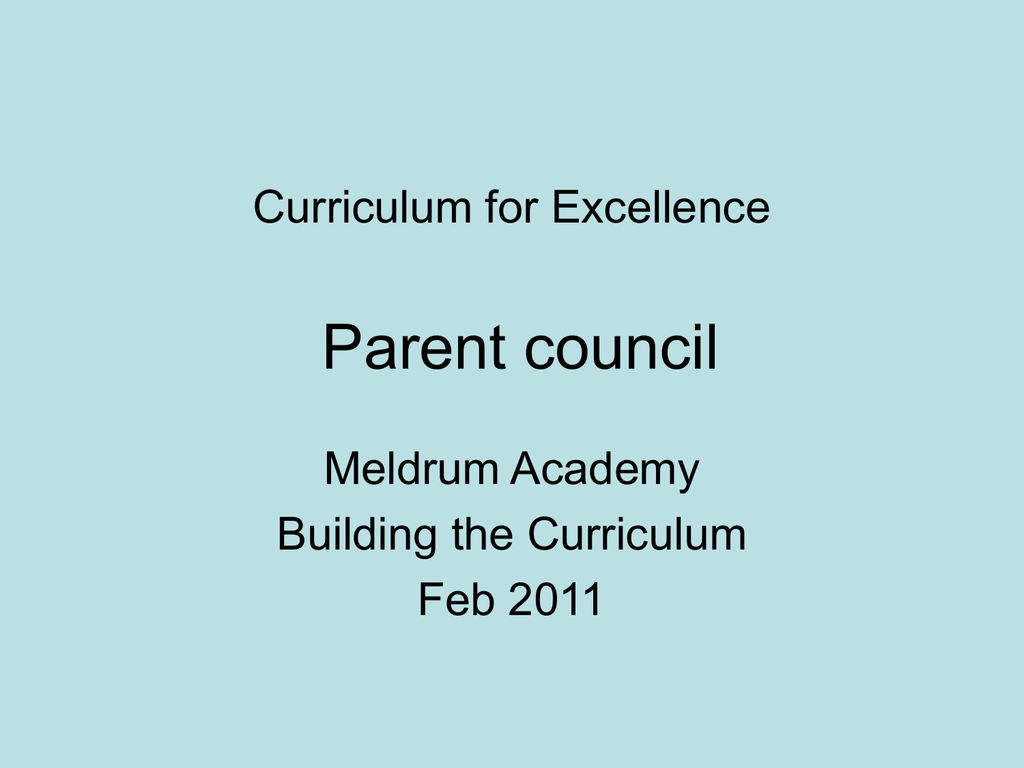 Curriculum for Excellence
Parent council
Meldrum Academy
Building the Curriculum
Feb 2011
Why have the Curriculum for
Excellence?
• Great debate on the future of Scottish
Education (2002) highlighted positive
aspects and areas for improvement.
• Equip young people with the knowledge,
skills and attributes for a future in a rapidly
changing world.
• Raise standards
• Improve skills
• Close the inequality gap
Strengths
• The flexibility which already exists in the Scottish system
• The combination of breadth and depth offered by the
curriculum
• The quality of teaching
• The quality of supporting material that helps teachers to
deliver much of the current curriculum
• The comprehensive principle
• Consistent high performance in PISA*
*Programme for International Student Assessment
Challenges
• Reduce achievement gap that opens up and widens P5S2
• Under achievement of those from poorer communities &
low socio-economic status
• Build a stronger platform of basic education
• Improve staying on rates
• Improve attainment for all young people
• Improve positive destinations for all
• Fragmentation in learning at transition
• Learning disrupted by assessment
What is the Curriculum for
Excellence?
• Values driven
• Identified four purposes of education
Confident individuals, Responsible citizens,
Successful learners, Effective contributors
• A coherent curriculum from 3-18.
• Relies on the professional capacity of
teachers/educators to be innovative and
creative.
Building the Curriculum 3
• 3-18 curriculum.
• Broad general education S1-S3. A senior phase after this
with opportunity to gain qualifications.
• The curriculum is the 'whole' experience.
• Provides a framework but not the content. Emphasis on
development of skills particularly learning skills and
employment skills.
• Core of literacy, numeracy, health & well being
• Requires partnership working within schools & clusters,
between schools, across ELL and across the wider
community
• S1-3 broad and rich learning. Not about early
presentation.
Curriculum
• The ethos and life of the school.
• Curriculum areas and subjects
– The curriculum areas are not structures for
timetabling
– Subjects are an essential feature of the curriculum.
• Interdisciplinary learning
– Projects, rich tasks or courses.
– Planned to overtake experiences and outcomes form
a range of areas. Breadth and depth.
– Progression in skills & literacy, numeracy, health &
well being
What is the curriculum?
• Entire planned learning experience
– Ethos and life of the school
– Lessons, events, activities
– Routines
– Clubs, bands, extra curricular activities
– Service to the school
– Volunteering in the community
– Part-time job
Pupil timeline
• Current (2010/11) S2 are the last cohort to be
presented at 2012/13 S4 last presentation at S
grade/Intermediate 1/2.
• Aug 2010 S1 intake are the first to have the full
CfE curriculum and will have new National 4/5
exams in May 2014.
Some of the CfE led improvements
in S1
• All faculties have revised courses to address the
'experiences and outcomes'
• Greater emphasis on active learning
• A new 2 period interdisciplinary course 'CBC' has been
introduced; Olympics, RISK, Newspaper, Energy.
• These will be continued into S2
• Numeracy. Preferred methods booklet in Maths for
primary and secondary.
• Literacy. Whole school strategies for Reading and
Writing. In-set for all staff
• Health and Well being. Pupil HWB leaders, improving
mental health Seasons for Growth, Bereavement
Counselling
S3
• Continuation of the broad general
education
• Balance of breadth with for personalisation
and choice.
• Lay strong foundations for more
specialised learning, qualifications and
lifelong learning.
Building the Curriculum 5
• It sets out key messages about principles
of assessment, standards and
expectations, ensuring consistency, CPD
and support, reporting to parents,
informing self-evaluation for improvement
and monitoring standards over time.
New National Courses
The Scottish education system is world-renowned and our
qualifications are highly valued.
Highers, Advanced Highers and Access qualifications will remain
and will be updated to reflect changes to the curriculum.
There will be new qualifications for all in literacy and numeracy from
2012/2013 and Skills for Work qualifications.
• National 4 – replaces Standard Grade (General) and Intermediate 1
• National 5 – replaces Standard Grade (Credit) and Intermediate 2
• Courses will be 160 hours
Literacy and Numeracy
• Freestanding Units at SCQF levels 3, 4 and 5
(available to adult learners also)
• A Literacy Unit to be included in English Courses
at SCQF levels 3 and 4 (Access 3 and National
4)
• A Numeracy Unit to be included in Mathematics
Courses at SCQF levels 3 and 4 (Access 3 and
National 4)
• Some, not all, literacy/numeracy skills included
in English and Mathematics at SCQF 5 (National
5) – no certification unless learner also
completes freestanding Unit
SCQF
Levels
Qualifications
12
Doctorate
11
Masters
10
Honours Degree
9
Ordinary Degree
8
Higher National Diploma
7
Advanced Higher
Advanced Higher
6
Higher
Higher
5
Standard Grade Credit /
Intermediate 2
Standard Grade General /
Intermediate 1
Standard Grade Foundation /
Access 3
4
3
Next Generation of
National Qualifications
New qualifications are marked *
Others qualifications, like Highers, remain
and will be reviewed to be in keeping with
Curriculum for Excellence
*Literacy 5
*Numeracy 5
*National 5
*Literacy 4
*Numeracy 4
*National 4
*Literacy 3
*Numeracy 3
Access 3
2
Access 2
Access 2
1
Access 1
Access 1
Senior phase
• Learner journeys on the LTS>parentzone
site
• http://www.ltscotland.org.uk/parentzone/cf
e/learnerjourneys/introduction.asp
• Select a school and scroll down to the end
of the report to find example learner
journeys.