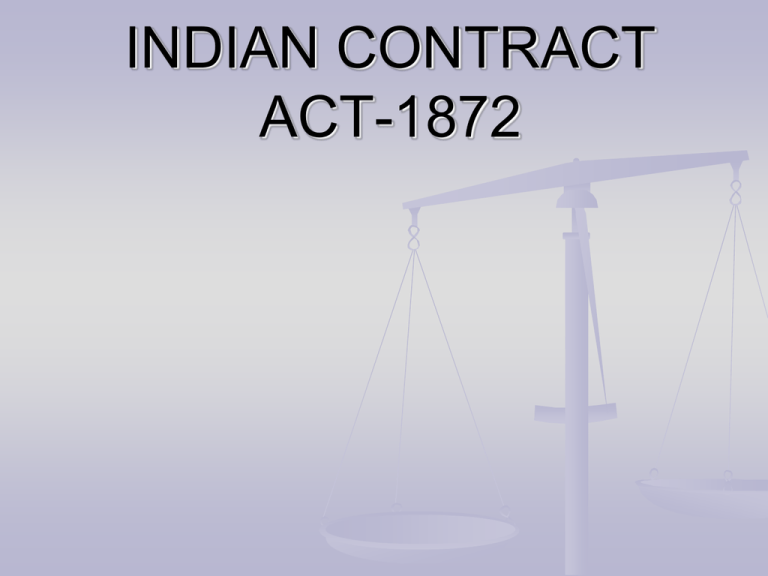 INDIAN CONTRACT
ACT-1872
HISTORY OF INDIAN CONTRACT
ACT - 1872
Enforced
w.e.f. September 1, 1872.
Applicable to whole of INDIA except
J&K
Concerned with rights in PERSONAM
As distinguished from rights in REM
A CONTRACT is an agreement creating and defining
obligations between the parties
According to HALSBURY, it is, "an agreement between two or
more persons which is intended to be enforceable at law & is
constituted by the acceptance by one party of an offer made
to him by the other party to do or to abstain from doing some
act."
COMPONENTS OF CONTRACT
An Agreement
It involves proposal or offer by one party and acceptance of the
same by the other party.
AGREEMENT = OFFER + ACCEPTANCE
Enforceable at law
An agreement to become a contract must give rise to legal
obligations. It must create legal relations and not merely social
or domestic relations.
Leading Case: BALFOUR V. BALFOUR
CONTRACT = AGREEMENT+ENFORCEABILITY AT LAW
ELEMENTS OF A VALID CONTRACT
Offer and acceptance
 Intention to create legal relationship
 Lawful consideration –QUID PRO-QUO
 Capacity of parties (Sec. 11)

Minor

Persons of unsound mind

Persons disqualified by law to which they are subject

Free consent (Sec. 13)



Coercion
Fraud
Mistake
Lawful


Undue Influence
Misrepresentation
object
if forbidden by law
of such nature that if permitted it would defeat the provisions of
any law
Elements of a valid
contract



fraudulent
involves injury to person or property
Court regards it immoral or opposed to public policy
Certainity of meaning
Possibility of performance
Not declared to be void or illegal
Legal formalities
CLASSIFICATION OF CONTRACTS
ENFORCEABILITY
FORMATION
PERFORMANCE
VALID CONTRACTS
VOID CONTRACT
VOID AGREEMENTS
VOIDABLE CONTRACTS
UNFORCEABLE CONTRACTS
ILLEGAL CONTRACTS
EXPRESS CONTRACTS
IMPLIED CONTRACTS
QUASI CONTRACTS
EXECUTORY CONTRACTS
EXECUTED CONTRACTS
THANK YOU
Any Queries!!!!!