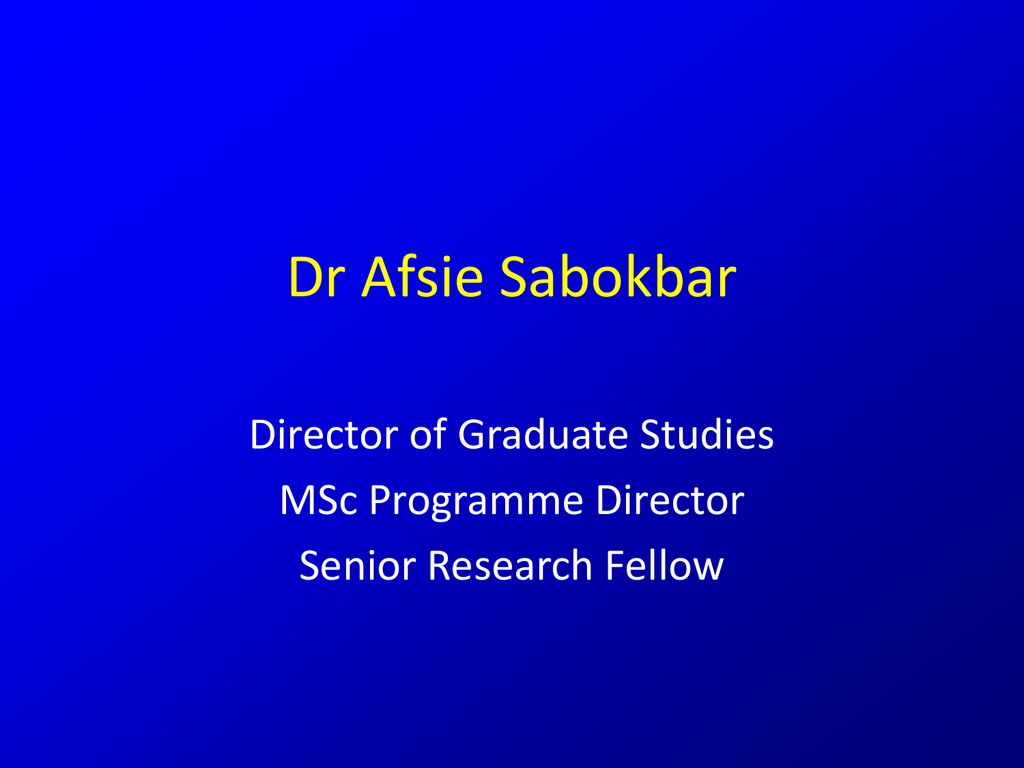 Dr Afsie Sabokbar
Director of Graduate Studies
MSc Programme Director
Senior Research Fellow
Welcome to the oldest University in the
English-speaking worldEstablished 1167
"Oxford" Terminology
• Academic Terms
• Subfusc
• Matriculation
• Summative/formative
• Proctors
Academic Terms
The year is divided into three eight week terms
• Michaelmas- October to December
• Hilary- January to March
• Trinity- May to June
• LONG SUMMER Vacations!!
"Subfusc"
Subfusc comes from the Latin for "of a
dark/dusky colour", and refers to the clothes
worn with full academic dress in Oxford.
• For men: Dark suit, black socks and shoes,
white shirt and collar, white bow tie.
• For women: White blouse, black tie, black skirt
or trousers, black stockings or tights, black
shoes.
Happy Subfusc!
Matriculation
• Ceremony at which new students are
entered into the register of the
university (Latin for Matricula)
• Cambridge, Durham and Bristol
Matriculation old and new!
Summative/formative
• Summative assessment is characterised
as assessment of learning (summarizing
the development of learners)
• Formative assessment characterised as
assessment for learning (determines the
students' attainment)
Proctors
Proctors play an important role in the conduct of
University Examinations (distinct from colleges).
•
•
•
•
•
•
Course conduct
Late submission
Complaints
Special arrangements
Jury service
Plagiarism
Plagiarism
• Plagiarism- "the wrongful appropriation, close
imitation and publication of another author's
language, thoughts, ideas, or expressions and
the representation of them as one's own original
work".
• www.admin.ox.ac.uk/epsc/plagiarism
• Screening by software "Turnitin"
PRS status and "Transferring"
• What is PRS?- Probationary Research Student
Status
• MSc and DPhil Transfer of status
• Director of Graduate Studies (DGS)
Role of DGS
•
•
•
•
•
Transfer status
Complaints
GSS- Graduate Supervision System
Change of supervisor or programme
Freezing "suspending" status
• College advisor
Other useful contacts
www.ox.ac.uk/students/course_guidance_su
pervision/graduates/contacts/
Divisional Contacts
• Humanities- Mr Padraig O'Connor
• Mathematical, Physical and Life Sciences- Mrs
Helen Beauchamp
• MSD- Miss Tessa Finlayson
(except for Biochemistry, Experimental
Psychology, Pathology, Pharmacology,
Physiology, Anatomy & Genetics)
• Social Sciences- Dr Andrew Garlick
Balancing work !
• Enjoy this "life-time" opportunity
• Balance your work !!
• Visit historic sites and learn more about
Britain!!!
Good luck!