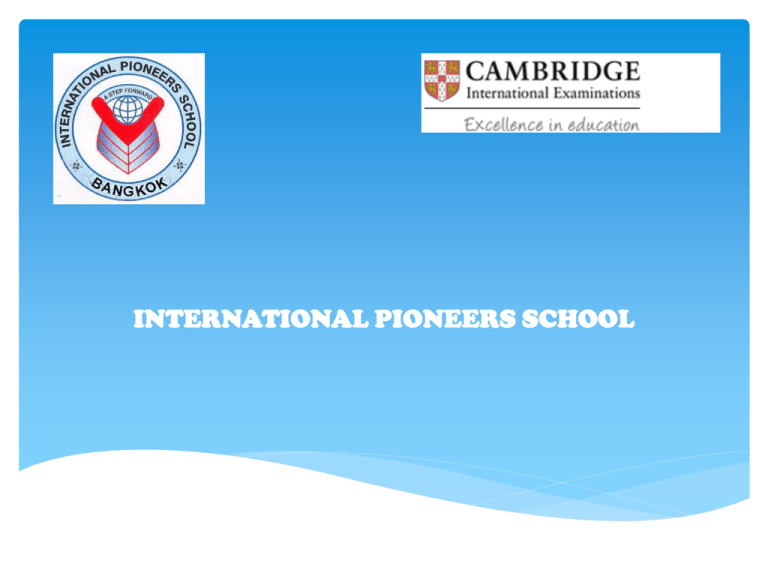 INTERNATIONAL PIONEERS SCHOOL
EXAMINATION SYSTEM
 INTERNAL EXAMINATIONS: Two formal
exams and one End of the Term Examination
 EXTERNAL EXAMINATIONS: IGCSE (Year
11) and CHECKPOINTS ( Year 6 and 9)
WHAT IS CAMBRIDGE CHECK POINT?
A Diagnostic Test
 Taken At the end of Key Stage 2
 Available two times a year
 Gives teachers, students and parents insight
into strengths and weaknesses
 In English, Maths, Science
WHO CAN BENEFIT FROM CHECKPOINT TESTS?
 Cambridge Checkpoint is for students
around 11 years of age.
 Ideal for those beginning courses leading to
Cambridge Secondary 1 Checkpoint exams
in English, Mathematics and Science.
WHAT ARE CHECKPOINTS TESTS LIKE?
 There are 2 papers in each subject, each
approximately one hour in length.
 They provide good preparation for
Cambridge Secondary 1 examinations, by
allowing students to experience an external
exam.
REPORT INFORMATION
 Each student will receive a statement of
achievement.
 Results are given as checkpoint scores
between 0.0 (the weakest performance) and
6.0 (the best performance).
 The average score is between 3.0 to 4.0
 Examination certificate is not issued for
Cambridge Checkpoint tests. If it were a
certificated qualification, then it would not
be possible to have flexibility in the
timetable and in the curriculum.
WHICH TOPICS/SKILLS DO THE CHECKPOINT
TESTS COVER?
ENGLISH
MATHEMATICS
SCIENCE
Reading
Number
Biology
Writing
Algebra
Physics
Usage
Space
Chemistry
WHEN DOES CAMBRIDGE CHECKPOINT TAKE
PLACE??
 There are two Cambridge Checkpoint
sessions a year. Each session lasts for a
specified time-frame and the approximate
timings of the sessions are:
 May session – the end of April and the
beginning of May
 October session – the end of October and the
beginning of November
COMPARING CHECKPOINTS AND SATS
 Checkpoint is a diagnostic test which
provides feedback on a candidates strength
and weaknesses whereas KS2 SATs is a
summative test designed to assess students'
performance.
 The scores on the Cambridge Checkpoint
scales are 0.0 to 6.0 whereas the KS2 SATs
levels are commonly 3 to 6.