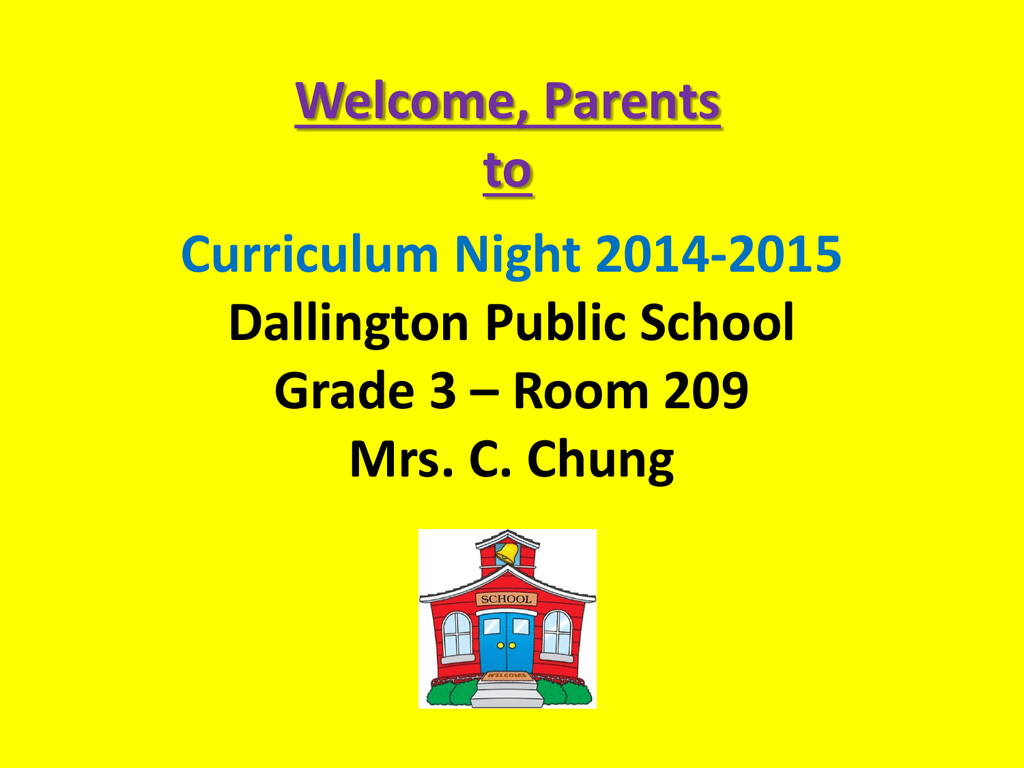 Welcome, Parents
to
Curriculum Night 2014-2015
Dallington Public School
Grade 3 – Room 209
Mrs. C. Chung
OVERVIEW
1. Classroom Conduct and Routines
2. Character Education
3. Arriving Prepared
4. Homework Policy
5. Reporting Timelines
6. Curriculum Areas
7. EQAO
8. Questions
Classroom Conduct and Routines
Dallington School Code of
Conduct and Policies
Our Social Contract
No nut-related foods, no food
for birthdays or special days –
please focus on non-edible
treats, such as stickers, pencils,
erasers, etc.
TDSB Character Education Traits
September - Respect
October - Responsibility
November - Empathy
December - Kindness & Caring
January - Teamwork
February - Fairness
March - Honesty
April - Co-operation
May - Integrity
June - Perseverance
Arriving Prepared
Indoor shoes – running shoes
Punctual – sets tone for day, disruptions for
other students, missed lesson
Backpack with homework folder and
homework, establish a routine to put
everything in the backpack the night before
Appropriate clothing, especially for recess
Healthy snacks and water bottle
Homework Policy
 Book Bag Program – 20 minutes every night –
please discuss and ask questions about the text
to check for comprehension (to begin within
the next month)
 Finish up any work not completed in class or to
reinforce in class lessons or extra practice work
 Visit our class website every night for
information, and homework, including the
School Newsletter
www.room209.weebly.com
Reporting Timelines
 2 terms
 Elementary Progress Report in November
Term 1 Report Card (February); Term 2 Report
Card (June)
 Report Card Learning Skills – important to
develop their work habits, study skills and
organizational skills as the building blocks to
school success (Responsibility, Organization,
Independent Work, Collaboration, Initiative,
Self-Regulation)
Curriculum Areas
Prescribed by the Ministry of
Education and Training curriculum
documents
(available on www.edu.gov.on.ca)
Curriculum Areas -
Mathematics
 Five strands: 1)Number Sense and Numeration,
2) Algebra and Patterning, 3) Data Management
and Probability, 4) Geometry and Spatial Sense,
and 5) Measurement
 Four Categories of Knowledge and Skills:
1. Knowledge and Understanding – subject-specific content
2.
and comprehension of its meaning and significance (importance)
Thinking – use of critical and creative thinking skills (planning –UP,
MAP, processing – COP, LOOK, creative/critical – inquiry, problem
solving
Communication –meaning through oral, written, and visual forms
3.
4. Application – use of knowledge and skills to make connections
within and between various contexts.
www.ixl.com
Survey Results: 10 responses
Helpful : 80%
Would Like to Continue: 100%
Purchase participation: 100%
$10 per student --- Oct. 2014 to Oct. 2015
Language
 Four areas of focus: Oral Communication,
Reading, Writing and Media Literacy – each
addressed every term through a variety of
lessons and activities
Curriculum Areas -
 Reading: Read Alouds, Shared, Guided,
Independent
Poems, Fiction and Non-fiction Texts
 Writing – Forms addressed: Recount,
Procedure, Narrative, Letter, Persuasive,
Report, Poetry
 Independent Spelling Program
Success Criteria
• Setting a goal
• Students take ownership for work
• Generated and used by students
Science and Technology
Hands-On Science Resource, Science Kits,
literature, integrated with Language,
Scientists in the School
Curriculum Areas -
Grade 3: Forces Causing Movement; Strong
and Stable Structures; Growth and Changes
in Plants; Soils in the Environment
Curriculum Areas -
Social Studies
Hands-On Social Studies Resource,
literature, integrated with Language, Class
trip the Pioneer Village
Grade 3: First Nations; Early Settlers; Living
and Working in Ontario
The Arts
 Music, Drama, Dance and Visual Arts
 Music and Drama with Ms. Hong (Day 3,
4, and 5)
 Dance with Mr. Chiappetta (Day 2 and 5)
Curriculum Area -
Health and Physical Education
 Running shoes, comfortable clothing Day
2 and Day 5 with Mr. Chiappetta
Curriculum Area -
EQAO
 Grade 3 and Grade 6 province wide
standardized tests for three subjects (reading,
writing, mathematics) based on curriculum (end
of May-beginning of June)
 Preparation for it began in Kindergarten –
accumulation of all primary years
 Test taking skills begin now (e.g., complete
answer / full sentences), do practice tests
starting in April, keep it low key, do their best,
does not reflect on Report Card marks
 Will be extra practice work sent home starting in
April/May to help prepare students as well
Eco Schools – Dallington is Platinum
this year!
• Litterless lunches
• Sort waste: green bin, recycling,
garbage
• Lights out
• Computer log off
• Paper towels
• Eco literacy: integrate environment
awareness in all subjects
• Community garden
Questions?
Thank you for coming this evening.
Your continued support at home is
appreciated and essential for your child's
current and future academic success.